Snow in New York is well known to New Yorkers as they are acclimatized to perennial downpours and muggy summertime. The season of snow usually covers the modern city in the months of January, February, and March. 
Besides being famous for Times Square, its urban set-up, stary city life, metropolitan environment, all the international and industrial projects, and fueling economic sectors, New York is also known for its pristine snowfall.
Let me point out something interesting; you must have seen skyscrapers, men and women in long boots and coats with hot-coffee travel tumblers rushing in the streets in the movies. 
Most of them feature the real and daily lives of New Yorkers. I mean, let's get real here; it looks so fashionably appealing, right? 
If you are not habitual to New York's snowy climate or planning to visit the city as a tourist, check out some of my personal favorite things to do there.
Don't be fooled by the notion that snow will stop you from exploring the city, as there are various other fun things to see and traverse. However, I insist you pack your winter boots, warm clothes, and long coats to protect yourself from cold weather. (Afterall, there is no harm in being the "Fashion")
Make the Most of New York's Snowy Months
First of all, nothing really closes during snowtime; only the outside gets covered in thick blankets of snow; otherwise, everything is available. However, slight adjustments here and there will save you effort. 
1. Have a Blast at Frost Fests
If you are planning to visit the city in the months of January and February, attend super fun events like Frost Fest and Jazz Fest, which have the provision of live music, shopping, and whatnot. 
The best part is that Frost Fests happen every year for ten days straight at Bryant Park. Some of its many attractions include a silent disco and ice-carving performances by celebrated local sculptors.
Basically, this musical night is a celebration of the onset of the NY winter season. Snow bars, local delicacies, and beer tastings are some of the many things available there. Usually, it ends with a bang, as you get to enjoy the fireworks. (Don't forget your warm boots, though!)
2. Take a Dip at JFK Jacuzzi
John F. Kennedy International Airport is an important airport in Apple City. And did you know that the TWA Hotel roof has a hot Jacuzzi, which overlooks JFK's runway 4L/22R? Isn't it interesting?
Imagine you are taking a warm dip in this hot tub, which is set up to up to 100 degrees Fahrenheit and see huge planes take off and land. I recommend that you experience this something really different with your beloved.
3. Sled at NYC's Central Park
The very famous Central Park not only gets a huge footfall during the autumn or spring season but also welcomes a lot of tourists and locals during the snow time in New York.
If you are clueless about what do they do? Well! Some adventurous stuff, like, sledding, snowshoeing, cross-country skiing, and ice skating. Moreover, if you are fond of learning new skills, definitely enroll yourself in a class there.
Don't miss out on other attractions like creative ice carvings and a huge ice sculpture garden that will blow up your mind.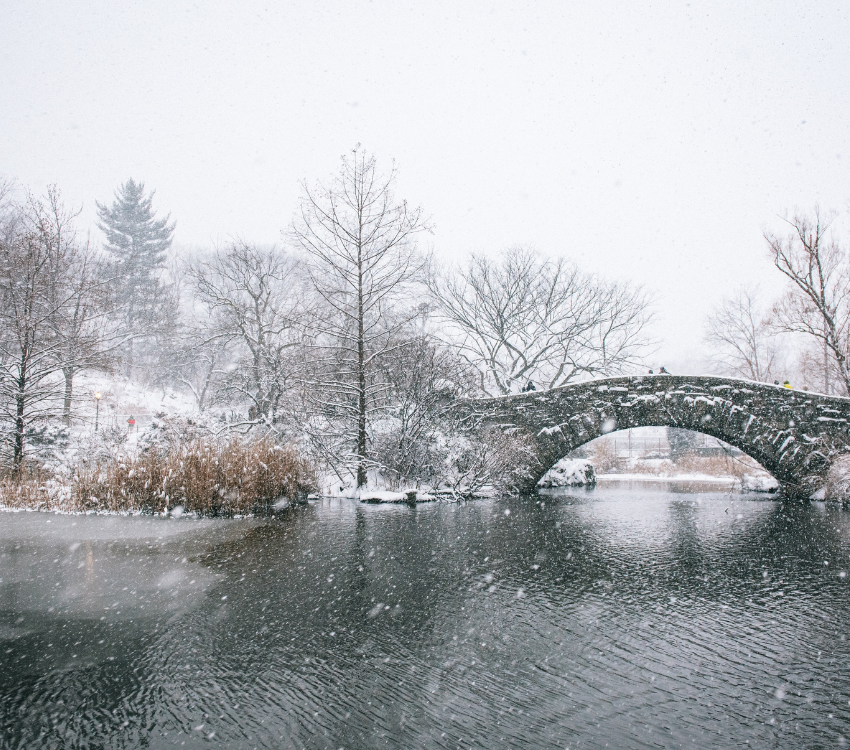 4. A Night on Broadways
Your trip to NYC is a waste if you don't go and watch a show on Broadway. Not only are they the biggest tourist attraction, but they are perfect for spending an artistic evening without exposing yourself to extreme cold weather. 
And if not a musical play, watch art films and foreign films in the most-underrated Paris Theatre. You can check out their official website to book a show and film of your choice. Believe me; this place is no less than an NYC jewel. 
5. Classic Times Square
Well! Be it summer, spring, or snowtime; Times Square will be Times Square. Throughout the year, this primary tourist attraction is always jam-packed. Also, if you want to fill up and relish delicious food, City Kitchen is no less than a gastronomical paradise, especially for foodies.
Not only food outlets but other great attractions like the Museum of Wax and M&M World lie in the three-block by 10-block area of Times. Moreover, no trip can be complete without visiting NYC's pride.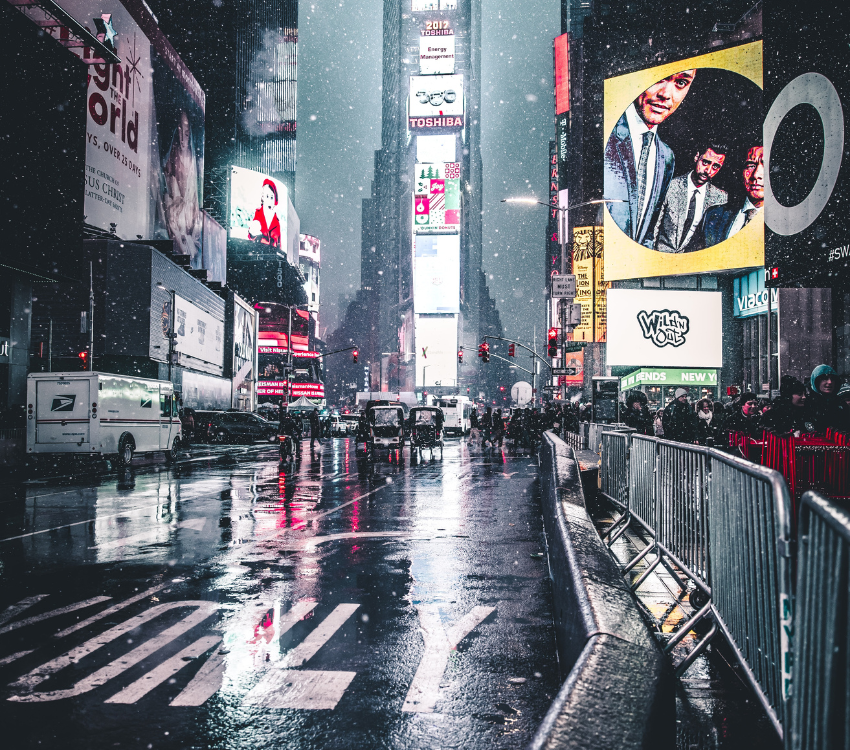 6. Enjoy the Westminster Dog Show
Who can say no to a show dedicated to adorable furry pets? The best part is that this is conducted every year in February, during snow in New York. The Westminster Kennel Club Annual Dog Show organizes the competition between different breeds of dogs.
Not only are they awarded in various categories, but their performances will also impress you and melt your heart out of cuteness. So, if you have made up your mind about attending this show, Madison Square Garden is the place for you. 
In fact, it is not that expensive, and you can enjoy your evening for only 200 dollars. (A little secret: Book the seats early to save some bucks!)
7. Go Shop Cheap at Westfield World Trade Center
Extreme cold and consistent snowfall can blanket the entire NYC City but not your plans. If you like to shop but want variety at cheaper rates, Westfield is the place for that. This huge space is home to 125 retail shops that have everything from electronics to basic amenities.
Moreover, you will be saved from the snow flurry and, maybe, cold. Don't worry if you don't want something underground like Westfield, as Brooklyn Flea market will be the perfect retail therapy option.
I understand that you want to be a part of the natives and enjoy the dusk time among New Yorkers. (Can't blame you, I like interactions and gatherings too!) If you are a big fan of collectibles, vintage items, handicrafts, or homemade goods, you won't be able to resist the temptation of buying them.
8. Have Brunch at NYC's Banter
Definitely, after all the traveling and roaming around the town in such cold weather, you need a break. And what better place than Banter's to sip and dine?
The cafe is cozy, and the overall ambiance of the place will provide you the much-needed warmth from the freezing outside winds. Their specialty Golden Folded Eggs, Avocado Toast, Falafel Bowl, and more will satisfy your grub.
Don't forget to order a hot cup of latte or hot chocolate to enjoy with your meal. After all, some extra calories won't hurt you. 
9. Get Insightful at NY Public Library
Are you a bookworm and like warm settings to read your favorite books? Well! Take along your hot coffee or tea latte and spend your time at the New York Public Library in the Stephen A. Schwarzman Building. 
If you think this is no special, as you can read back at home, that's really not the case. (Promise, I won't ill-advise you!) Once you enter this century-old, the overall aura and architecture of the place will scream eminence. 
Moreover, it's solely your choice to read in peace on your laptop or caress those antiquarian books and get nostalgic with Biblichor. (Biblichor??? Well! The peculiar smell of old books.)
In fact, you are in New York, in the Stephen A. Building, in the library, and not checking out the Rose Main Reading Room. Not by chance! And maybe, if you are lucky, you can attend occasional author readings and special exhibitions that will be pretty memorable.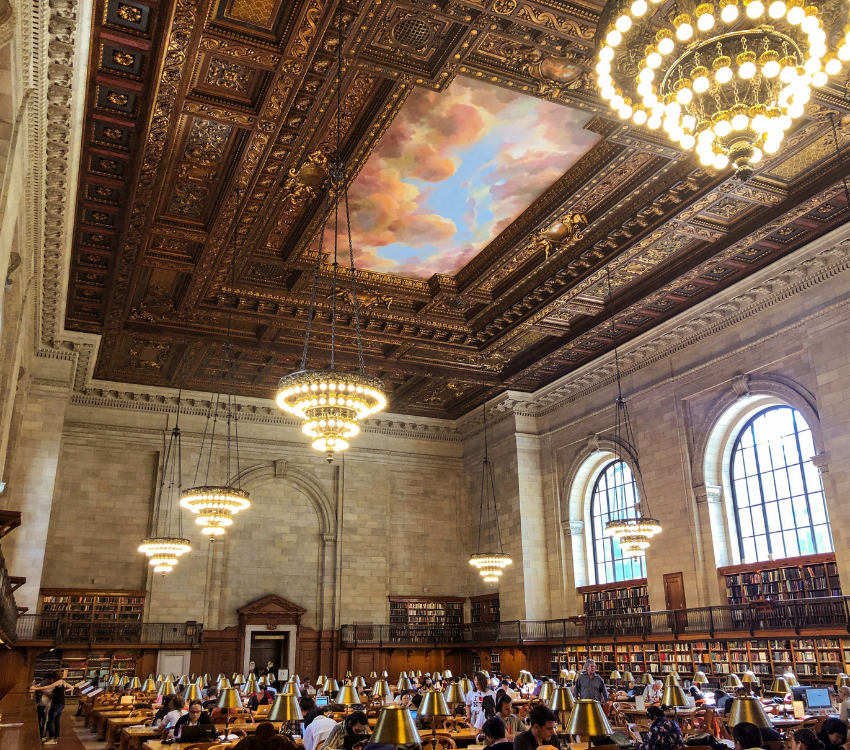 10. The Very Famous: Metropolitan Museum of Art
Last but really not least, tourists' favorite spot is the Metropolitan Museum of Art. It is inevitable for anyone to come to NYC and not visit this place. Why?? Continue reading. 
Located on Fifth Avenue and 82nd street, the museum is home to many historical artifacts that dates back to the 1880s. Also, this art museum stores  Asian Art, The Costume Institute, Drawings and Prints, and Egyptian Art. 
Not to miss that even European Paintings, Sculptures, and decorative arts are also present for you to see. Therefore, all the history buffs and explorers will be happy to visit this iconic place in NYC.
What Not To Do When It Snows in New York
I included everything that you must do and see during your days in the snowy season; however, it's important to note a few things and save yourself from eleventh-hour problems.
Don't unnecessarily drive around if it's a blizzard or snowstorm outside. You may never know, and you find yourself stuck in cold breezy winds. By chance, you are out there driving and enjoying the bright NYC; drive slow as the roads are slippery.
If your plan is to get to one of these top ten destinations, don't make the mistake of booking a taxi, as your 10-minute distance will become an hour project. Prefer going by metro during snow months.

Prior checking and booking of any restaurant are important, as it's possible that not all restaurants are open for dine-out.

Well! If you are only carrying sneakers to NYC when it's snowing there, you are in a deep mess. Not only will waterproof snow booths keep your feet warm and shield you from cold puddles.

Finally, purchase flight tickets in accordance with the weather conditions. I am sure you don't want to get stuck at the JKF airport for days straight. 
Final Words
Here! I have listed all the must-visit places if you are here to enjoy snow in New York. With these recommendations and, of course, more research, you will be sorted for your trip and have the best travel of your life.
Also, don't forget the "not-to-do" suggestions in excitement, as you want a fun winter trip. Right? If you liked some of my bits of advice, leave a comment below.
Bon Voyage!