The string of hearts (Ceropegia woodii) is a trailing vine plant with heart-shaped, fascinating leaves that truly lives up to its name. These heart-shaped leaves can add the right amount of greenery to your home aesthetics.
This natural South African plant belongs to the Apocynaceae family. However, the other common names for this plant are sweetheart vine, rosary vine, a chain of hearts, and collar of hearts. In the spring and summer, the stems of the string of hearts bloom into little pink tubers.
The string of Hearts is a lovely and fascinating hanging plant and is naturally found in countries like South Africa, Swaziland, and Zimbabwe. This gorgeous succulent has captured the hearts of many collectors due to its dark green with significant silver markings or cream, pink, and green heart-shaped, patterned leaves.
However, if you are looking for a plant to enhance the grace of your home or garden, String of Hearts is a perfect choice for you. Thus, in this article, we are going to discuss everything about this gorgeous vine and will share some additional care tips as well.
Care Tips for String of Hearts
The string of hearts can be cultivated outside in tropical or subtropical areas, but it can also be grown indoors in a west or south-facing window. The leaves are generally deeply colored with a unique marbling effect in bright light; in low light, they will have a light green color.
It can grow up to 2 to 3 inches tall and has purple-toned stems that may reach 3 to 9 feet long, so hang this plant somewhere high so you can see how beautiful it can be, especially when it starts to cascade out of the container like a waterfall.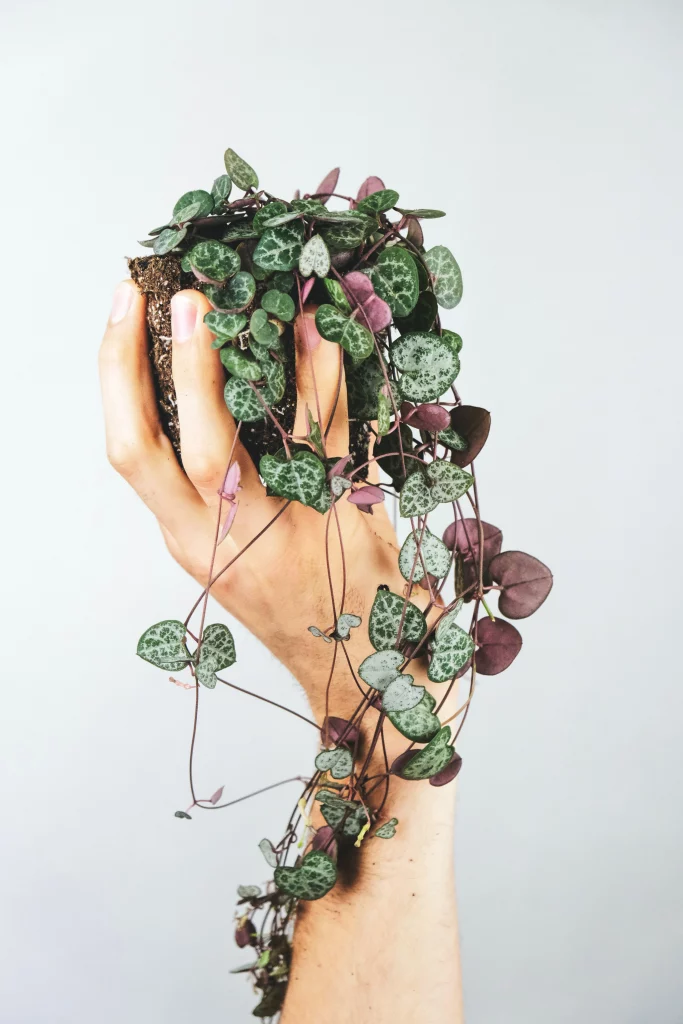 Moreover, you can also hang this vine around any shelf or around any decorative piece in your home. This will add to the aesthetics of your home beautifully.
However, this plant doesn't require much care, and it's quite low maintenance, just like the Monkey tail cactus, which makes it perfect for beginners.
Soil Requirements and Potting
This succulent plant requires good drainage and should be watered only when the soil is dry. It prefers dry soil over moist soil and can be potentially harmed by overwatering.
Moreover, to provide for appropriate drainage, use a freely draining potting medium with enough coarse sand, perlite, or another large-textured component (such as a commercial cactus & succulent mix). Between thorough waterings, let the soil dry.
Fertilize with 1⁄2 strength houseplant fertilizer occasionally (at most monthly while actively developing). Plants benefit most during winter rest time.
Water Requirements
As this Strings of Hearts has a succulent-like character, root rot is quite possible, especially if it is kept in moist soil for an extended period of time.
However, this may be avoided by giving this plant a good bath once a week or anytime the top 2 to 3 inches of soil becomes entirely dry throughout its growing season, which occurs in the spring and summer.
During the autumn and winter months, however, this succulent will become dormant. Thus, watering should be reduced to once every 3 to 4 weeks or when the soil feels entirely dry through the container.
Also, one method to tell if it's time to give your Bunch of Hearts a fresh wash is to look at its leaves. If they feel firm to the touch, your succulent doesn't need to be watered for a bit longer. However, if the leaves feel soft when lightly squeezed and bend readily, it's time to water them well.
Once you start observing the growth pattern and requirements of this plant, you will get the hang of it.
Humidity
If you wish to maintain your String of Hearts as an indoor houseplant. Moreover, position it near the brightest window possible (South or West facing windows are highly suggested).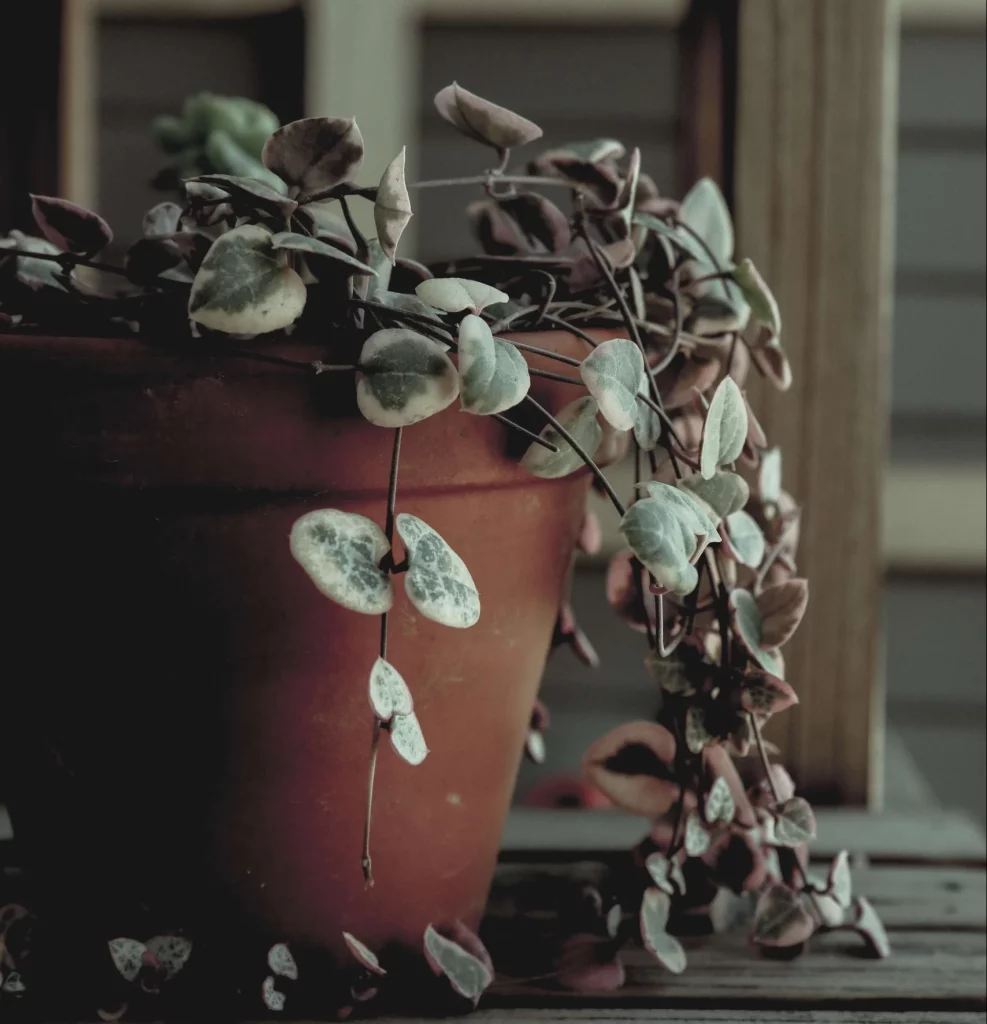 However,  keep the temperature between 80 and 85 degrees Fahrenheit during the summer and 60 degrees Fahrenheit during the winter. If cultivated outside, place the plant in a sunny, shaded location.
Methods of Propagation
Propagating a string of hearts is a simple process and can be done by three methods. Which are:
Water Propagation Method

Soil Propagation Method

Tuber Propagation Method
Water Propagation Method
This is a very well-known and simple method as in this method. However, all you need is a pair of scissors, a vase, and some water. Here you just have to cut out a portion of the vine from the root and place it in a vase filled with water.
Now keep that vase in sunlight or somewhere warm. In order to provide the optimum condition for the plant to grow.
Soil Propagation Method
To propagate through the soil method, you need to cut off a portion of the sweetheart vine. Plant this vine into the soil. Furthermore, make sure that the nodes are covered in the soil so that the roots can grow.
However, you can water this once a week to keep the soil moist but avoid over-watering.
Tuber Propagation Method
For this method, you need to find the biggest Tuber and plant it in soil along with the vine. However, then press the vine gently in the soil so the root can grow. Moreover, once the vine grows, you can cut off the vine from the mother plant.
Some Additional Tips for Growing a String of Hearts
As this is a low-maintenance plant and doesn't require much care. Which makes it perfect for growing even indoors. Here are some additional tips that you can use to flourish string of hearts.
To make sure this sweetheart vine grows perfectly, you can add diluted fertilizers occasionally.

It would be more beneficial if you add fertilizers once in the month of May and August. Hence, it's their growth period.

If you want to repot these plants, summers are the best time to do so.

Avoid over-watering as it can cause root rot.

In case you end up overwatering, make sure to change the soil and replace it with a well-drained and porous soil mix.

Pruning is one of the best ways to ensure you have a fuller-looking bunch of hearts.