Hildewintera Colademononis, commonly known as Monkey tail, belongs to the family of cacti. However, the Monkey tail is epilithic, which means its naturally found and grown on the rocks.
This plant first originated in the Bolivian countryside in Santa Cruz. Moreover, it is known as Monkey tail because it has a hairy appearance and soft texture.
However, there are many reasons people want to grow these plants indoors, as these are aesthetic-looking plants and will add a touch of nature to your house.
Additionally, just like Hoya Australis, these plants are low maintenance. Which means they don't require much attention and constant care.
People who love collecting plants know that every plant has different requirements, and you need to treat them just like your babies with love and care.
So today, we will discuss what kind of care these Monkey tail cacti require and some additional steps that you can take to make sure your plants are healthy. So let us dive into this
Why the name Monkey Tail?
The monkey tail cactus (Cleistocactus colademononis) is a kind of cactus plant that is distinguished by its long cascade form and hair-like spines.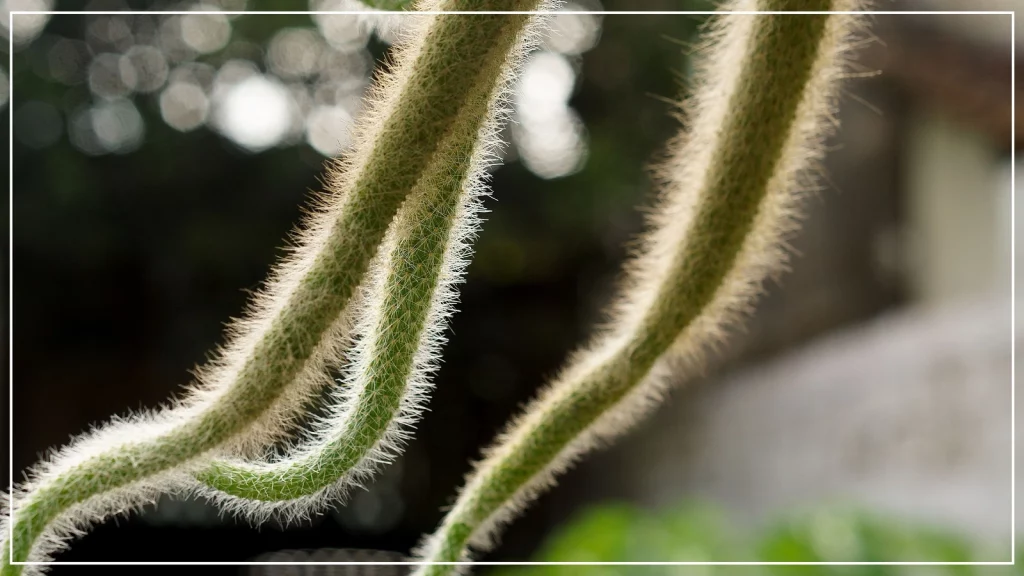 However, the common name for this species originates from its furry appearance, which mimics a monkey's tail-like qualities, giving it a soft or "hairy" appearance.
With all of the hair-like spines dangling over the edge, this is an excellent plant for growing in a hanging basket. Cactus plants are recognized for having water-filled branches and thick leaves, so they require minimal maintenance to survive. Even if you have difficulties growing plants, they make excellent houseplants.
Care tips for Monkey Tail
The ideal condition for a Monkey tail cactus is to use well-draining soil that is somewhat acidic. It enjoys warm temperatures but may live in temperatures as low as 21° Fahrenheit (-6° Celsius) in Zone 9. 
However, In the summer season, 10-14 hours of direct sunshine are required every day. Every 6-8 weeks, deep water. Allow for 40-50% humidity. Use a fertilizer with an NPK of 5-10-5 once in the spring, summer, and fall.
Soil requirements
It doesn't take much from the soil other than a strong enough anchor to hold the weight of the dangling tails.
However, Cacti like this require acidic or near-neutral soil to flourish. The Monkey Tail grows best on soil with a pH range of 5.5 to 6.5.
Moreover, When watering the soil, make sure the pH level of the water supports your Monkey Tail's long-term nutritional demands.
Avoid Alkaline water as it will gradually modify the soil, making it an unsustainable growth medium for the plant.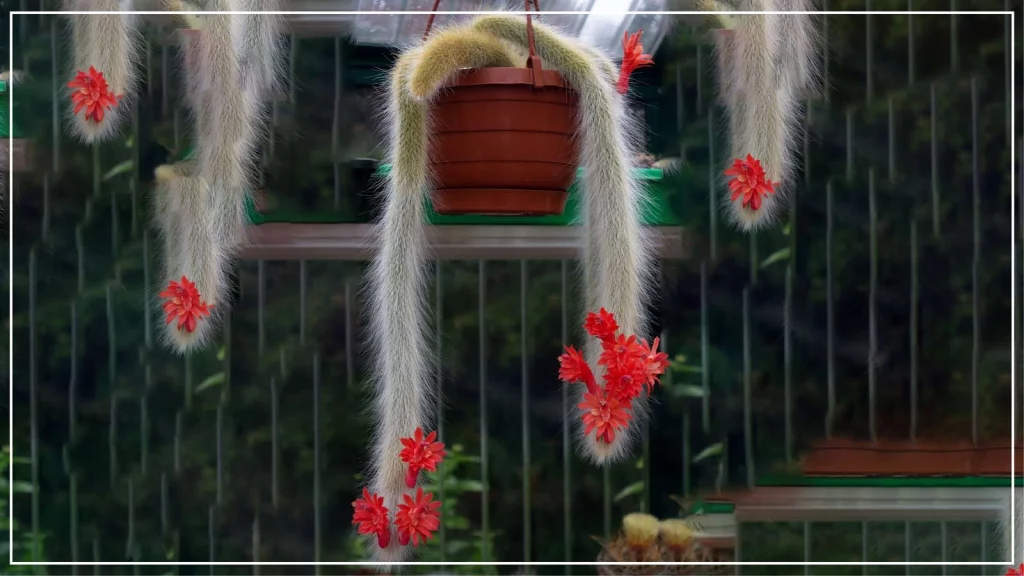 Moreover, It is critical that the soil drains well between waterings. Cactus plants usually don't like getting their roots wet for extended periods of time. A well-draining basic cactus soil mix will be good.
However, the plant's shallow roots allow it to quickly absorb any water that falls on the soil. Whereas the roots, on the other hand, are exposed to surface temperatures.
Furthermore, to protect them from harsh heat and cold, apply a layer of mulch over the soil to function as an insulator.
This mulch can be bark, vermiculite, or any other inert item that will not degrade and modify the pH of the soil, leading it to become alkaline.
Lighting and Temperature Necessity
Your cactus can survive high light levels since its yearly development cycle is regulated by light levels. More light aids in the activation of the reproductive cycle. However, Buds will develop in the spring, and they will bloom from spring through summer.
This is the greatest time to use pollination to propagate your plant. It will assist in supplying additional light if you find your monkey's tail has a lighter green color. You may leave your yellowish-green monkey tail out in the sun for up to 14 hours.
Moreover, Cacti live by storing water in their stems. If this water freezes, it will harm the plant's cells. Try not to make any abrupt changes to the plant's surroundings, such as light or temperature. This might cause a systemic shock in the plant, from which it may not recover.
Humidity
The humidity levels to which the plant is exposed must be managed in an indoor setting, along with the lighting, temperature, and watering levels. In the summer, when it is hot, the plant will utilize the moisture in the air to help it grow.
The humidity level of the Monkey Tail cactus should be between 40 and 50%.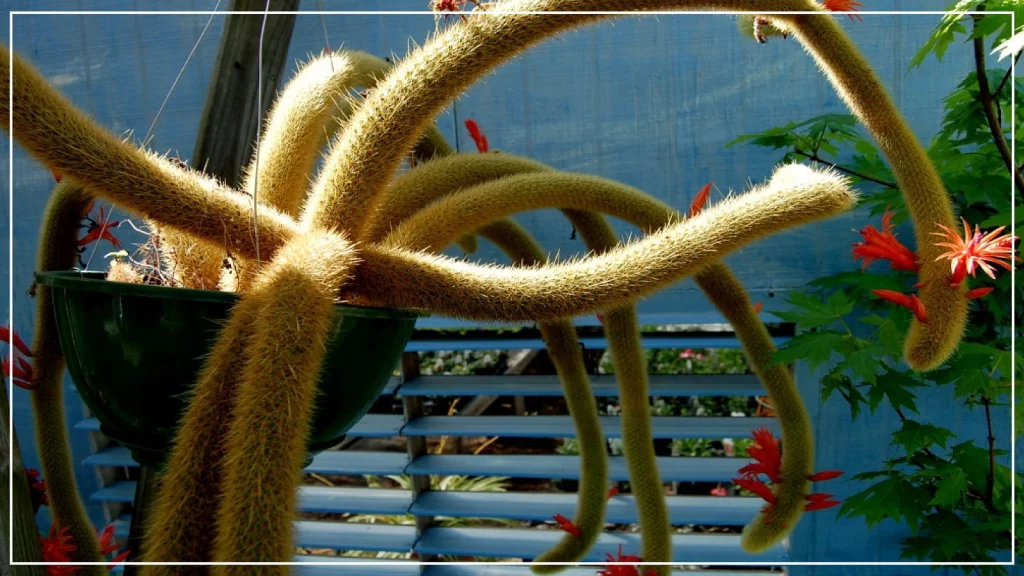 The Monkey Tail's native habitat is far above the forest, clinging to the cliffs of Santa Cruz, Bolivia.
It can withstand a significant amount of dampness in this environment. In the winter, however, too much humidity, like too much water on its roots, would overwater the plant, causing its cells to get waterlogged and die.
Diseases and Pests in Monkey Cactus
Mealybugs and spider mites are two insects that can harm your monkey's tail cactus. These insects may hide among the hairs and go unnoticed. Many gardeners mistake the mealybug's powdery substance for mildew, but it is the insect.
When you notice these pests, remove your plant and use a high-pressure shower without drowning your cactus. Spider mites, on the other hand, cause brown spots on the bottom of the stems. Pruning the limbs and spraying them with water is the best approach to get rid of them.
However, the major issue you may encounter is overwatering or watering out of season. The humidity is another source of worry. 
Overwatering your monkey tail promotes discoloration of the stem, which leads to deterioration. This can also result in root rot. Mold may grow in areas where there is too much dampness.
Finally, size is an issue. They make sticky honeydew, which attracts ants. You cannot use pesticides on them and must instead treat their environment with rubbing alcohol.
Potting
The roots of the Monkey Tail are shallow; it does not require much depth. Moreover, the number of plants you select to put in the pot will decide its breadth.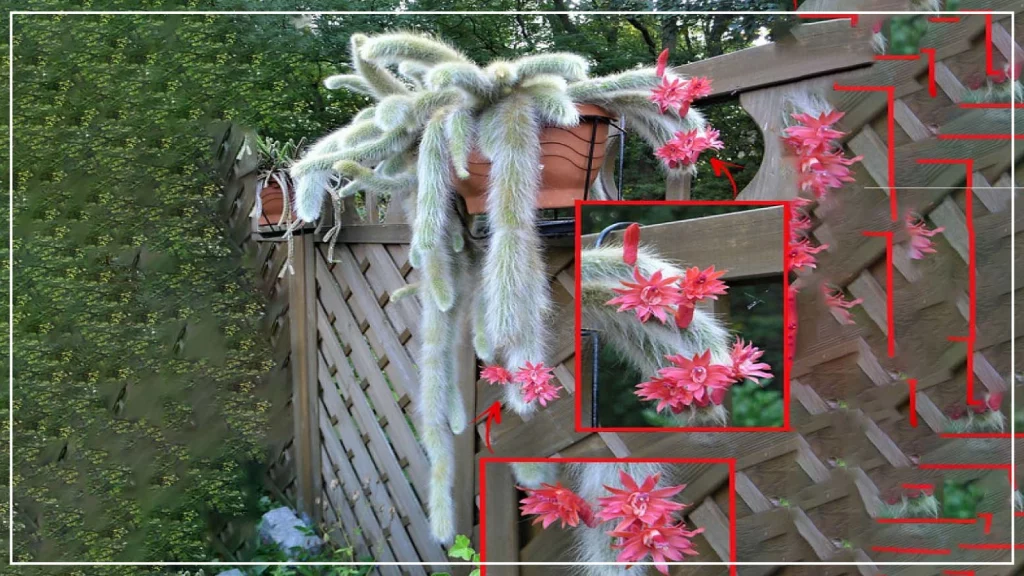 Repotting the plant every three years is advised to refresh the soil and replenish its nutritional value. Moreover, It is not required to expand the size of the pot unless you intend to house more individual plants in it.
Before repotting the plant, make sure the soil is fully dry. These will help to keep the soil fresh and enhance its nutritional value.
What makes this plant so special?
The Monkey Tail cactus's biggest attraction is its tails.

As a result, it will look best in a hanging basket or on an elevated pedestal that highlights this distinct feature.

It is also a plant that can be touched. The spines develop into long,

velvety 'hairs'

that may be stroked.

They are ginger at the base of the stem and become considerably lighter towards the tips of the stalks.

The stems are ridged to allow for expansion and contraction depending on the available water.

They lack leaves in favor of spines sprouting from

aerioles or nodes.

Unlike other plants, which have chlorophyll in their leaves, cacti have this

food-producing material in their stems. The stems are a pale yellowish-green tint.

When mature, the stems can grow to be

7.5 cm in diameter and 2.5 meters long.

The stems are stiff for a few feet at the base before beginning to droop. One plant might have

three to five stems

that branch at the base.

By growing numerous plants in the same pot, you may increase this number and create the impression of an

'octopus.'

During the spring and summer, the plant produces enormous

pink and red blooms

as well as a variety of other colors. Flowers can grow anywhere on the stems.
Things to keep in mind
Overwatering will cause stem discoloration and, eventually, decay. It will also cause rot in the roots.

Monkey tail is non-toxic and completely harmless to plant indoors however, it's not edible.

Its Flesh can be Toxic.

Keep it away from pets and out of reach of children, as it can poke them.

Keep a check on the growth of your cactus as they can turn invasive if not taken proper care of it.
The Bottom Line
If you are a beginner, this Monkey Tail cactus should be your first choice. Hence, it is so low maintenance and looks amazing indoors as well as out in the garden.
However, it will be a good addition to your house plant collection, and it is even good from an astrology point of view you can even add this to your office to attract fortune and add a touch of nature.
So what are you waiting for add this to your wishlist now!