"Behind every successful woman is a fabulous handbag!" This quote says a lot about the immense adoration that women hold. Besides makeup, dresses, outfits, jewelry, and heels, handbags are one of the dearies of any girl. 
Most of the influence comes from either movies or trends that women of today follow. Well! Let's be honest, who all have seen those iconic huge Dior tote bags and later felt like buying them to own one too? Yes, Mine too! 
Where does a question mark come from? Obviously, choosing from so many handbag brands is not a piece of cake, especially for a woman. So, my girlfriends, I have listed the most luxurious handbag brands available in the USA that will play up your style game altogether. 
14 Luxe Handbag Brands that will Dazzle your Wardrobe
Have you also ever wondered why these super expensive handbags are a rage among women, even though they can easily burn a hole in their pocket? There are mainly two things, first of all, a brand value, and second, there is no match to their quality. 
If you are not aware, some of these luxe handbag brands are perfect for investments. Along with owning and grabbing the attention of the world, your invested money can be appreciated considerably. (Hence, a great deal)
1. Coach
First in the line of 14 luxe bags is Coach, which dates back to the 1940s. Ever since then, the brand has grown immensely to establish itself as a classy and riche brand in accessories, especially purses.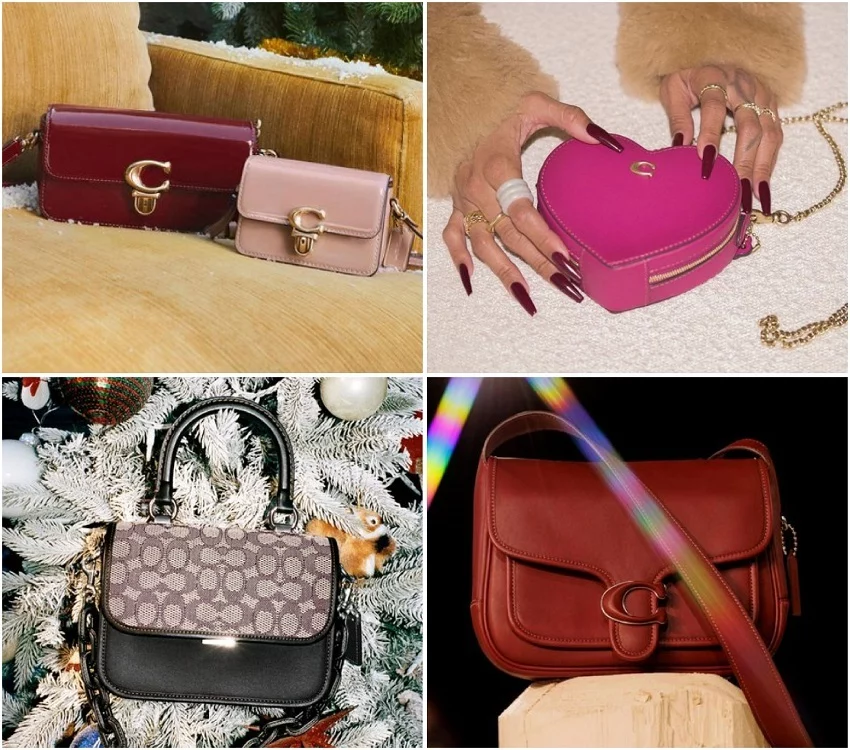 Today, the reputed American fashion house has a special line of bags that are in every color, texture, size, and occasion-wise. Some of its timeless pieces that every woman swears by are Willow Saddle Bag, Scout Hobo in Pebble Leather, Willow Tote in Colorblock, Lora Carryall Canvas in Signature 30, and more. 
To Check out their recent collection, check out their official website. 
2. Louis Vuitton
Influencers' favorite LV bags have a league and charm of their own. Moreover, the prestigious and status symbol that is attached to the women's bags needs to be mentioned. The craze is so much that you will see every other person carrying and flaunting a Louis.
However, the point is that this has somewhere the real and authentic LVs are lost in the pool of knock-offs. Therefore, there are various ways to check the authenticity of these handbags.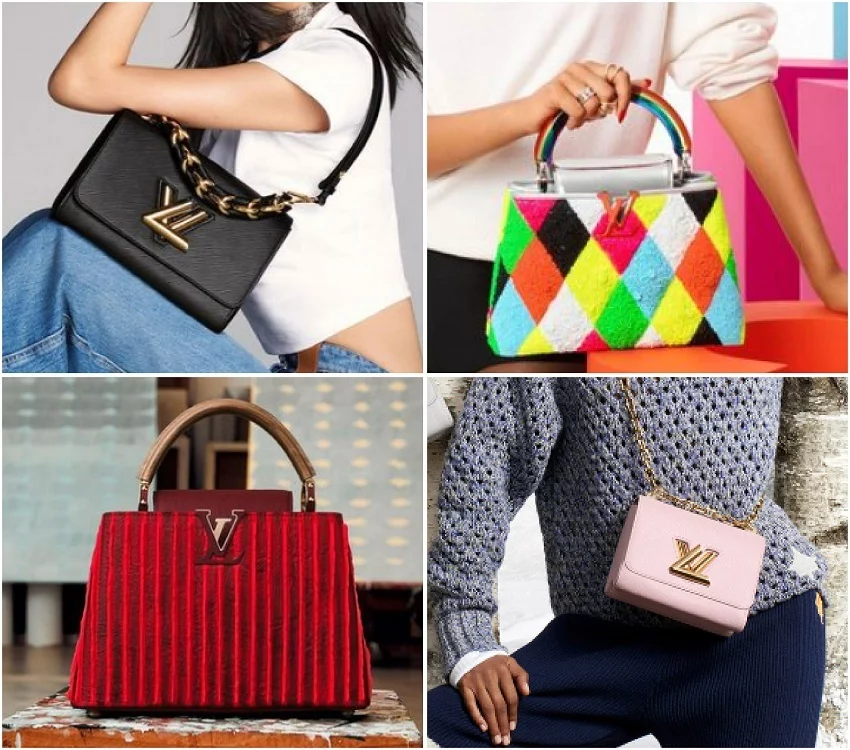 Although counterfeit items are quite affordable, they can surely not replace genuine branded products. So, try not to make a fool out of yourself by checking the stitching of the bag, heat stamps, the logo, and many other things. 
If you are already an LV lady, you must be aware of some of its evergreen handbags like Louis Vuitton Neverfull (world-famous tote), Louis Vuitton Pochette Metis, and more.
3. Michael Kors
Hollywood Boss ladies like Nicole Kidman, Amal Clooney, Kate Hudson, Blake Lively, and Gabrielle Union are a few of the leading ladies who have occasionally carried Michael Kors. This is one of the not-so-random handbag brands which is preferred by women worldwide. 
Moreover, the unmatchable craftsmanship and use of Saffiano leather as a material to make the handbags is the primary reason why women are readily willing to shell out a lot of bucks.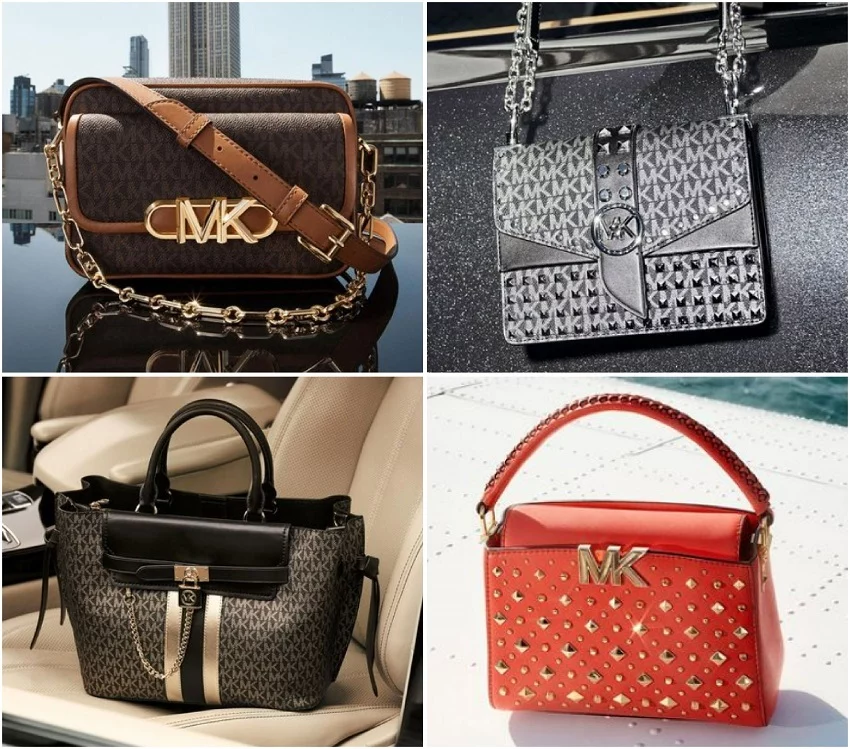 The bonus point is that Michael Kors is one of the premium brands that are accessible to a broad range of people. (In comparison to Gucci or Louis Vuitton). Furthermore, after you get a glance at their ageless bags, like Nouveau Hamilton Small Satchel Bag, Voyageur Medium Logo Stripe Tote Bag, Jessie Medium Two-Tone Logo Shoulder Bag, and Jet Set Saffiano Leather Top-Zip Tote Bag, you will not be able to stop buy one for yourself. 
4. Marc Jacobs
If you have seen a famous celebrity or influencer wearing a rectangular, solid crossbody bag, it is probably the very popular handbag brand Marc Jacobs. Additionally, its humble and statement tote bag is one of the dearests.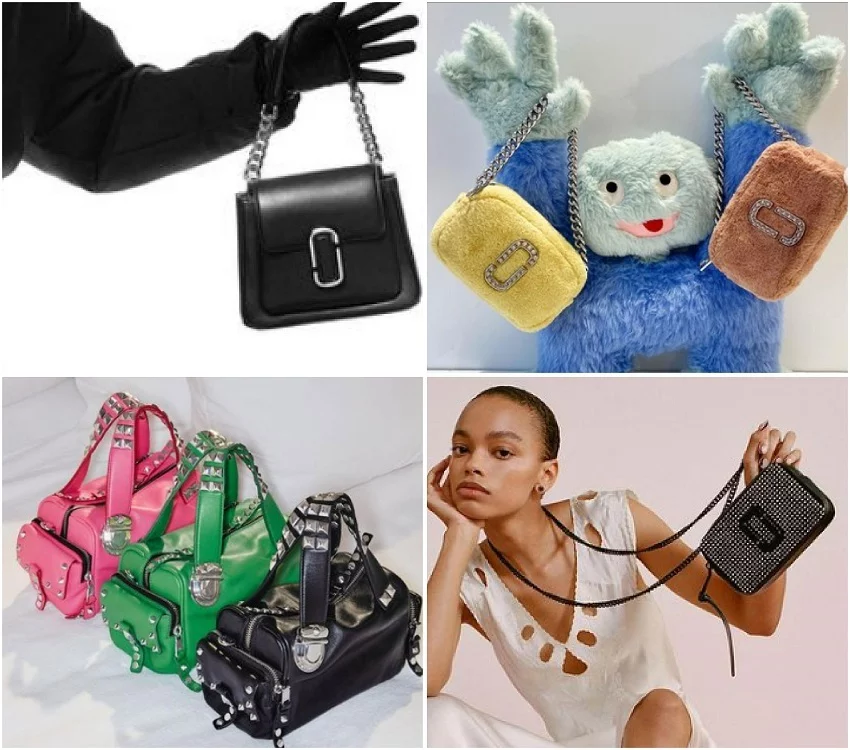 Also, if you are a big fan of ready-to-wear and edgy street style, Marc Jacobs will tick all the pointers. Fashion aficionado with a "badass" vibe, Marc Jacobs, will win you over. Another fact is that they are great investments and are reasonably priced. 
So, check out their website and purchase a handbag to play a little with your style. 
5. Kate Spade
In 2018, the famous fashion designer left the fashion industry in disbelief when she left for her heavenly abode. However, what she left behind was, is, and will always continue to be a trendsetter. This luxurious handbag brand is fun, bold, vibrant, and statement-making.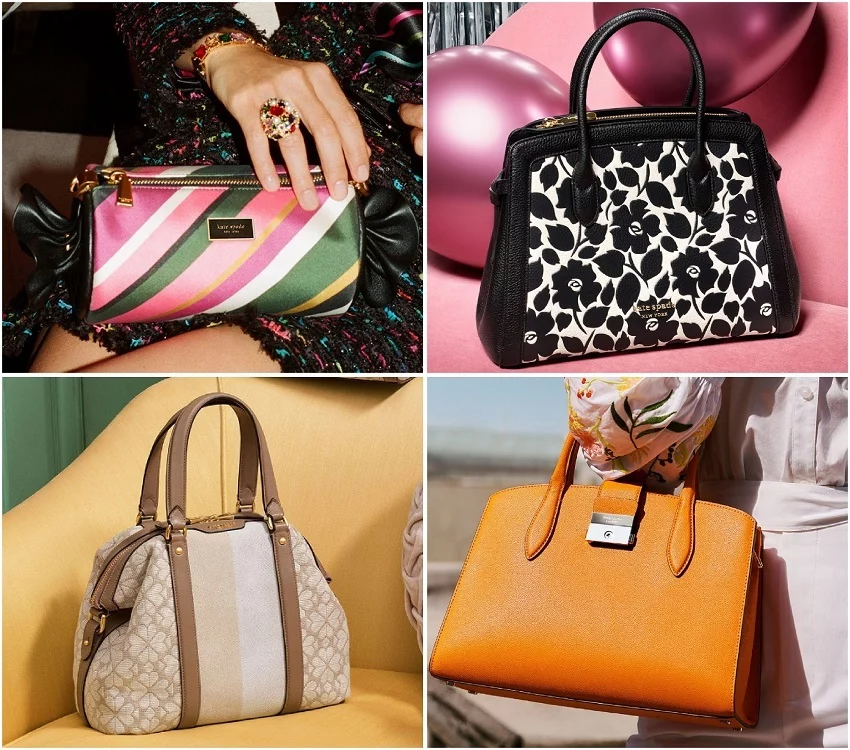 I know that not everybody likes to own boring logo-printed designer bags; some of us are huge fans of something fun and different. Kate Spade handbags like Guava Juice Bellini Embellished Medium Cross Body Bag, Kate Spade New York Pineapple Crossbody Bucket Bag, and more are something that will push you to take it off the display.
Also, to clarify, not only loud and party-going bags are available; there is a varied range of office-going subtle bags too. And the good news is that they are not all that expensive. Although it comes under the umbrella of premium bags, you can get hands-on with them without dropping a bomb on your wallet. 
6. Dior
If we talk about luxurious handbag brands and do not include DIOR, the list is incomplete. This designer brand is beloved by many renowned actresses around the world. You can carry any of their bags, and you will certainly steal the show. 
Christian Dior's Book Tote is a cult classic and has made a special place on the shelves of many women. It's not like self-branding has never been done before, but Dior's version was an instant hit, which continues to sell like hotcakes.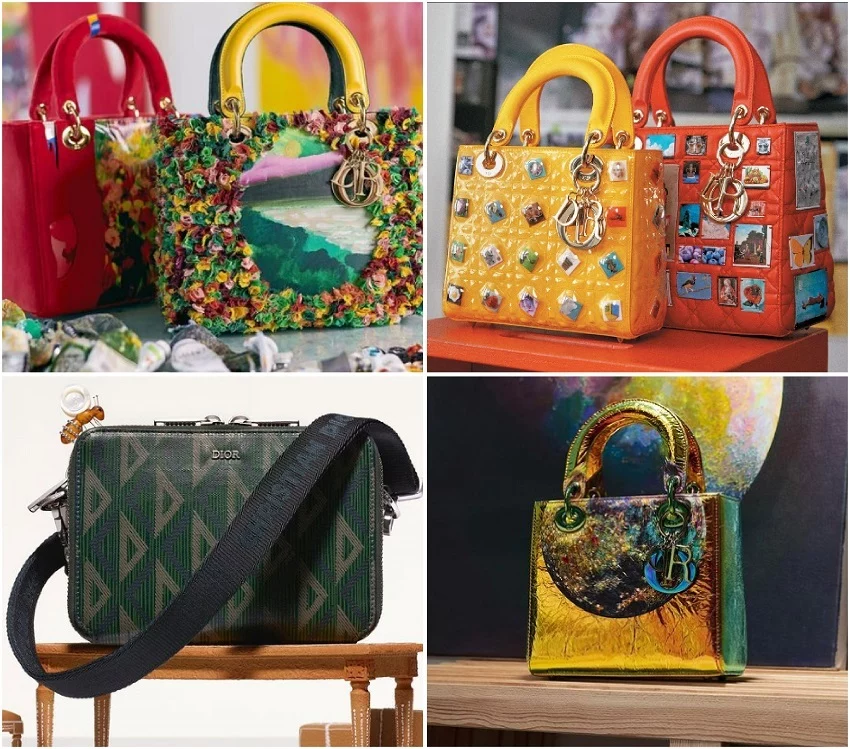 Additionally, some of their bags that are a must to purchase if you are a big "Dior Girl" are Saddle Bag with Strap, Lady Dior Bag, Bubble Bucket Bag, and more. Plus, their iconic charms and intricate details are unmatched. 
7. Tory Burch
Not a very old premium brand; it was established in the year 2004. With an inspiring purpose of empowering women entrepreneurs, the brand has crossed many others in their quality and detail. 
This Masstige brand uses nothing but pure leather and promises quality. Not only leather but some of their bags are made of Nylon and canvas, which gives a novel texture to their handbags.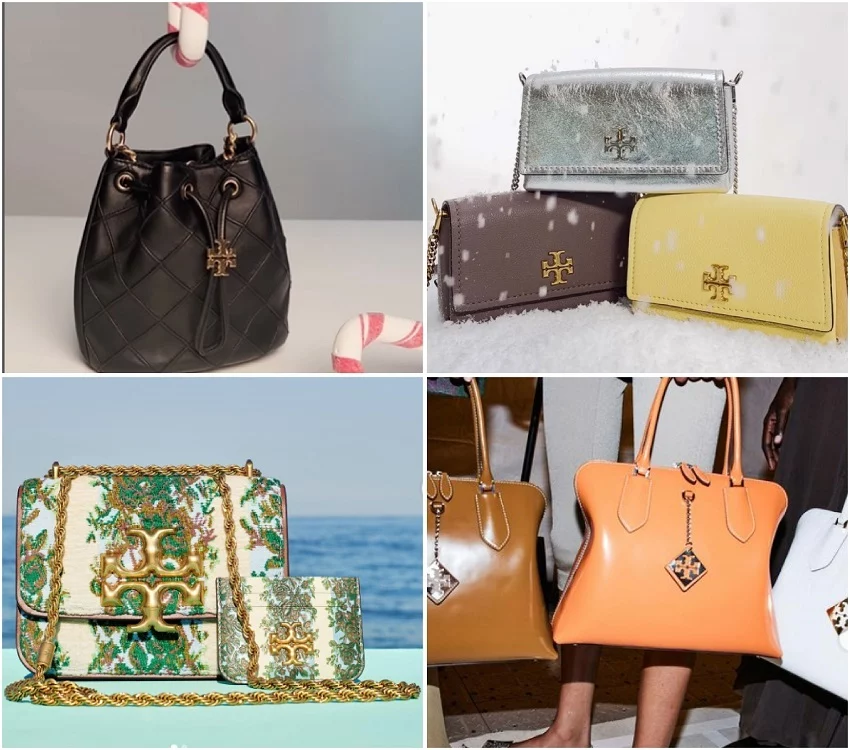 Although it is not a luxurious handbag brand per se, it still matches the standards of being a high-end brand to sell women's bags. Moreover, the look of the bags just adds so much aesthetic to any women's OOTD. Fleming Matte Convertible Shoulder Bag, Ella Patent Tote Bag, Small Ella Basketweave Tote, Fleming Soft Flame Stitch Bucket Bag, Mini Kira Patent Ruched Flap Bag, and Small 151 Mercer Crescent Bag are a few bags you must consider buying. 
8. Saint Laurent
Très chic et belle! A true Parisian-styled brand stands by sleek and sophisticated with a modern appeal. And truly, YSL is worth the hype, and I say this because this lady's luxe brand is all about haute couture, style, and luxury.  
From a price point of view, the handbags are well-made, well-crafted, and quite durable. And to clear your doubt, if you already own some of their seasonless babies like the Loulou and Sac de Jour, you are in luck as they have higher resale value.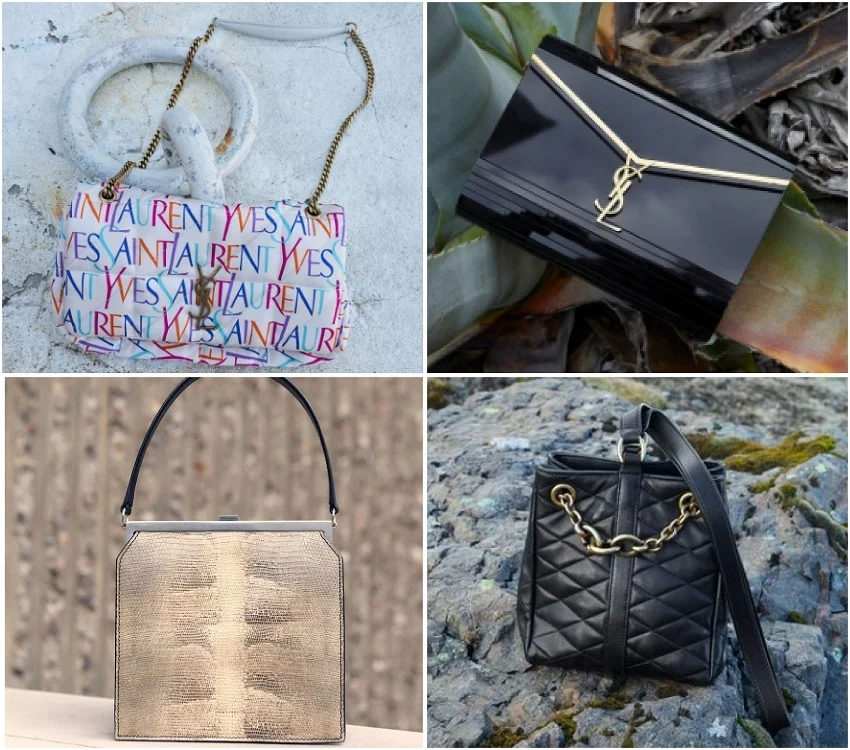 Yves Saint Laurent and his partner, Pierre Bergé, opened this exquisite french brand in 1962 to bring exclusivity and high-end fashion into the mainstream. Also, it's no biggie that fashion lovers and Fashionphiles are a keeper of Saint Laurent handbags. 
Sunset, Solferino, The Shopper Tote, and Kate are some of the bags that women of high taste must own. 
9. Chanel
Coco Chanel, the founder of Chanel, founded the very famous quilted bag that, till today, has a massive fan following. Because all the Chanel articles are crafted with utmost care and precision, women are willing to spend thousands and thousands of dollars. 
And isn't it a fact that rare and desired things always cost us much more than any other designer thing? That's exactly the case with Chanel's classic quilted solid bags. Whatever fashion trend may flood the market, the ageless statement Chanel handbags are not going anywhere.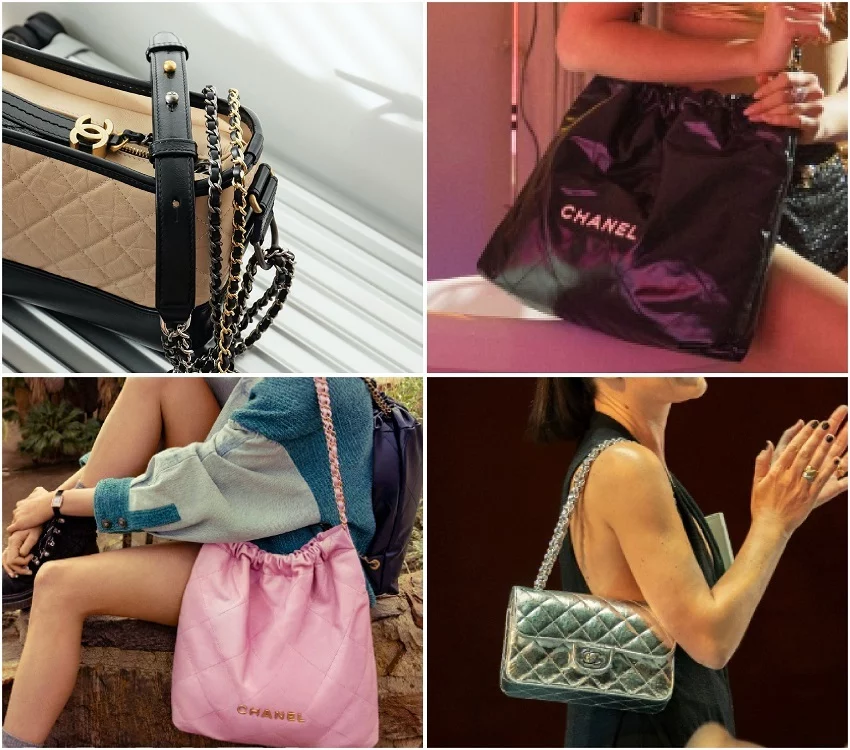 Chanel Classic Double Flap, Shopping Tote, Wallet on Chain, Camera Bag, and all-in quilted design are the top picks of stylish and elegant ladies. One interesting fact about this super high-end handbag brand is that all the craftsmen are Europe-based and are top of their game. 
10. Hermès Birkin
Simply a piece of art, Hermès Birkin works on just one belief, "one craftsman, one bag." A total of 18 hours are dedicated to the creation of one bag. Box Calf, Clemence, Epsom, Togo, and Niloticus crocodile skin are used in its creation, and the bags get beautiful as time passes by. Hence, its prices always appreciate over time. 
Because they are rare and not mass-produced, a lot of detailing and perfection goes into the making of one bag, for which every craftsman has to go for three to four years of training.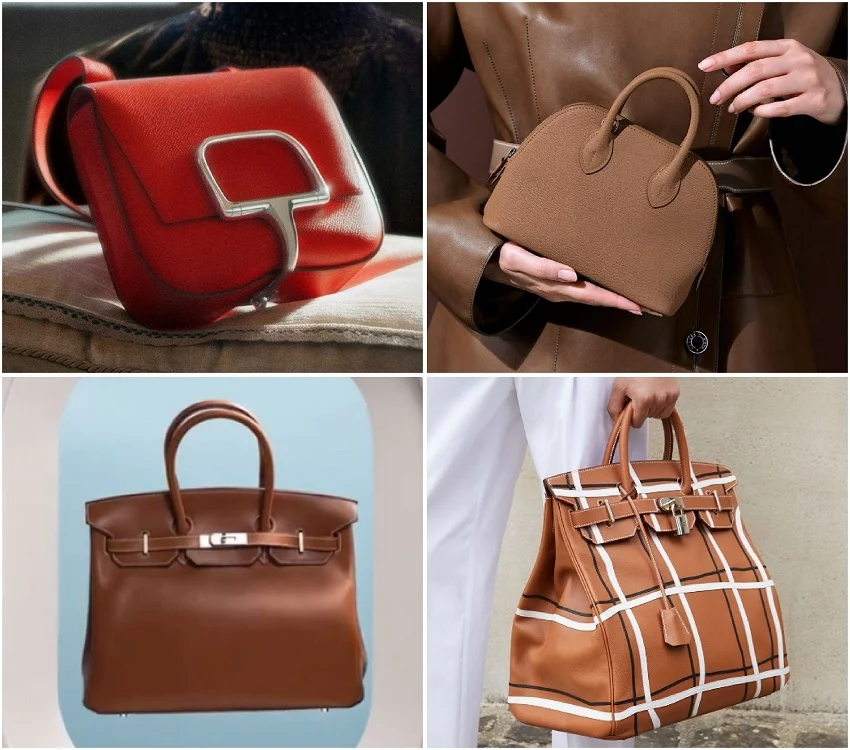 A woman who owns a Birkin means that she is très riche. Birkin 25, Birkin 30, Birkin 35, and Birkin 40 are timeless and the most popular Birkins of the lot. 
11. Prada
Among so many shiny, leathery, and luxe handbags, there is a special place for the Prada Nylon Bags. Although it is not as expensive as Louis Vuitton or Birkins, this handbag brand produces items that are of high quality, sought after, and upscale. 
Because it is considered a huge brand, the prices are quite reasonable. 90's, off-beat, and very street-style handbags are popular among influencers, actresses, and street artists. The way they complement a comfy appearance, nothing else can.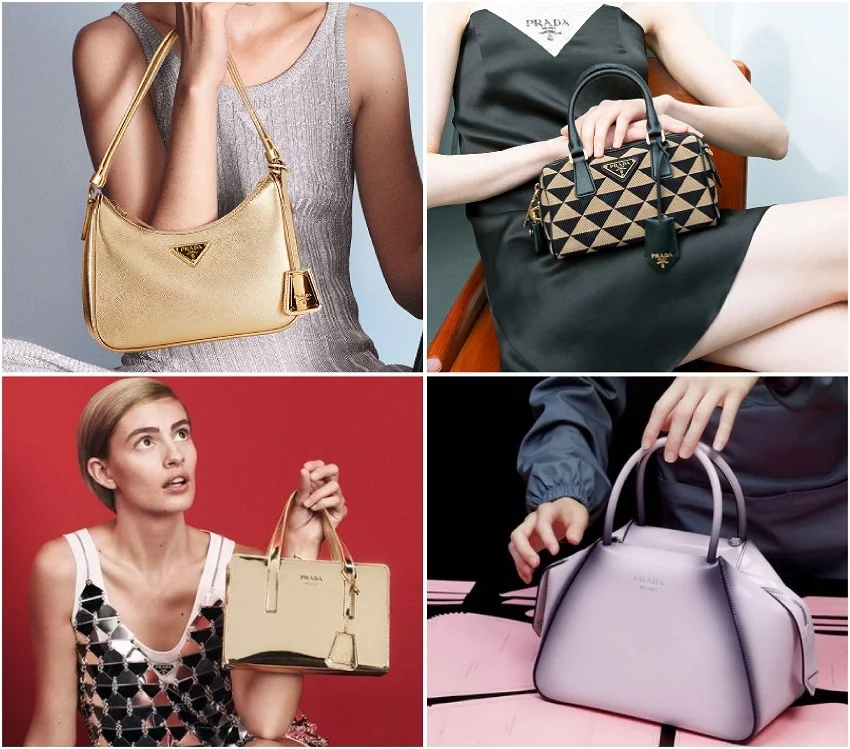 Kate Moss and Naomi Campbell, off-duty models, are seen pairing their nylon bags with their outfits. Prada Cleo Bags, Bowling Bags, and Bucket Bags are also teens' favorites. 
12. Gucci
"Gucci Gang" got very famous for various reasons, but the underlying point is that Gucci is a name that people know all over the world. This Italian handbag brand is in vogue and will stay the same for many years to come. 
Needless to say that there is no comparison between a random bag you find in stores and a luxurious Gucci bag on display. Buying one of their handbags is an experience of its own. The prestige, desirability, and social status attached to the brand self-describes a lot about each of its designer articles.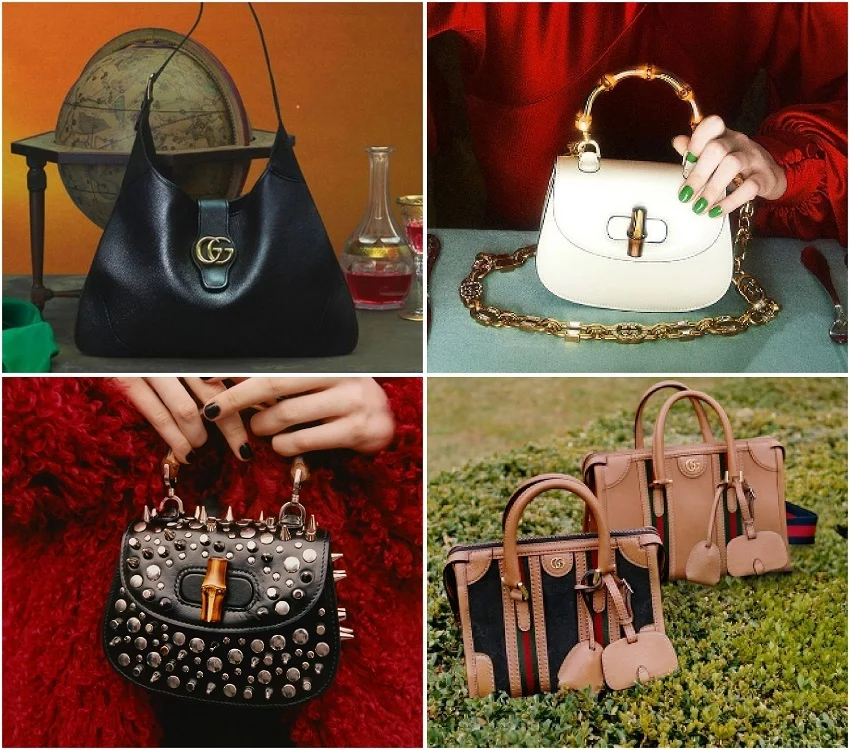 Speaking of its material, it is mainly made of leather, suede, and canvas and is 100 percent made in Italy. Gucci Attache, Gucci Diana, Gucci Blondie, Gucci Bamboo 1947, Jackie 1961, GG Marmont, and Gucci Ophidia Medium Canvas Tote are big hits among the "Gucci Gang."
13. Chloé
This opulent french brand sells free-spirited, feminine, and delicate designs that are very dressy and girly. Chloé, a Paris fashion house, has a range of exquisite handbags that are a must if you love to collect handbags as a passion. Its impeccable quality and approachable fashion styles get the brand one of the positions in the list of luxurious yet sustainable.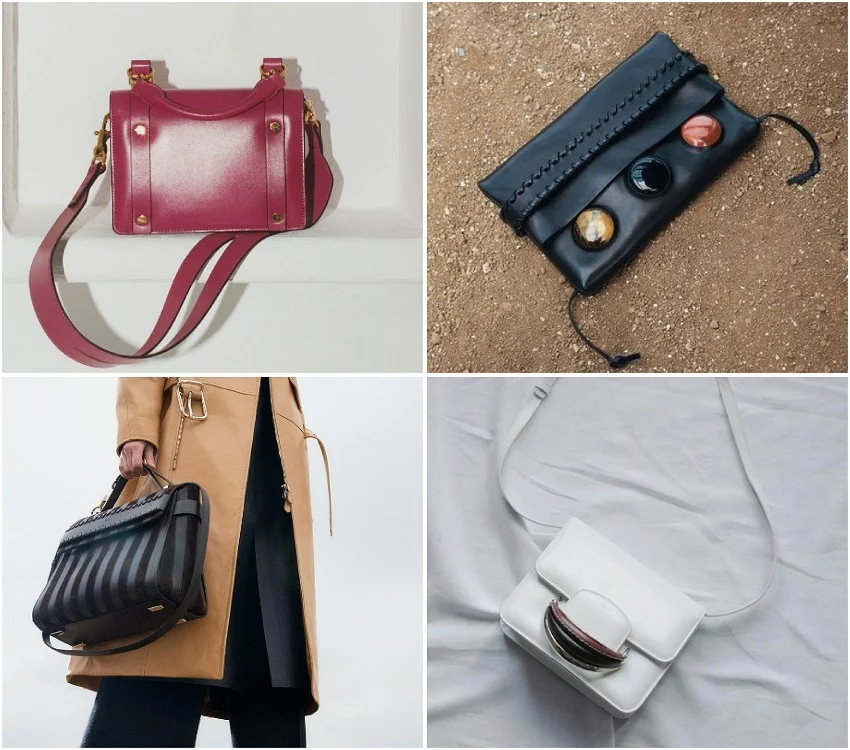 You would mainly find either retro jazz vibes or nude and pastel palettes featuring the handbags. Chloé Large Woody Canvas Tote, Chloé Medium Edith Leather Day Bag, Chloé Faye Medium Top Handle Bag, Chloé Small Tess Leather Saddle Bag, and Chloé Jorge Cashmere Hobo Bag are some of its hot-selling collection. 
Not-so-affordable bags of Chloé will give you the option to choose something different and exotic. Besides handbags, their dresses and flats are very famous. 
14. Stella McCartney
One of the vegan, cruelty-free and sustainable fashion and handbag brands is Stella McCartney. To date, the affluent fashion label has never used leather, fur, skin, or feathers to produce their articles. 
Having said that, you will not be able to believe from the texture and feel of the bag that it is not leather. Its iconic Falabella is made up of recycled materials and still is a favorite of fashion lovers.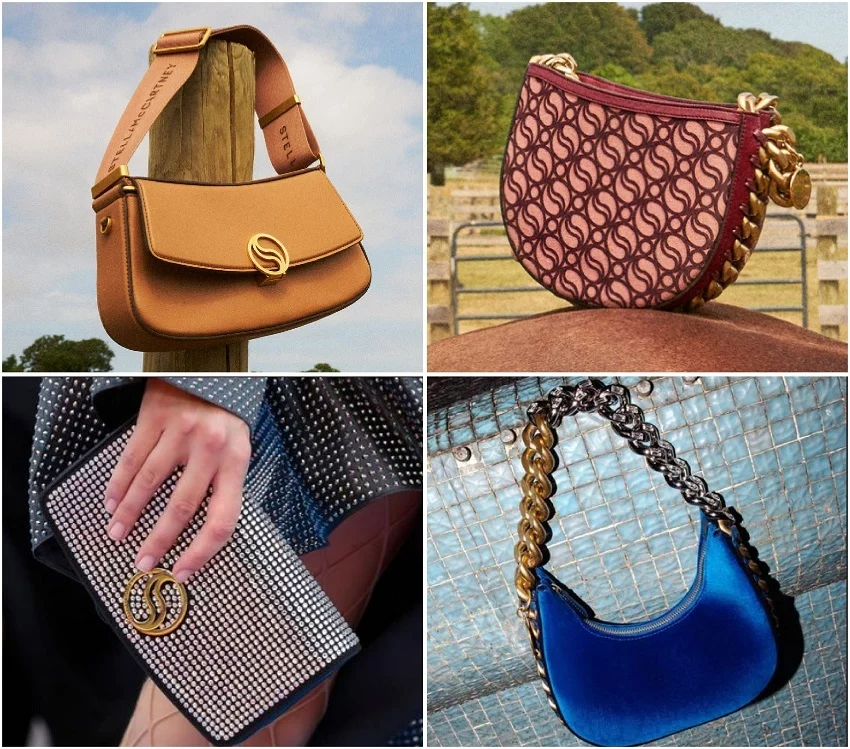 Therefore, check out more designs and patterns on their official website before making a purchase.
The Bottom Line
Today, both women and men are crazy about fashion and accessories. Not only do they invest a lot of money in designer clothes, but they also spend a lot to make a sort of investment. 
So, these 14 luxurious handbag brands are perfect to up your style game plus for making an investment.