NYC is a perfect place to enjoy its pristine snow, its beaches, cafes, the prevalence of global exchanges, and host dreamy events. Be it any celebration, NYC will extend its best of the best. From bridal showers to baby showers, you are sure to take a beautiful leaf of memory back home with you. 
The concept of hosting baby showers is not new, as in many cultures, it is celebrated differently and has different names. For example, Indian Godh Bharai, Afghani Sixth Night, South African Stork Party, Tibetan Pang-sai, and Chinese Full Moon Celebration.
If your friend or relative is soon going to be a Mama, and you want to be the planner of her baby shower, you need nothing but the bestest place to make her feel special (Yourself too). I have included the 20 best places to host a baby shower in NYC, so you have choices to pick the ideal one. 
20 Places in NYC to Host a Baby Shower
I know that the soon-to-be Mama wants everything to be perfect, and you also want to surprise her with something that her ground slides. (Not Literally!) From rustic interiors and rooftops to well-manicured cafes, I have included all to give you variety. 
1. Kimoto Rooftop Garden Lounge, Brooklyn
Inspired by Japanese designs, the space is ideal for the ones to want a sophisticated and poised setting. Additionally, the availability of an indoor garden lounge and an insulated covered rooftop will add the oomph to your celebratory evening or luncheon.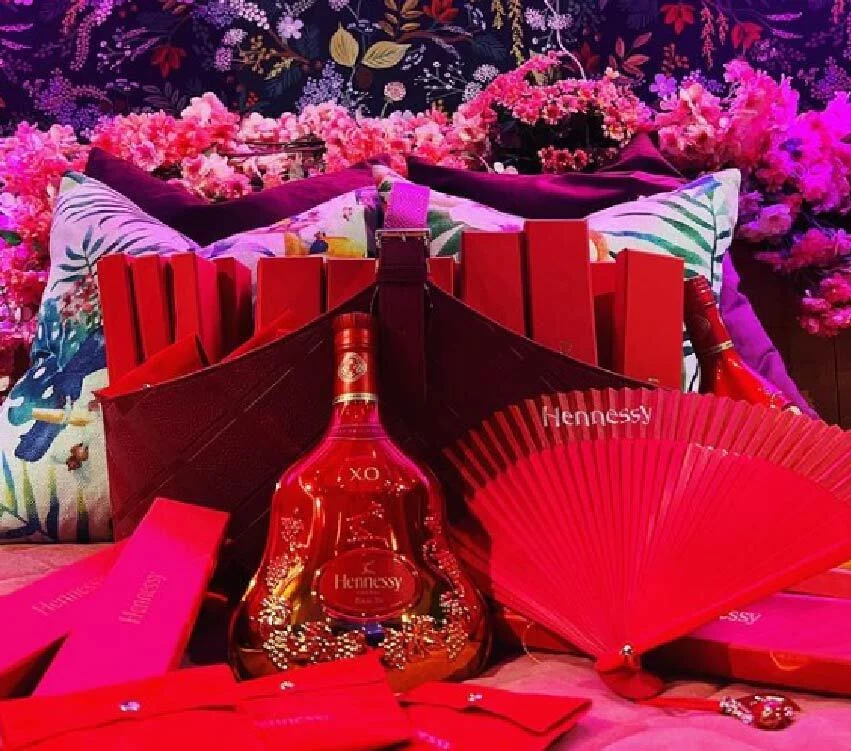 Not to miss out on many necessary amenities like catering services, open bars, passed hors d'oeuvres, and a completely exclusive menu, you will not be able to pick it as the venue for your baby shower. 
Just because most of the accents are wooden does not mean it will be any less, as the warm lights, cozy aura, and heated terrace will make you beyond comfortable.
Location – 228 Duffield St, Brooklyn, NY 11201, United States
Website – https://www.kimotorooftop.com/  
2. The Wagner At The Battery, Skyline Vista
If you wish to know the gender of your baby at a beautiful place with cosmopolitan city vistas? Book a spot here. The tall windows running the room, high ceilings, city lights, modern aesthetics, and more will not only welcome you but also impress you.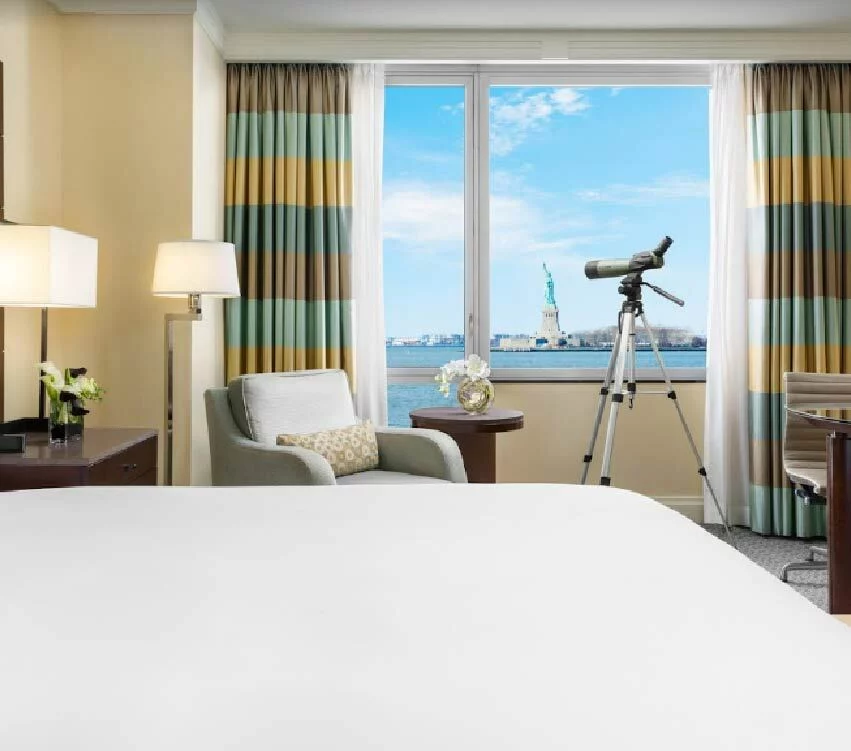 In fact, the in-house food can customize the menu according to your taste and preferences, so you have a personalized touch too. Moreover, you can easily invite 100 close people who can easily be accommodated and be a part of your special day. 
Location –  2 West St, New York, NY 10004, United States
3. Terrace On The Park – Paradise Ballroom
What could be more perfect than celebrating your baby shower or throwing your bestie a baby shower with a lake view? Anyone who is fond of naturalistic views, customization, a plethora of amenities, an outdoor terrace, a flawless indoor space, and more you have hit the jackpot with Terrace On The Park.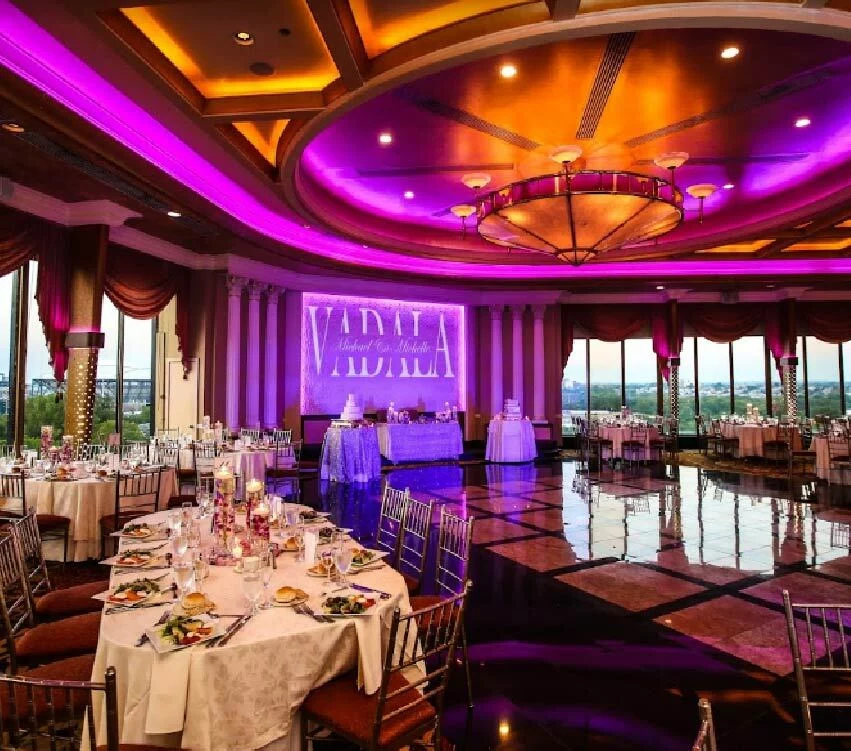 Moreover, the lavish and well-designed 7,500-square-foot space is not going to disappoint you or your guests, who are coming to whisper something sweet in your ears. Not just a ballroom, suites to penthouses are also available with audio-visual systems, catering, decorations, and bartenders. 
Location – 52-11 111th St, Queens, NY 11368, United States
Website – https://www.terraceonthepark.com/
4. Kingston Hall
Not everybody is a fan of a chic and elegant venue to celebrate their special days. This is why I have included Kingston Hill in the list of the best places to host a baby shower in NYC. It is an authentic Jamaican breeze in the metropolitan area of NYC. 
You would see every other preggie hosting a baby shower in a boutique-styled instagrammable cafe. But you pick something totally different and throw a shower in this old-world charm, vibrant space.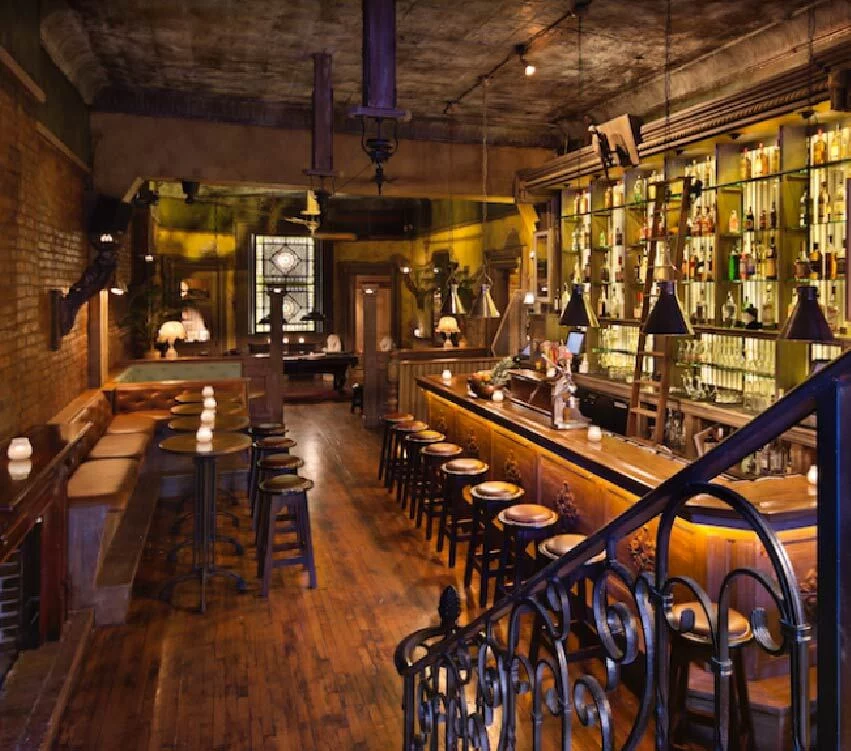 Furthermore, this Jamaican-themed social house has an inviting and welcoming vibe to it, which exhibits a true Caribbean feel. Some of the impressive things you and your guests will spot there are hand-carved wooden furniture, sculptures, a fireplace, earthy accents, exposed brick walls, warm lighting, and more. The bonus is that you get to see that at very affordable rates.
Location – 149 2nd Ave, New York, NY 10003, United States
Website – https://www.kingstonhall.com/
5. A.R.T Soho
"Luxurious" is the word to describe A.R.T Soho. Whatever type of gathering you wish to host, it is easily going to accommodate 250-plus guests. Additionally, you can choose either the chic and sophisticated interior or go for the HEP outdoors with panoramic vistas of the city.
If you think the exteriors will not be able to justify the lavish theme of your baby shower, you are mistaken! Well-lit candles, warm and bright night lights, urban yet comfortable furnishings, modern aesthetics, and a spacious area will leave without any doubt.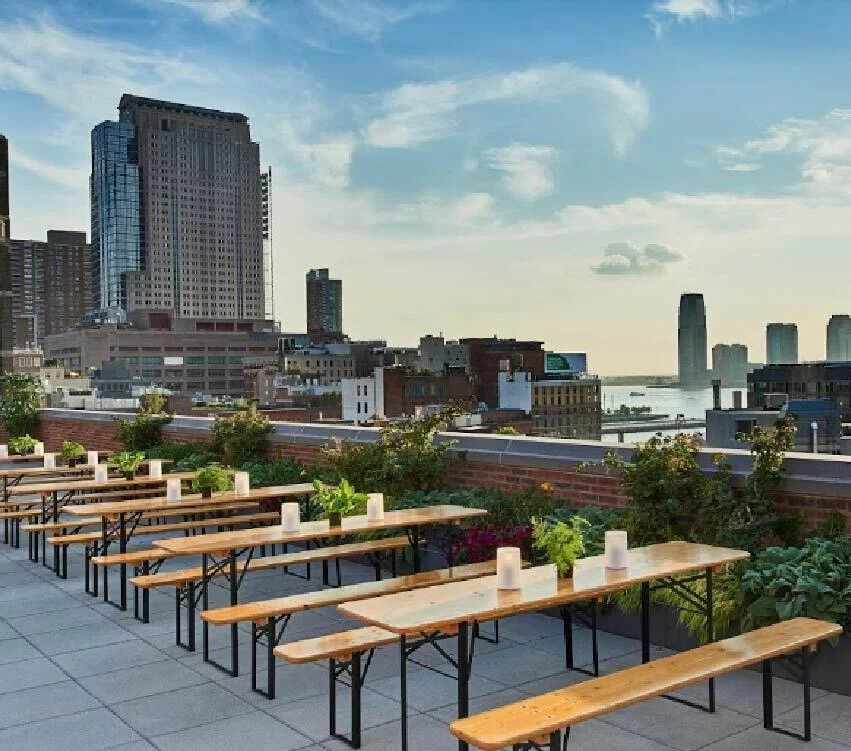 Also, there is the availability of a bar that serves cocktails, mocktails, and craft beers. Food, music, decoration, beverages, and many other in-house amenities make it a premium choice for hosting a baby shower. 
Location –  231 Hudson St, 11th Floor, New York, NY 10013, United States
Website – https://arlohotels.com/soho
6. Brooklyn Winery
Located in the heart of Williamsburg, Brooklyn Winery is a polished winery cum event space. This breathtaking place is one of the best places to host a baby shower in NYC, as it has a vintage tinge to the overall appeal of the place. 
Of course, it is needless to say that you don't need to worry about the wine, but there is no need to think twice about the food and other things. The team of professional chefs will take care of the appetite of you and your guests.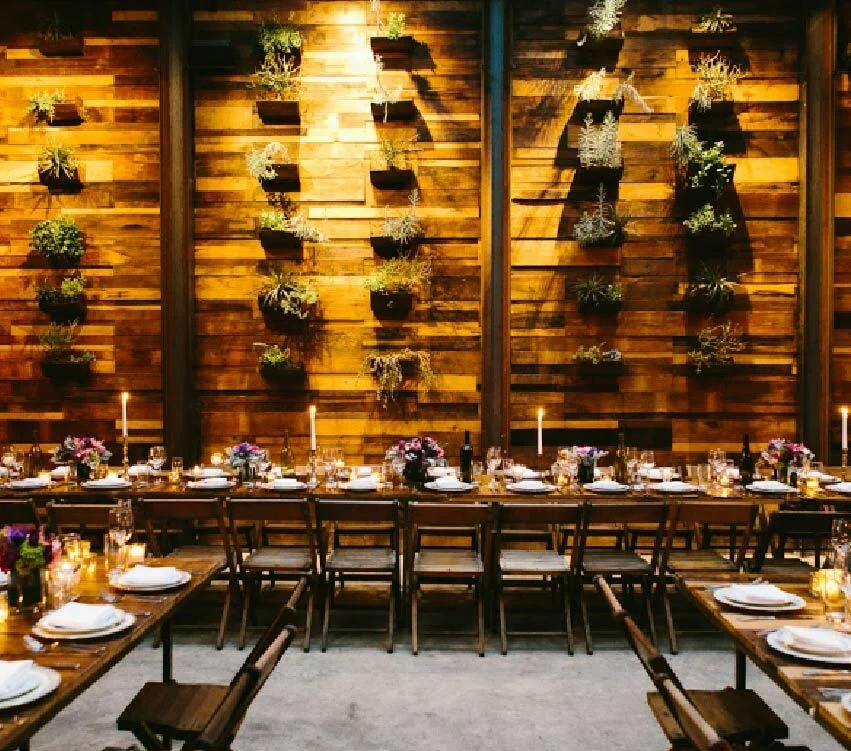 Speaking about the exclusive and beyond-believing decor of the space is quite dramatic. The mid-century furniture, classic wine barrel tables, and vintage lighting will set a regal theme for your baby shower. 
Location – 213 N 8th St, Brooklyn, NY 11211, USA
Website – https://bkwinery.com
7. Maman Soho
Who can say no to an avant-garde place that will startle you and your guests? This french cafe is so beautiful and polished that you will be able to seize the moments all right. So, make sure to book this charming place to commemorate your D-Day. 
I promise you that the moment you step into the cafe, you will not be able to leave without booking it as the venue for your baby shower. Plus, you can go for a boho dress code, as the place has rustic exposed bricks, wooden farm tables, classic chinaware, toile wallpaper, and a "high-tea" ambiance.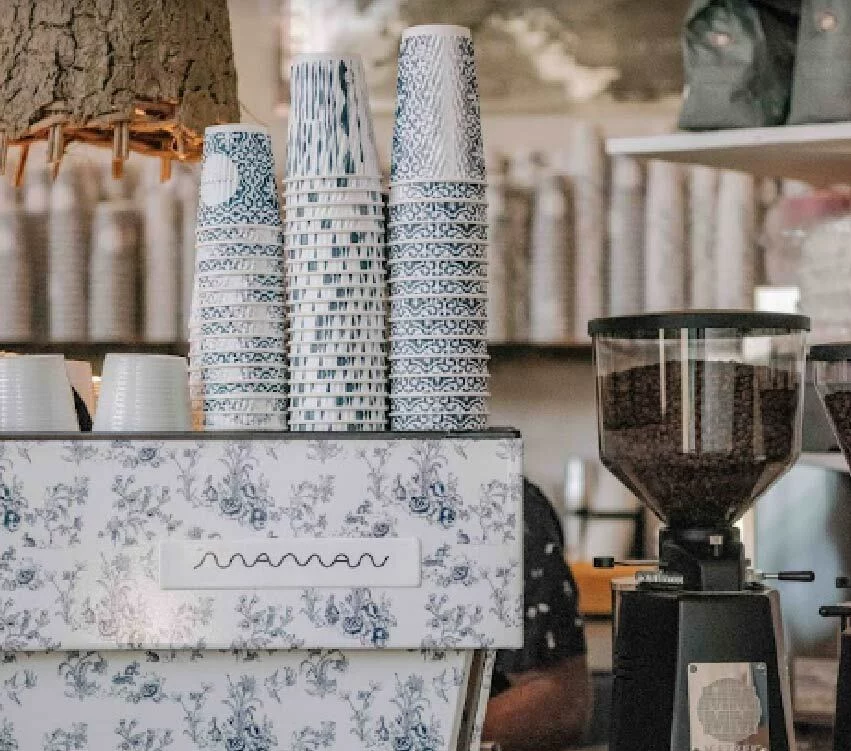 In fact, the in-house bakery, kitchen, and cafe will cover all your requirements, as everything will be fresh, customized, and healthy too. So, mama, what is stopping you from making this photogenic space the venue for your baby shower? 
Location –  239 Centre St, New York, NY 10013, United States
Website – https://mamannyc.com/
8. Pisticci
Everybody's favorite Italian cuisine is always a hit when it comes to hosting special events. And if they are planning your special day, they guarantee nothing but perfect. Not only will they make your day quite unforgettable, but they will also leave a dazzling impression on your guests. 
An exclusive bar, old wooden charm, private parlors, chic interiors, and comfy setup make it one of the best places to host a baby shower in NYC. What's more? Well, the food on the plates is sourced from their own locally grown farm in Hudson Valley. Plates of pasta tossed with different, exotic veggies with a garnishing of homemade mozzarella cheese are going to leave you wanting more.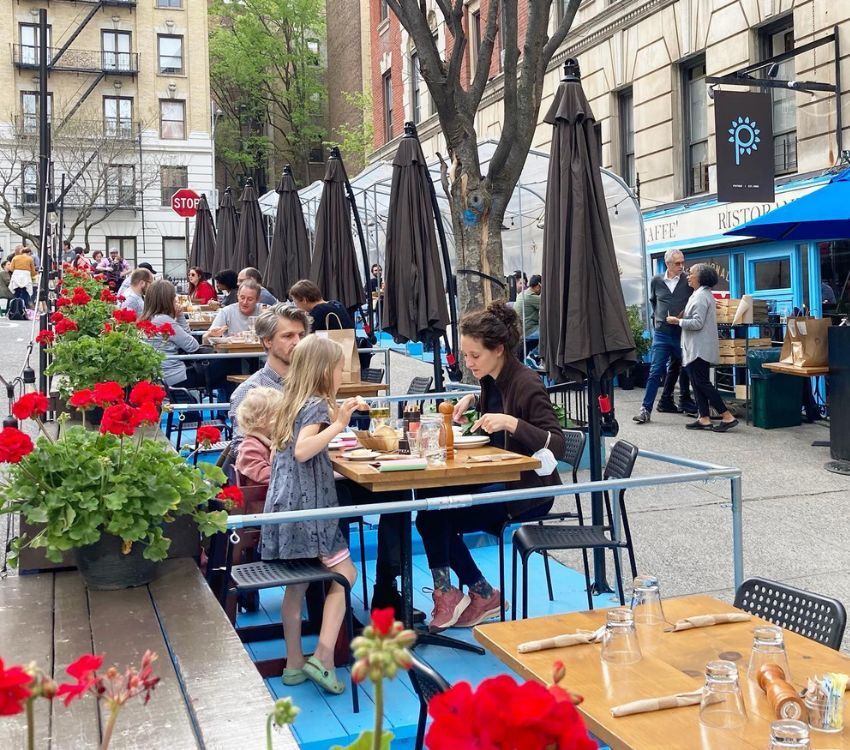 So, expecting mommies if you are a fan of something intimate and chic, an evening here will not disappoint you. 
Location – 125 La Salle St, New York, NY 10027, United States
Website – http://www.pisticcinyc.com/
9. Sotto 13
Another Italian HEP and fine-dining restaurant in NYC is Sotto 13. Its location in a historic brownstone building in the New York City neighborhood has everything you need to throw a fun baby shower. 
This cocktail-style place is out-and-out ideal for hosting something intimate and unique. From housing 80 people to a sun-kissed and natural environment, you will not go wrong with this as a venue for your baby shower.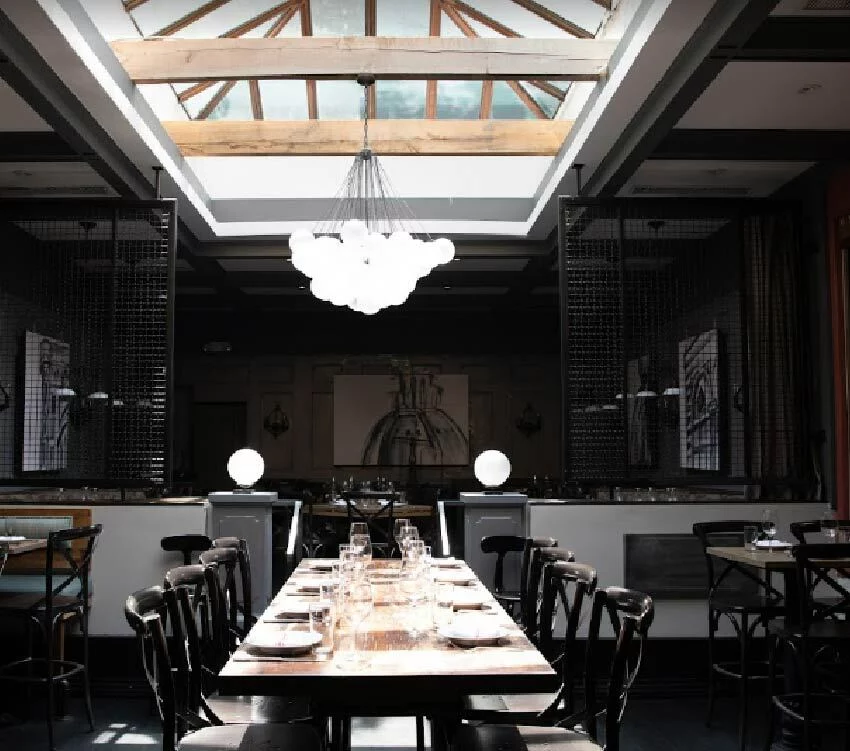 Wood-fired pizza, delicious plates of pasta, and buttery desserts will make the exquisite menu. After all, you would not want to settle for the ordinary.
Location – 140 W 13th St, New York, NY 10011, United States
Website – https://www.sotto13.com/
10. Uva
Surprise your friends and family with a great evening in Uva. This intimate private cellar will make a special place in your heart. You will not be able to miss the candle-lit staircase, chandeliers, glass crockery, ancient artifacts, and more. 
Because every countable and memorable moment requires taking care of minute details, which is quite understandable to the team of Uva. In addition to their interiors, the decadent menu of both English breakfast and Italian cuisine.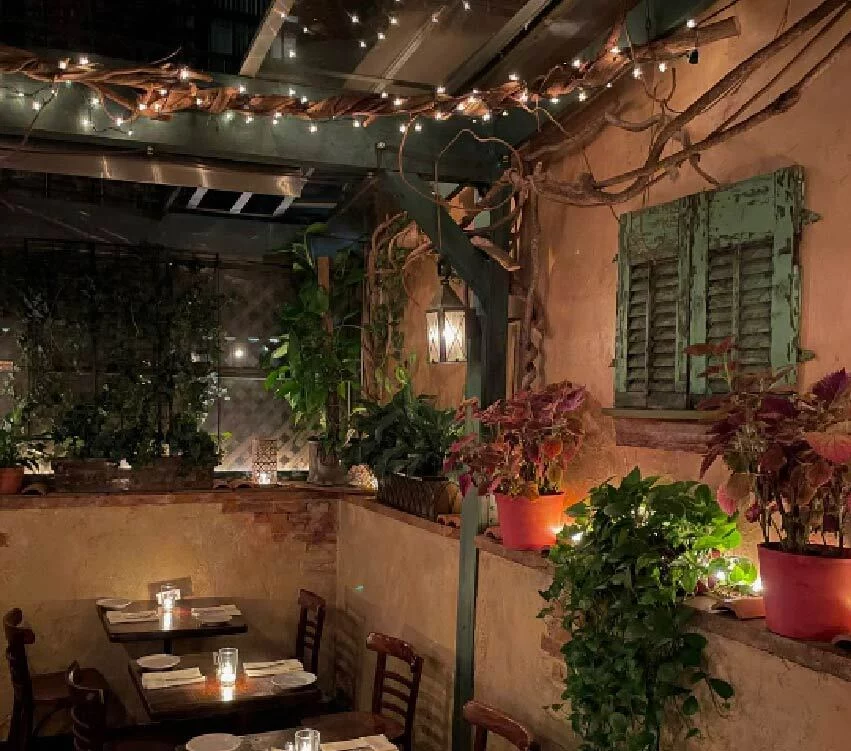 Therefore, plan your baby shower according to your food preferences and decor taste. Lastly, the MIMOSAS will flow without any interruptions, which accompanies the meals perfectly.
Location – 1486 2nd Ave, New York, NY 10075, United States
Website – https://www.uvanyc.com/
11. Gertie
Extremely trendy, summary-vibed, and all-day cafe in Williamsburg, it is perfect for the ones who prefer a casual get-together instead of something very formal. Flowers, breezy pastel dresses, loose hair, and the pinkish color theme are the overall aura of this laid-back place.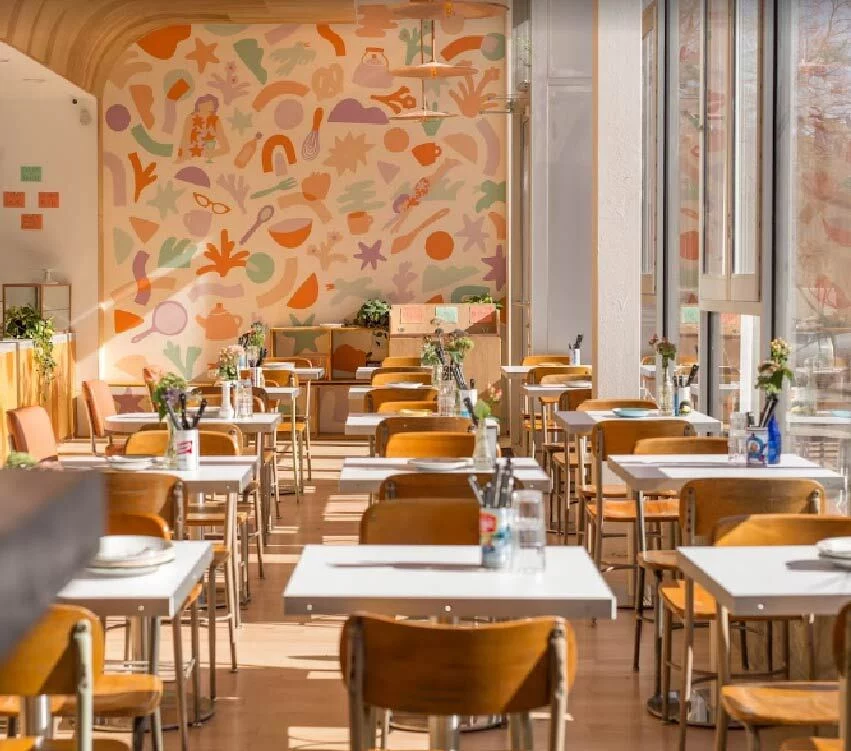 As far as its menu is concerned, the cafe serves classic Jewish deli dishes like smoked fish, turkey pastrami clubs, chicken schnitzel, bagels, and more. Besides, after you and your group of close friends are here, the beachy nuances will make this one of the very different places to host a baby shower. 
And you don't need to worry about the space as it has enough room to welcome 30 to 50 guests at once. So, mama and papa, book it for the celebration day. 
Location – 357 Grand St, Brooklyn, NY 11211, United States
Website – https://www.gertie.nyc/
12. Vinegar Hill House
I agree that there is something special about old, vintage, and quaint places. Maybe they become the perfect backdrops when you pose with your besties. With a private dining room, an open fireplace, a vintage carriage house, and a wild courtyard.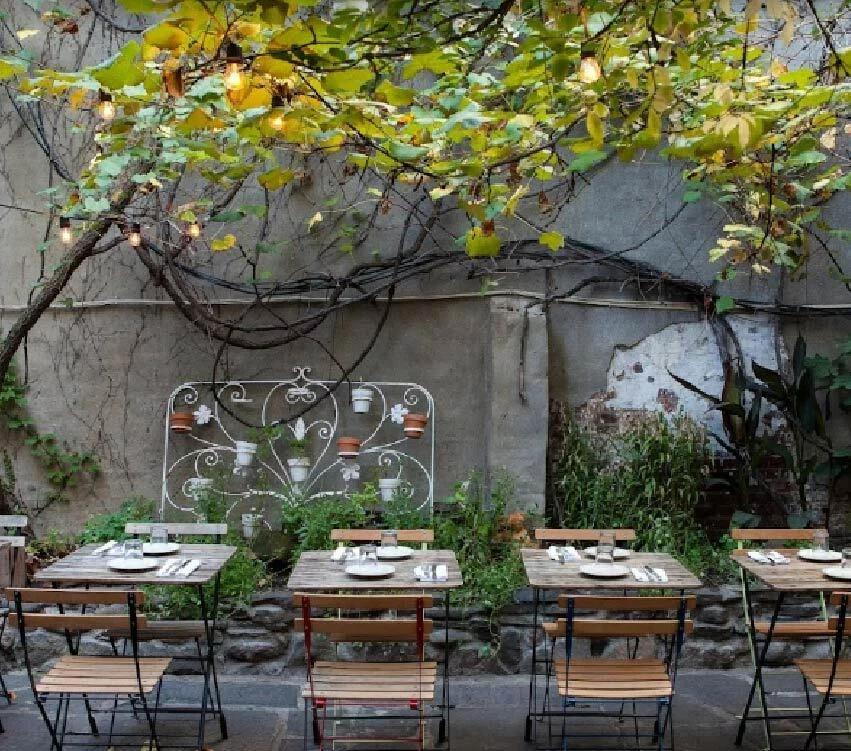 The climbers have surrounded the four walls of the backyard, making the dining experience quite novel. Therefore, send the invites to upto 45 close people and have a great evening. 
Location –  72 Hudson Ave, Brooklyn, NY 11201, United States
Website – https://www.vinegarhillhouse.com/
13. Bottino
Established in 1986, this luxurious-looking restaurant serves Tuscan cuisine to your tables. West Chelsea's prized space is not any random eatery; in fact, it vibrates a high-end vibe. Whether you want to host a luncheon or late evening party as your baby shower, they have arrangements for all.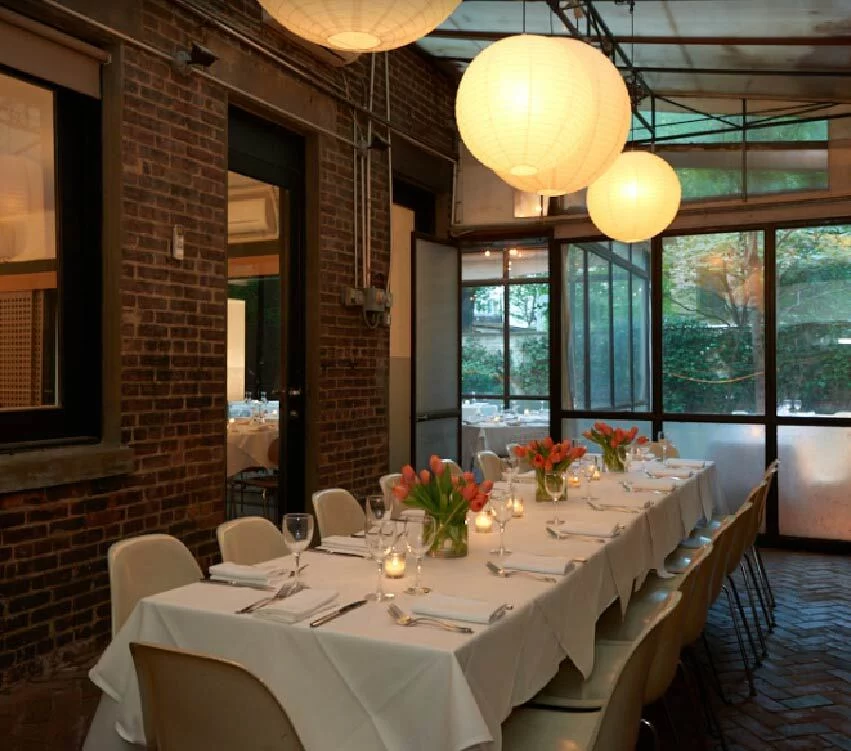 From starters, the main course, cocktails, and sides to appealing interiors, the space has it all. And if your guest list will go up to 120 people, why worry? This premise is suitable for all. Be it any time of the day, they will design and decorate it accordingly. 
Because you are near your delivery, don't stress out too much and leave everything upon Bottino and the team to manage everything little thing. After all, you deserve to enjoy your baby shower. 
Location – 246 10th Ave, New York, NY 10001, United States
Website – https://bottinonyc.com/
14. Root & Bone
I know I know, you must be attracting your heads after reading the name of this place. However, to your surprise, it is actually opposite to its name. The restaurant is run by the chef couple Chef Jeff McInnis and Chef Janine Booth, who have won the hearts of many people all over the world.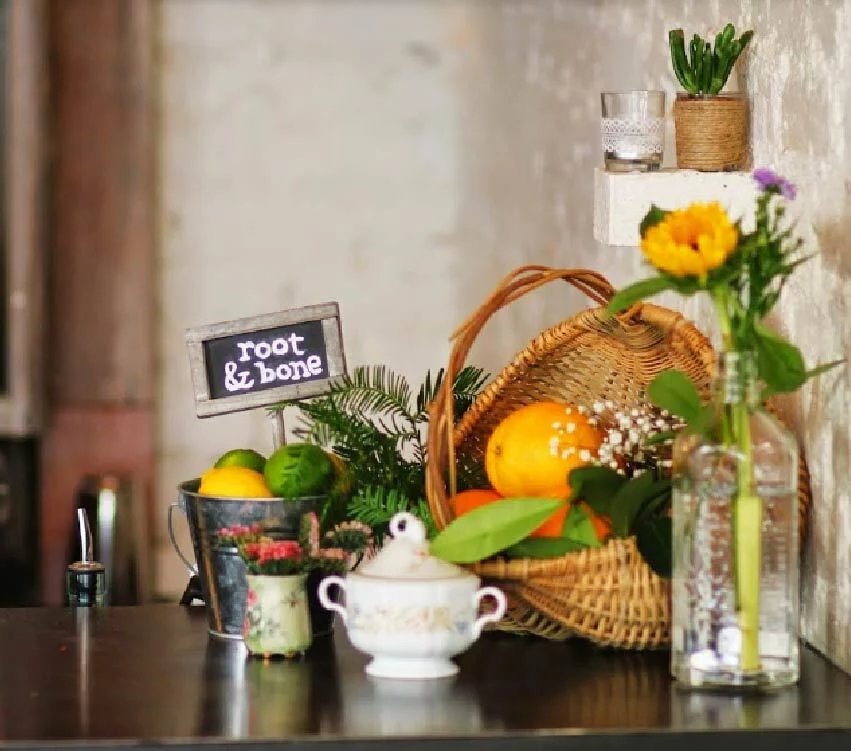 To throw an elegant yet comfy baby shower, selecting Root & Bone is a great idea. Perfect for accommodating 100 guests, you can easily invite a lot of people on your big day. Moreover, everything from savory to sweet is made with perfection. So, give them a call and make a booking in advance.
Location – 200 E 3rd St, New York, NY 10009, United States
Website – https://www.rootnbone.com/
15. Milk And Roses
All the expecting parents, if you want a place for a baby shower classy, modern, and private, bookmark Milk And Roses. Quaint, wild, green, and fresh are dominants of the restaurant. Besides the antiques and worn-out furniture, you will not be able to stop appreciating the shady back patio with lush fauna all around. 
And wait to be parents; I am not done yet. The extensive menu includes fine American gastronomy with a tinge of Southern Italian cuisine. Not to miss one spot where you can get some cool pictures for the gram is the library-styled bookshelves.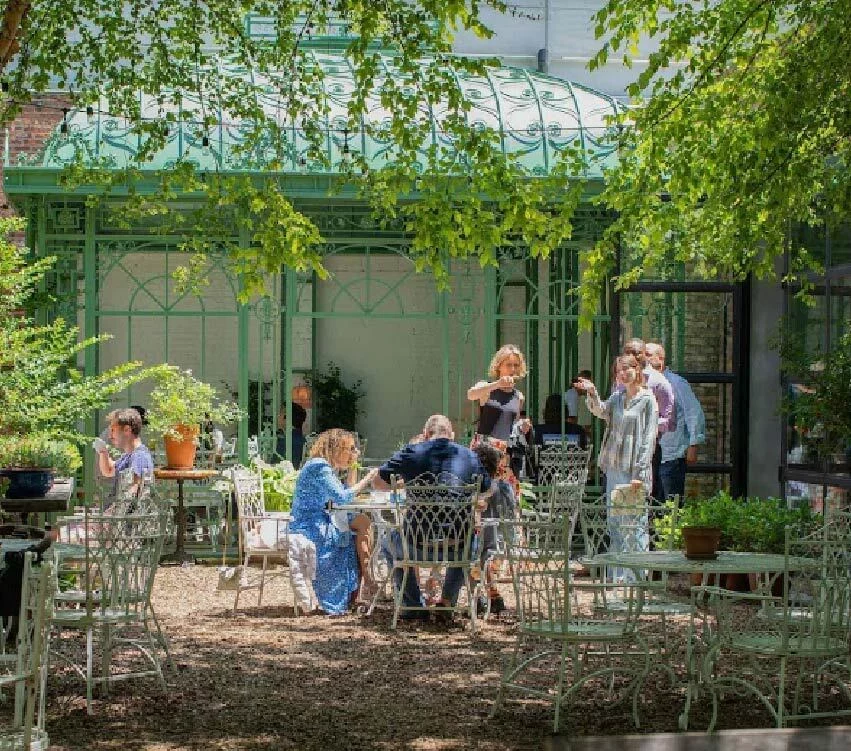 I am sure this place is intriguing you as much as it did me. So, book a spot soon. 
Location – 35 Box St, Brooklyn, NY 11222, United States
Website – https://milkandrosesbk.com/
16. The Sixth Floor Loft
Just imagine an all-white room, beige worn-off wall, off-white sitting, and pristine curtains! Wowwww, right? Just like a blank canvas, you can design it the way you want to. You can choose either from the 1200 sq ft loft or 3000+ sq ft, which are quite customizable.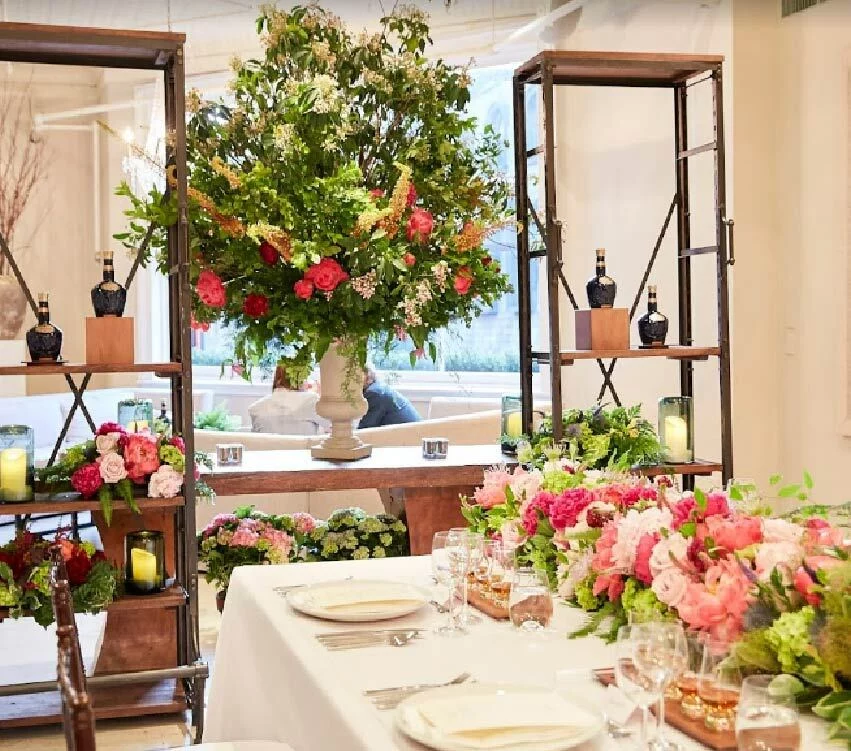 Your dream is their command, and they will make it happen in reality. Moreover, the area is so spacious that you can easily plan baby shower-related games, food stalls, sweet sides, and more. To make your special event unstressful, they have partners like Cocoa Store, Pinch, Relish, Ariel Dearie, Michael Trapp, and Scoozi Events, who are ready to bring your vision to reality. 
So, all you have to do is just visit them or contact them, and the rest will be taken care of by the team of The Sixth Floor Loft.
Location –  873 Broadway, New York, NY 10003, United States
Website –  https://www.sixthfloorloft.com/
17. The Winslow
Booking them as the venue to host a baby shower in NYC will be an experience of its kind. As a mama-to-be, you absolutely don't need the pressure of organizing everything, so the expert team of Winslow will do that for you.
Being one of the best places to host a baby shower in NYC, the space has options and availability in everything. Thanks to this, you can personalize each and every detail according to your liking.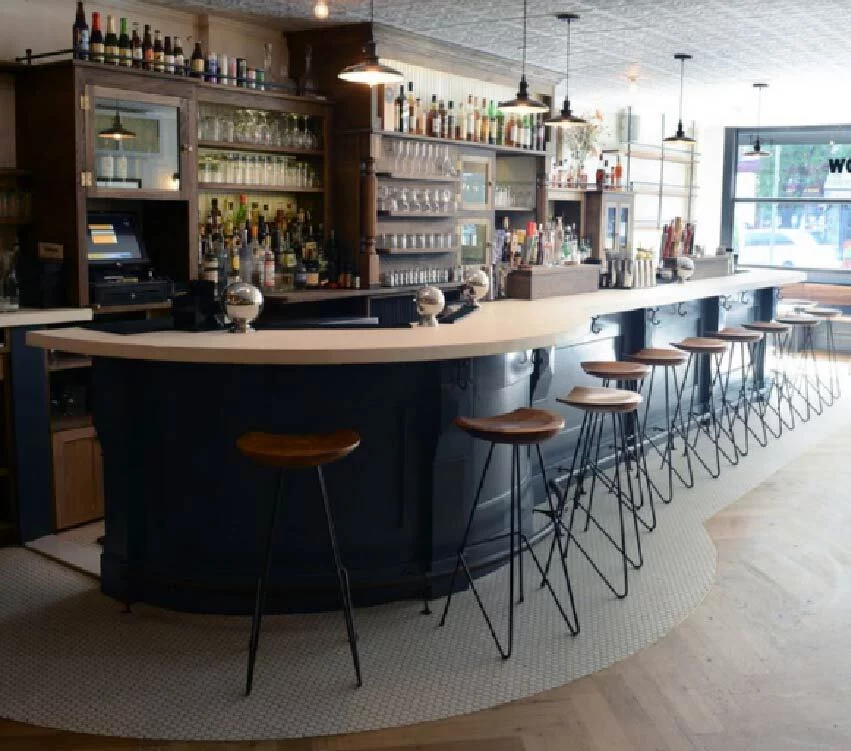 Also, the good news is that you don't need to break a leg or arm to book the venue. At affordable rates, you can purchase one from various packages. Speaking of the food, your guests will not stop praising and enjoying your baby shower. 
Location – 243 E 14th St, New York, NY 10003, United States
Website – https://thewinslownyc.com/
18. Anassa Taverna Astoria
A friendly spot specially tailored to perfection, Anassa Taverna is hospitality-centric. If you don't know, Anassa was the title given to the ancient Greek queen of the Mediterranean. Similar to the title, only a woman who emanates rare and unlikely-to-see qualities was given the honor; the restaurant also aims to match the same standards.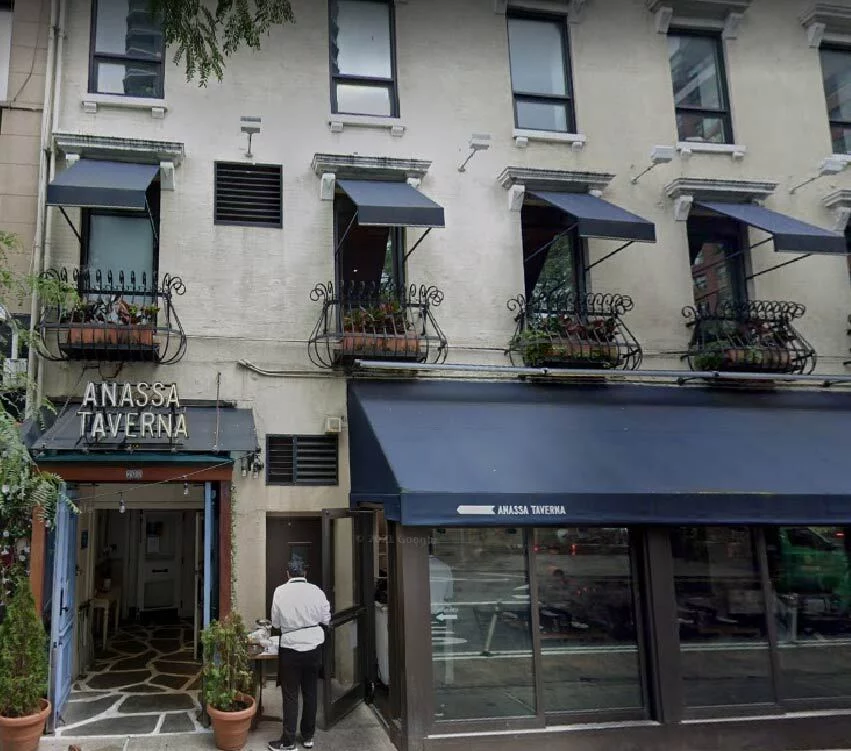 If anyone is visiting Anassa Taverna, you will be given the royal treatment. What more could you expect? Additionally to this, the menu of food and cocktails is endless. Two things that are never compromised at this high-end restaurant are quality and culinary traditions.
So, I personally recommend that the parents should consider picking this place as a venue to celebrate the coming of their beautiful child.
Location – 28-10 Astoria Blvd, Queens, NY 11102, United States
Website – https://astoria.anassataverna.com/
19.  Alice Tea Cup
Not everyone likes something grand and luxurious, so this space is small and cute. There are mainly two options, the Raspberry Room and the Main Dining Room, where you can select the one that suits you.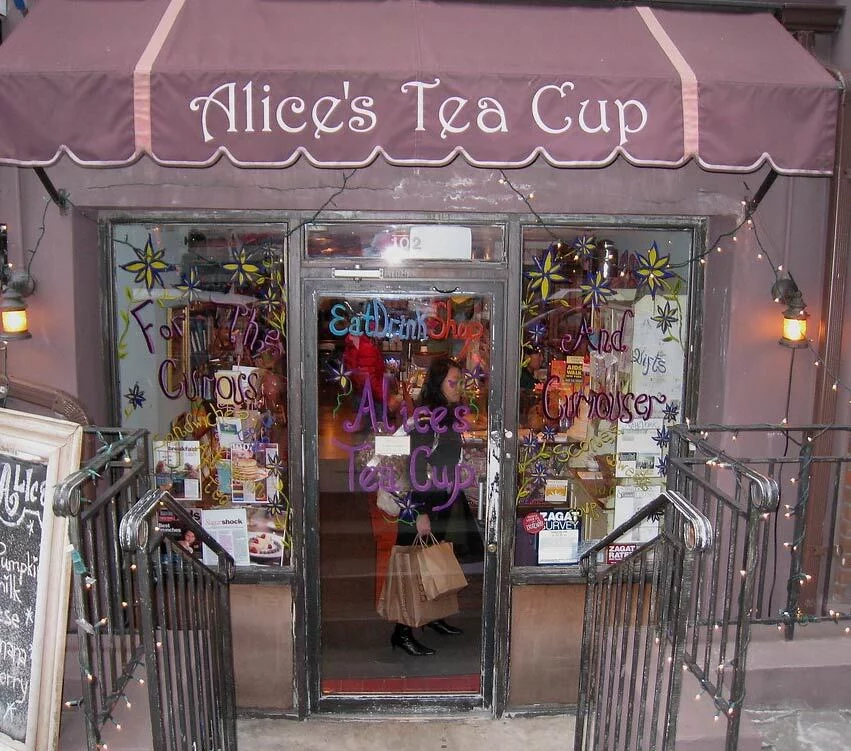 Also, if you are not a people person and just want to invite a bunch of very close people, this is perfect for you. Furthermore, the option of catering and cakes is very convenient for the ones who don't want to have a catering person of their own. Plus, you don't have to worry, as there is an extensive list of food options. 
So, make this little tea area around the street your baby shower venue. 
Location – 156 E 64th St, New York, NY 10065, United States
Website – https://www.alicesteacup.com/
20. Parisian Tea Room
Do you Amour an authentic French dining experience? The Parisian Tea Room is your venue if you and your bunch of friends are fans of tea and snacks. Delicious appetizers, freshly baked Croissants, drinks, desserts, Entrees, and sides are available. 
In fact, your guests will not stop but shower you with praises. After enjoying and partying, you can also purchase their custom products like hot chocolate, ice tea, hot tea, fruit juices, scented candles, dried fruit bars, dark chocolates, macarons, tea cups & saucers, assorted biscuits, and more.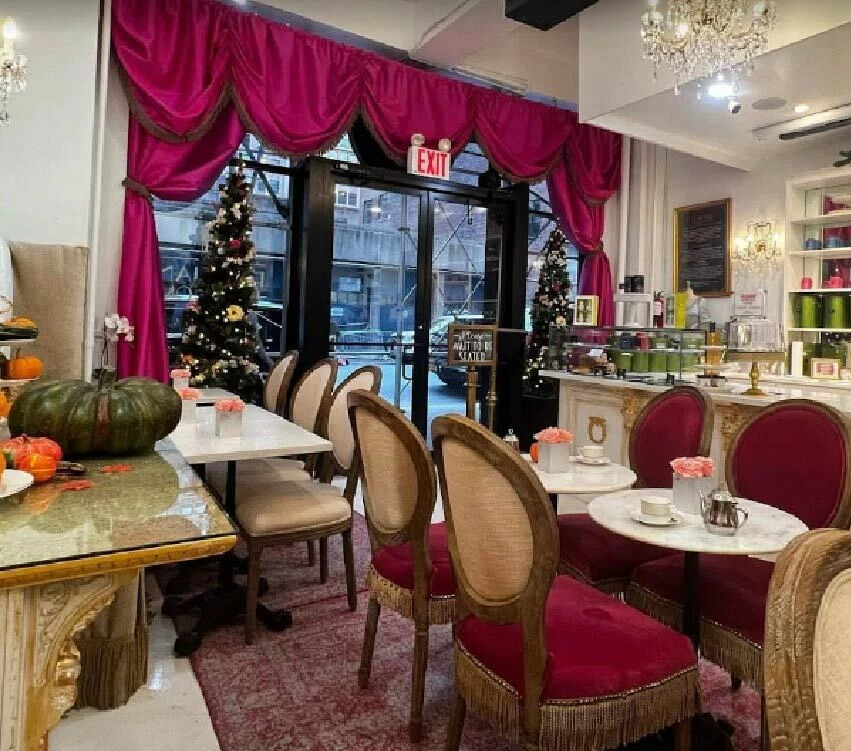 If nobody enjoys it, mama and her girlies will surely have the time of their lives. 
Location – 347 W 36th St., New York, NY 10018, United States
Website – https://theparisiantearoom.com/
The Bottom Line
Now that all the soon-to-be parents know the entire list of the best places to host a baby shower in NYC, it's time you pre-book your chosen venue so that you are stuck in the mud at the last moment.
Congratulations, Mama & Papa!