Though the Bracelet era is gone long ago, nowadays, I see people wearing them pretty often. Perhaps it's the beginning of a comeback! So, don't you want some cool bracelets to participate in this era?
I want it, and I have already made a list! But how can I not share with you guys? See, If I'm looking good, I also want you to look good and enhance your personality.
There are thousands of things that help you to achieve that stunning look. But today, we will be talking about hand accessories.
See, I know that not everybody likes to wear rings or bracelets or something similar. Some people just love bare hands, but accessories are made to enhance your look. 
So, it's very important that you find a perfect balance. Sometimes, it's better to come out of your comfort zone and try something new. Who knows, you might unlock a new style statement or another interesting thing to dwell upon.
People who properly style their outfits always experiment. And this experiment is also about accessories. 
Cool bracelets do not mean gangster-looking bracelets. Cool means that it holds meaning and perfectly syncs with your personality and interest. 
1. Bangle Bracelet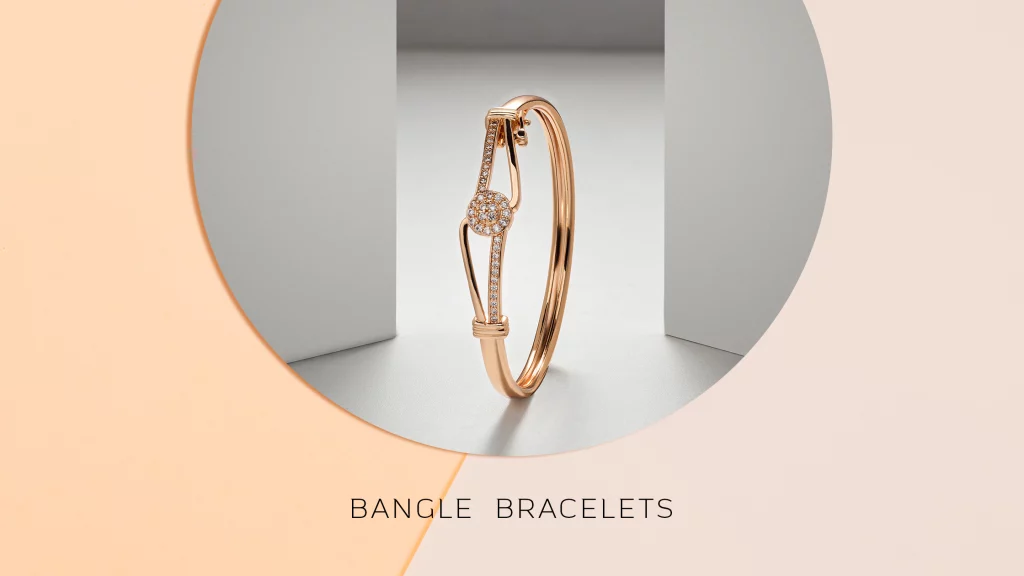 This is one of the most popular kinds of bracelets. One of the best things about bangle bracelets is that they are suitable for any kind of outfit. 
Yes, it does not matter whether you are wearing a beautiful bodycon dress or baggy clothes like jeans and sweatshirts, it matches everything.
Now, let's talk about the types. There are thousands of types. Some bangle bracelets are simple. Just a simple gold bangle which is actually a bracelet.
Some have a chain or some symbol attached to them. Some bangle bracelets are not a single bangle but two or three bangles attached to each other in such a way that you cannot separate them. 
Sounds cool? Yes, it looks cool too! Suppose you don't have anything specific and want something that you can wear and just forget about it; these types of bracelets are the perfect match for you.
Even if you are in your boring hoodie, it looks pretty. In situations like you are running late for a party and you just have the dress decided, just wear this bracelet, and you will look 100 times better.
Remember, hands talk, too, and make sure they look pretty while talking.
2. Stone Bracelet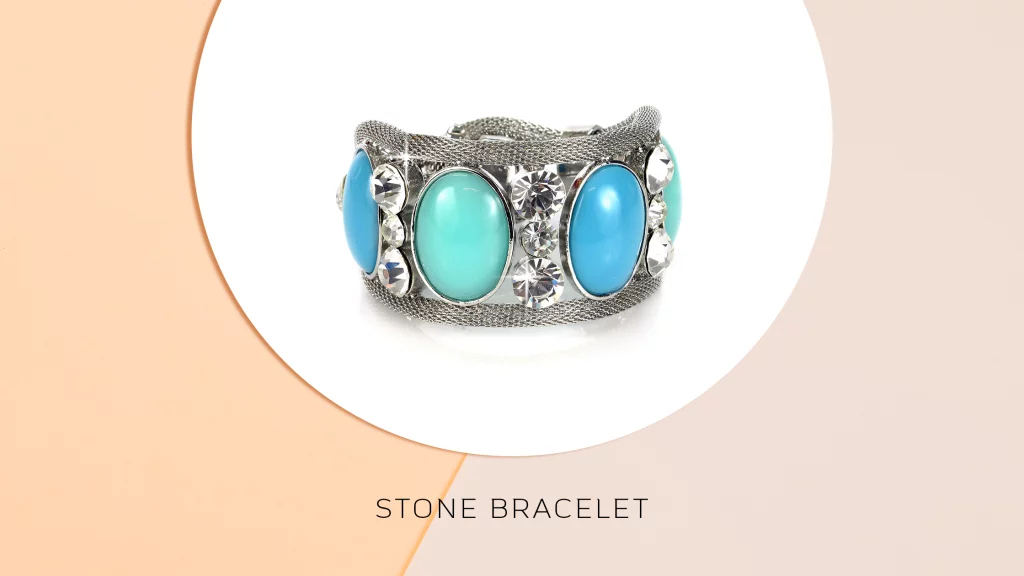 Stone Bracelets are for those who like their hands to look heavy and more covered. Yes, there are two types of people in this world. One likes to keep it simple and light, while on the other hand, some people like their accessories to cover more body space.
Have you seen Indian Jweleries? They cover a lot of space. Especially the necklaces. Though we are not going extreme, the motive is the same.
Now, what kind of stone bracelets can you wear? Several. It can be a bracelet made of stone or a bangle bracelet with stones.
Furthermore, you can choose any kind of stone, like the pretty ones that have several patterns in them or the little crystals to give you that shimmery look.
If you ask me, I like chain bracelets with crystals. It gives me both a powerful and soft look. 
There are days when you want to portray every inch of your personality in such scenarios, you can choose this kind of bracelet. Moreover, you can add other things like stars or hearts to that.
In addition, if you want a bracelet made of stone, make sure that the rope or chain that joins it is stylish.
3. Religious Symbol Bracelets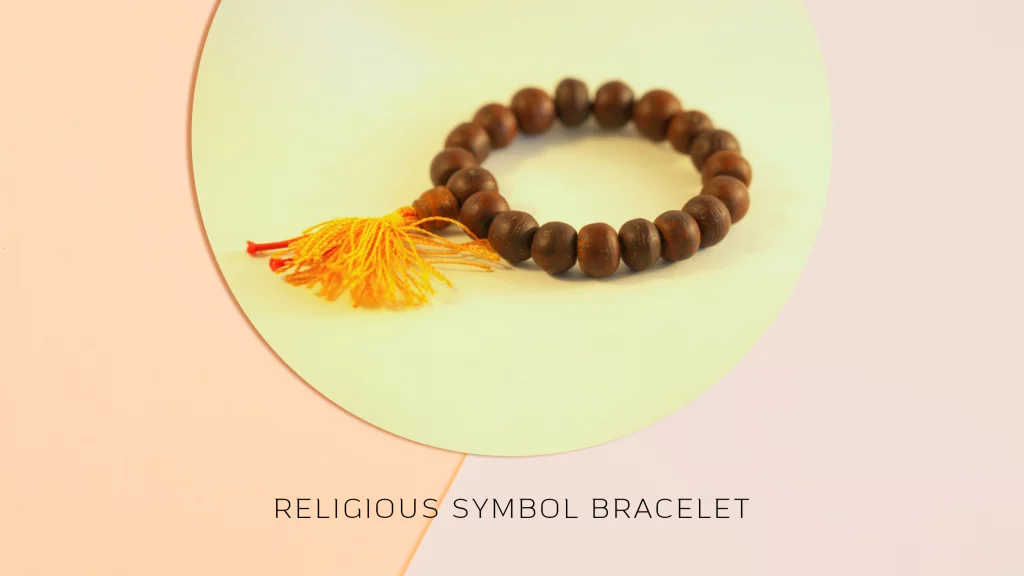 When I talk about cool bracelets, Religious bracelets are also there. You might not know, but religious symbols are the new style statement. From mythological characters to simple crosses, everything is presented in a much cooler version in these bracelets.
You can buy whichever you like online or in stores. Moreover, if you want something specific, you can simply pre-order it and customize it too.
Religious symbols are pretty awesome! That day I saw a guy who was Hindu, and he was wearing a bracelet that had an interesting symbol. I walked up to him and asked about it; he said it was related to Lord Shiva. 
I found it fascinating! I mean, wearing something as your daily accessory which is related to your faith keeps you more connected to spirituality.
I also made myself one, and I felt more confident after that. Moreover, if you are not a believer in god, it's fine. 
You must have an idea or a mythological character like Zeus. Everybody likes him. So, you can go for that. 
I'm not sure whether you will find one online but no worries, just pre-order one.
4. Chain Bracelets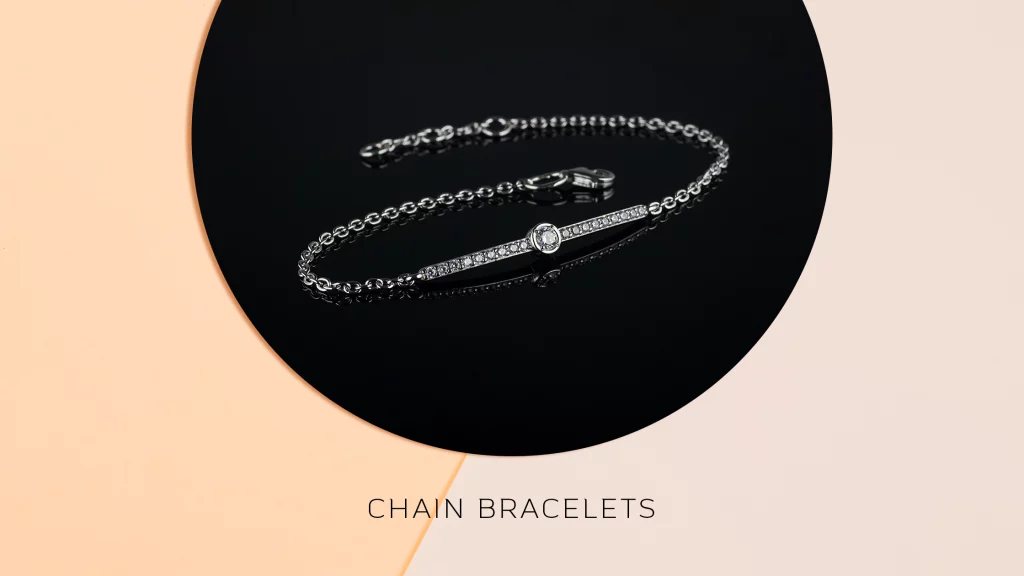 Chain Bracelets are my favorite. Because bangles can be a little bit noisy. Chain ones are cool, don't make a noise, and look better.
Though a lot of people avoid this kind of bracelet because of sensitive skin issues, they are widely popular. Those who have skin issues can always opt for gold ones.
Gold is less reactive and will not cause any harm to your skin. The tricks you apply on bangle bracelets can also be applied here.
So, just add things you want and make it as much better as you can, and you are ready to show off!
5. Thread Bracelets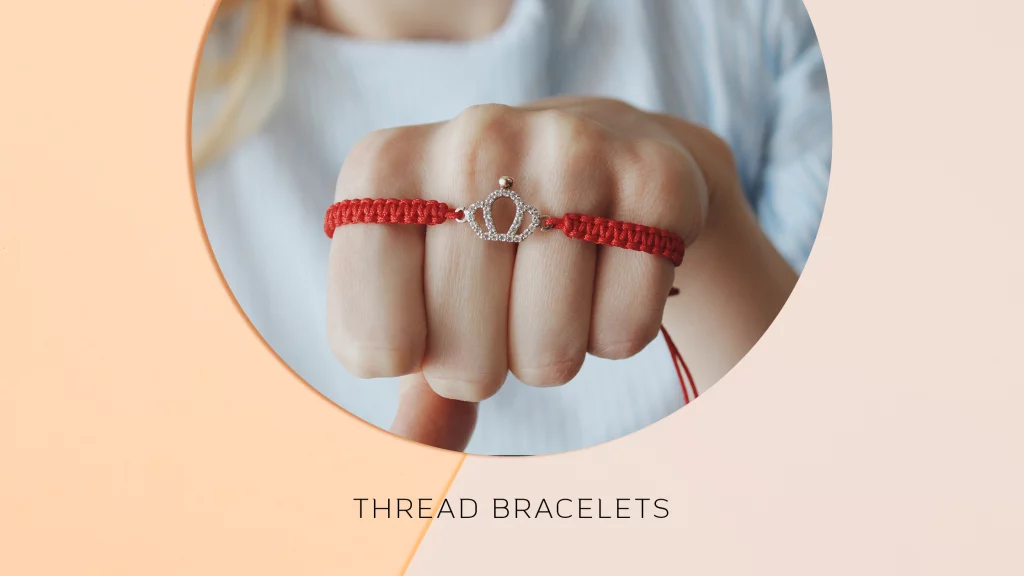 This is something new. I have never worn it, but yes, I would love to try these sometime. Nope! It's not a single thread. It is an accumulation of threads. You can make it too!
To put it in simple words, Have you seen a sweater? Yes, they are woven, right? These bracelets look similar. The threads are woven together.
This kind of bracelet does not go with every outfit. I know why but it gives me beach vibes or sunny day vibes.
So, I would suggest you wear these on a road trip or beach trip, or in events that are casual.
6. Evil Eye Bracelet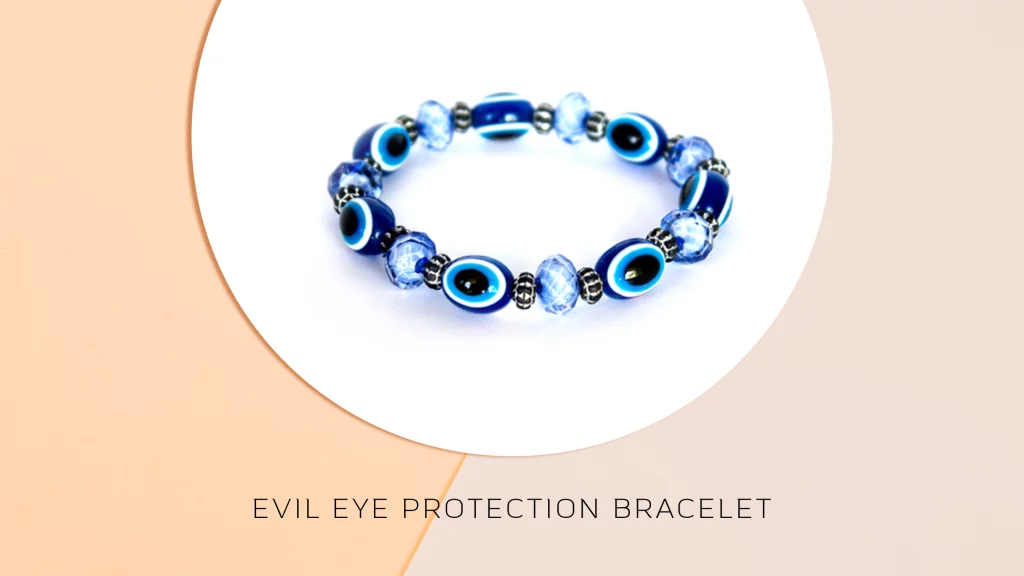 When I talk about trendy cool bracelets, evil eye ones are at the top of the list. In South Asian countries, people believe that someone who is not happy about you and sees you with jealousy might harm your good work.
It is the feeling when they are looking at you or the things you possess which causes the destruction. I don't know how many of you will believe in this theory, but there are a lot of people who will actually do it. 
Therefore, the concept became viral and western people also started wearing these. Some people are not even aware of the concept and just wear it because it looks cool. 
You can also do that. This is also a style statement of several celebrities. If you want to do the same, you can buy a pretty cool bracelet with an evil eye.
Some people wear bracelets made of several evil eyes, while some use a pretty chain and only one evil eye.
Both ways, it looks cool. So what are you waiting for? Yes, it goes with every outfit but make sure you use the color black in your bracelet to stay color neutral. 
7. Engraved Message Bracelet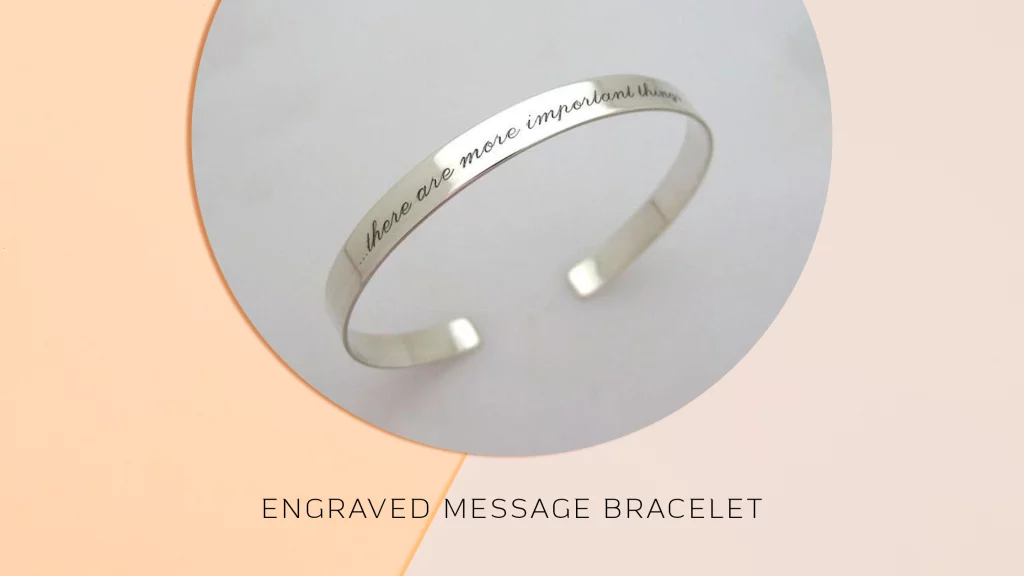 An Engraved message bracelet is suitable for those who are afraid of getting a tattoo but want to create the same impact on themselves and others. Yes, you are not inking your skin but your bracelet. 
Suppose you want to carry a symbol for a lifetime but not on your skin, then engrave it on your bracelet.
The specific symbol or quote will be written on the bracelet, and you can wear it all the time.
Nope, the chain bracelets will not serve your purpose. You need to go for a bangle one. It does not mean that it will come out of your hand; it can be like a wrist watch too.
In order to design this bracelet, you need to go to a good store and choose a design. Make sure it's plain. After that, you can ask the artist to engrave your message or the symbol on it.
Furthermore, you can also give it to someone as a gift. It would be a pretty intense and creative gift.
Yes, you can also engrave memories or photographs, but to draw them, you would need a more experienced artist. So, if someone's birthday is coming, you can simply gift it to them.
8. Nature Bracelets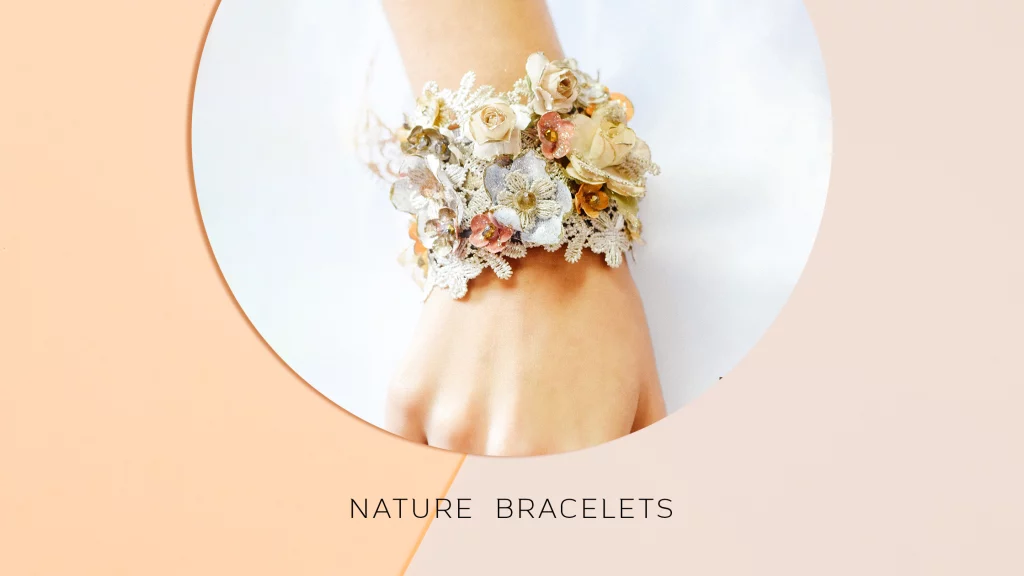 You say cool bracelets; I hear nature bracelets. You know, there are ways when you want your feminine energy to flow, and what can be more feminine than nature itself?
I'm not saying that you go and buy a flowery bracelet. We will add more creativity. Why don't you try something like branches or willows? Trust me; it is more beautiful than it sounds.
It would be a bangle bracelet, but the beauty will be a hundred times better. 
What else can you do? Remember the crystal trick; yes, you can ask the jeweler to add your favorite crystals or stones.
This way, it will become more pretty and more meaningful. In addition, you can also use someone's name in between the branches. Doesn't it sound super cool?
I'm going to try this technique. See, this is the beauty of sharing; you guys inspire me to think more while writing.
One tip, don't go for thick branches. Try to keep them thin. This way, it will look subtle, and that is the beauty of this kind of bracelet. If you go for a thicker version, it might look heavy and weird. We are avoiding the gangster vibes.
9. Couple Bracelets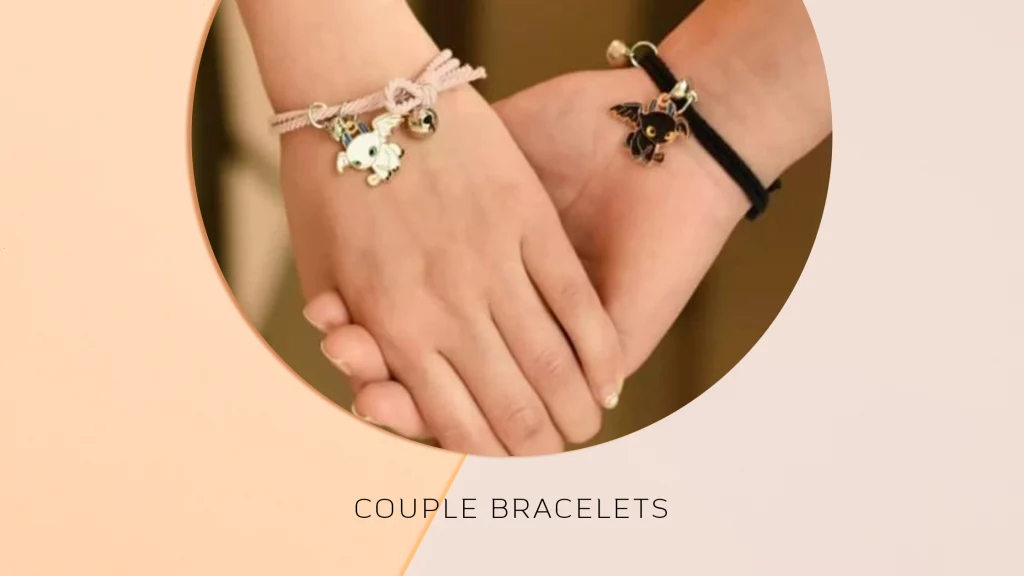 We are back to couple bracelets. I know, I know, it's old, but these are pretty, and you cannot deny that.
You know, one of the biggest mistakes couples make while choosing their cool bracelets is they buy the exact same one because they think that it symbolizes their relationship.
No, my dear, the time has changed, and you need to upgrade. While choosing bracelets, follow the tattoo rules. Yes, the completing method.
Your bracelets should look incomplete and must have something that connects the two perfectly.
I think this is where the true beauty lies, and you need to jump in that beauty. 
What else can you do? Rather than going for words like him-her, choose something that is personal and symbolizes only you.
A lot of couples have their own punch line, like to the moon and back or something like this. Cut that line in half, and you two share the halves. If it's the moon, then it should be the connecting element.
You can also choose hands or a small finger, anything that is cute. I mean, you won't choose a dragon, right? Even if you are thinking, make sure it looks cute!
10. Pendant Like Bracelets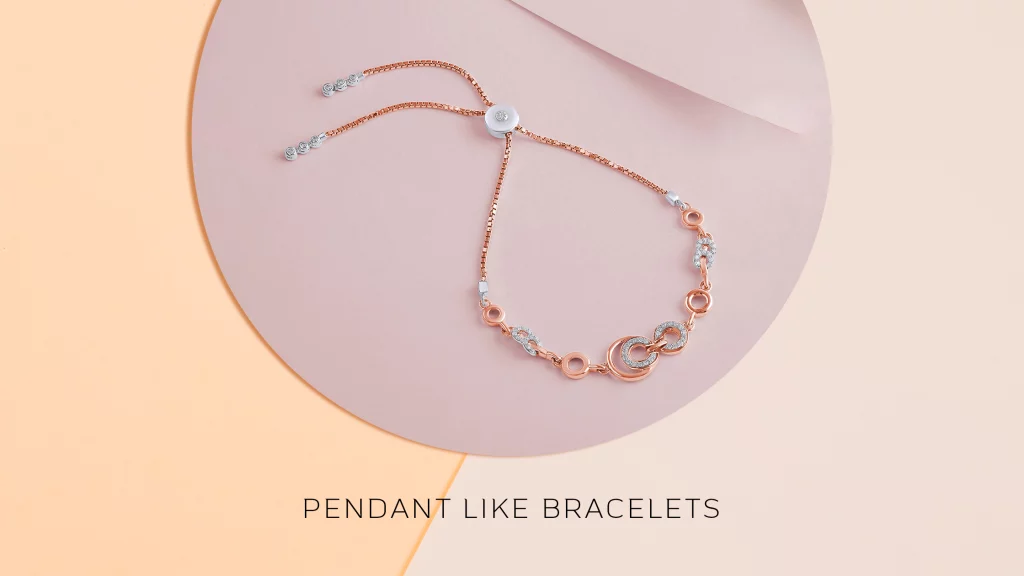 I have worn these in my childhood. The reason I have named this pendant like bracelets is that they look exactly like the smaller version of the pendants. 
Yes, just like pendants, it has a simple bangle and a stone, a message, or anything in the middle.
A lot of people prefer these bracelets over anything else. I personally like them too! The beauty of these bracelets is that it is simple and easy to clean.
Moreover, it is also suitable for office outfits. So, if you are thinking of something formal or sober, these would be a great choice.
Wrapping Up
Outfits are everywhere! From casual church outfits to cowgirl outfits, it needs perfect syncing, and so do your bracelets. So, it will happen sometimes that your clothes won't match your bracelet or vice versa.
That's why I always say to create a collection. You don't need to buy hundreds of them, but yes one from each type is not a bad idea.
Moreover, one type of bracelet can go with more than 10 outfits. And change is needed sometimes.
So, it's pretty simple, if you get bored by wearing a bracelet, change it!