Cowgirl outfit ideas are not something that you can style in 5 minutes. So does that mean it's difficult? Nope! Absolutely not. 
I'm just saying that these outfits are slightly different from regular outfits, and you might need a little bit of preparation to achieve your final look.
Nope! You don't need fancy clothing. Moreover, you don't have to spend a lot of money. Simple steps are enough to get you a glamorous look and breathtaking appearance.
There are some steps that you need to follow. First, get that image to sink into your mind. If you cannot imagine how you want to look, then you have to go through the trial process.
It would be pretty tiresome. So, to cut off the frustration, get that basic idea in your mind. How to do it? 
It's pretty simple. Just go on google and see what you can wear as a cowgirl outfit. Skirts or pants, boots or shoes, is scarf mandatory, etc. Then choose one for you. 
After that, you can go shopping and buy the things that you don't have in your closet. That being said, let's look at these amazing cowgirl outfit ideas that you can get inspiration from.
One-Piece Cowgirl Outfit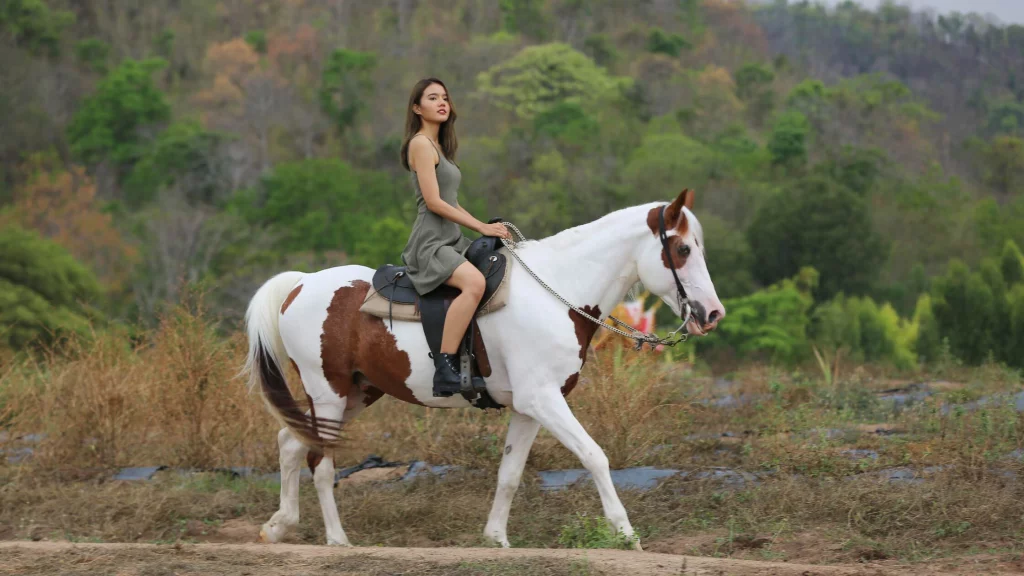 This outfit is slightly different from a conventional cowgirl outfit idea. I know, you must be expecting an outfit that has pants, hats, boots, etc. 
But things have changed, my dear. Now, cowgirls do not always wear those boy-like clothes. They have brought their femininity into the outfit as well.
You can also wear your one-piece as your cowgirl outfit. Nope, it will not create a problem when you ride. 
When I say one-piece, I'm not talking about tight bodycon dresses in which you have difficulty walking. 
It is the free dresses that feel like air, and you can move freely in these. To achieve this look, you need to go for a sleeveless dress. Your arms should be the center of attraction. 
For shoes, go for black or brown cowgirl boots. No need to wear knee-length ones. It won't suit you. As your legs will be exposed while riding, make sure the boots are short. 
What else? I would suggest you keep your hair open. Cowgirls don't tie their hair, it should be free. Avoid other accessories like earrings or necklaces, and you are all set. 
White Gown Cowgirl Outfit Ideas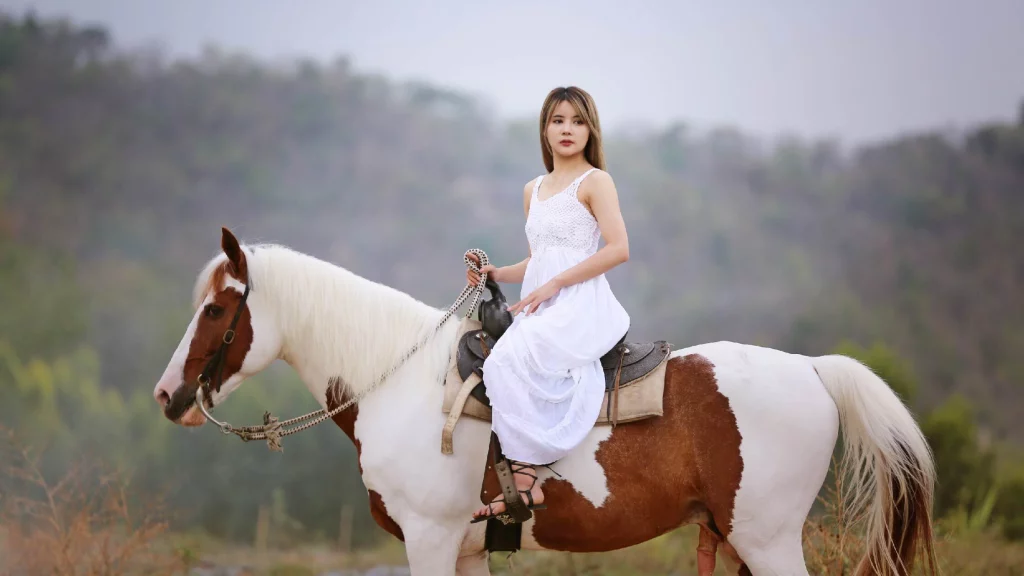 This Outfit is for those who do not want to overshadow or eliminate the feminine and cute side. To save the same, go for feminine or light colors like powder pink or white. Yes, we are again going sleeveless.
Replace your boots with any flats. If it has straps, a cherry on top. Put some makeup on to make you look bolder.
As you have chosen lighter colors, go for bold lips. A signature red lip will do the work. Hair, once again, would be open. A simple bracelet can enhance the beauty, and you are ready!
Outfit with Gloves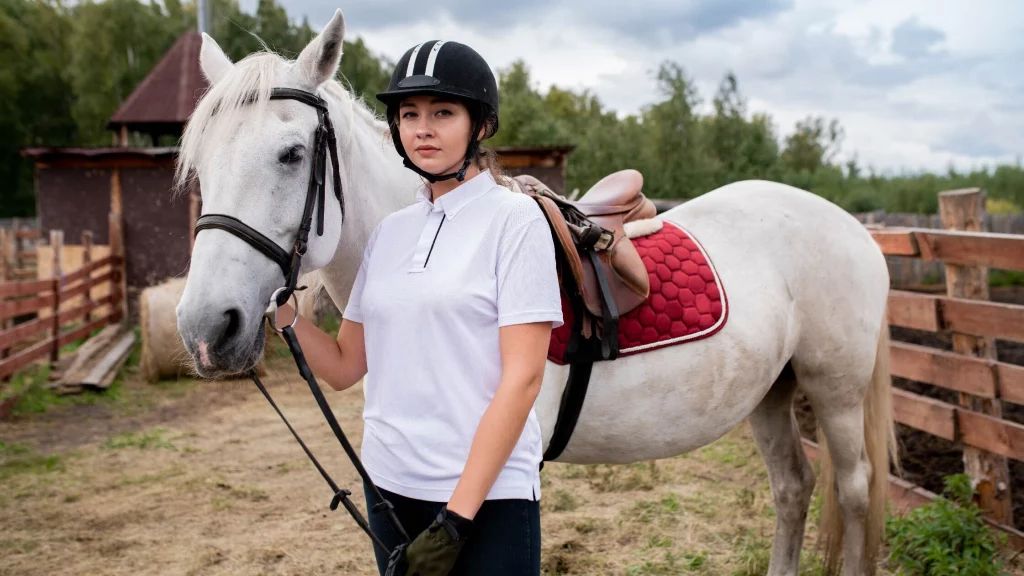 This outfit is a full-fledged outfit. It has everything. It does not matter whether you are wearing make-up or not. Your outfit is enough to let those gazes stay on you. 
So, let's begin. It has pants! Nope! No colors allowed, only black and white. Chill, I know you are a color-loving person and don't want only the basics, but the beauty lies in that only. 
Now, while choosing the pants, don't go for baggy ones. It might destroy the charm of your look. Instead, skinny black jeans or ones that are baggy below the knees will suit you a lot. 
The t-shirt can be skin-tight or just like a normal t-shirt. It can be anything, a short sleeve one or a full sleeve; anything works.
Now, do you know who the show-stopper actually is? It's the gloves and hats. They should be all black, including shoes. 
I can already imagine your beauty. Makeup? I think a little bit of mascara and a red lip is fine as hell.
This look is one of my favorites because you don't need to put in the extra effort. The outfit is enough to put the magic on the table. Just ride the horse and look at the pictures later. 
Cute Casual Cowgirl Outfit Ideas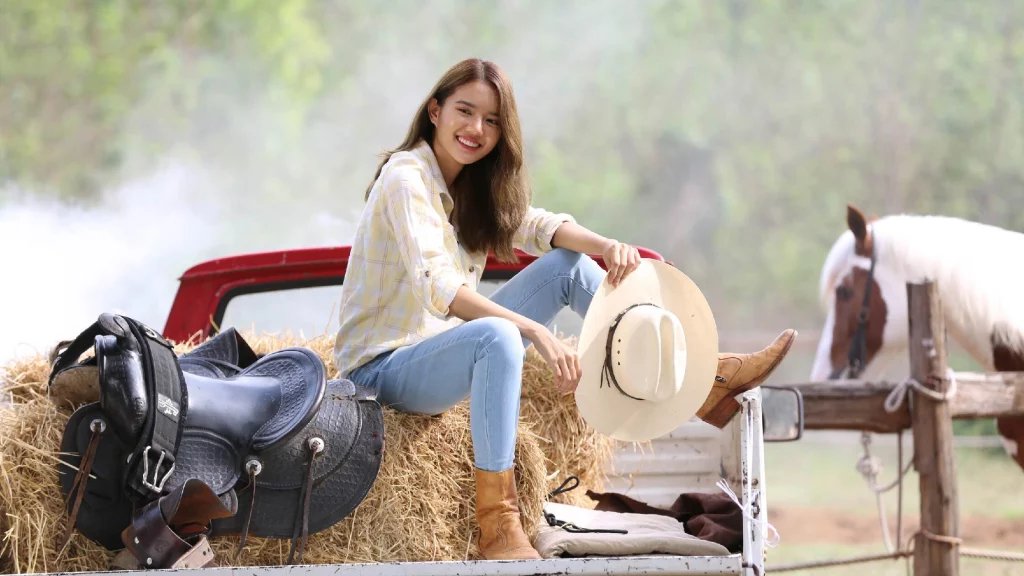 This Outfit is the easiest to style and easy to find as well. You just need your skinny jeans and a casual shirt, and you are good to go. 
Trust me; it looks much more pretty than it seems. The beauty lies in the boots and the hat. This time you can use those knee-length conventional cowgirl boots and a round hat.
Go for a no-makeup look. As it will be a casual look, the makeup should not be too loud. You can skip makeup if you want to. 
Winter Outfit Ideas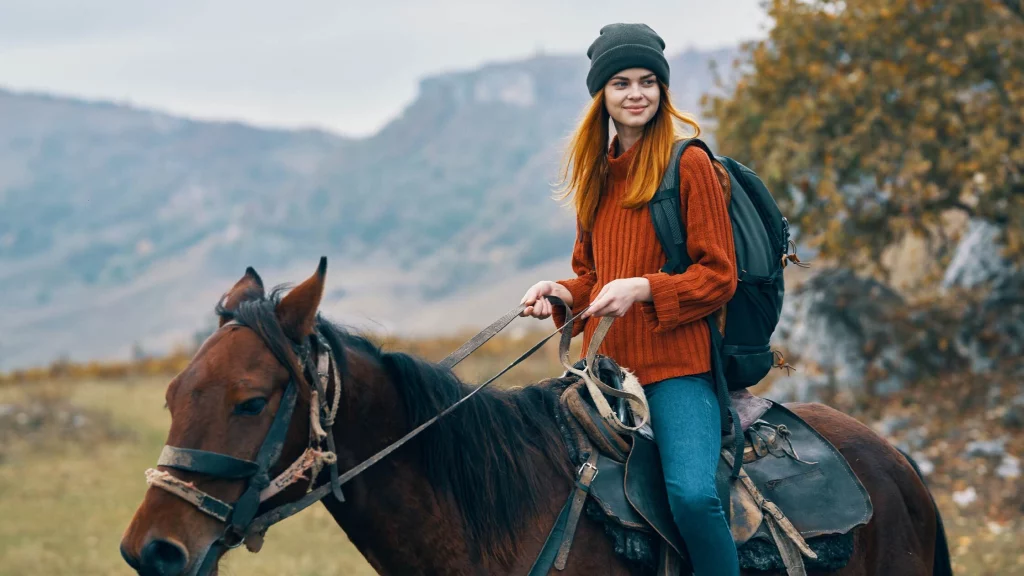 Till now, we have just talked about summer looks. But what about winters? It would not be that much difficult. See, cowgirl outfits already include pants and boots. You just need to replace the hat with a winter cap.
Grab those jeans, don't let your legs freeze. Wera any bright sweater. I prefer red. It will give you a warm look in winter. 
Go for grey or brown winter caps to create contrast. You can wear gloves if it's needed. I will suggest you avoid makeup and just moisturize your skin, and you are good to go.
Conclusion
This is how we have finally come to an end. See, the trick behind styling any outfit is choosing what is right for you. 
Trust me! You don't have to copy the models. Just wear what fits you the most and makes you feel comfortable and confident. 
Suppose you thought about going to church; you would not plan church outfits one day prior, do you? So, all you need to do is understand how you want to look.
Not all outfits need planning, and your confidence is more important. So when you style your outfit, see whether you feel good or not.