Orange is the new black is one of the most-watched original series on Netflix. Although OITNB is a fictional show but is loosely based on Piper Kerman's novel.
However, the series takes us through the life and journey of Piper Chapman in the American Penal system. In the series, we have seen that she went through a lot, from being bullied to almost being sexually harassed in prison.
Moreover, we saw so many other facts in this series that an ordinary citizen would not know, such as the intense checking procedures these inmates go through and how prisoners would get their daily essentials. Are there ways to earn money and allowance in prison ( as shown in the series)?
Most importantly, in the series, we have seen a variety of characters from all age groups with their issues and traumas struggling to coexist.
However, this is one of the reasons for the success of this series, as it not only revolves around the life of Chapman but also takes us through the journey of various characters and several storylines and how they end up in prison.
No matter how closely they try to portray the inmates, it's always a polished version that we see on screen. So today, we are going to discuss how well-researched and real the prison facts are shown in this Netflix popular series, Orange is the new Black.
Here we will compare the facts and the stories of real ex-prisoners to the facts shown in the show. Let's find out How much of "Orange is the New Black" is Accurate?
 So get ready for some truth bombs.
OITNB Vs. Prison Facts
First and foremost, we are not saying that it is not based on reality, but while making a show, creative liberties are often exercised, and Orange is the new black is no exception.
There are so many ex-prisoners that have a hard time watching this series, as there are so many scenes that remind them of the trauma they went through. On the other hand, many scenes are just unrelatable for them.
However, we are going to be comparing scenarios shown in the series to what happens in Actual prison. So get ready for some harsh facts about the Prison.
1. Actual Prison Examination
Now, we all remember that scene when Piper is ready to surrender and going to complete her sentence. There is a female guard that makes her strip, squat, and cough in a private chamber.
However, many people find this disturbing and inhumane. Well… if this was disturbing for you, then brace yourself for the real side of the story.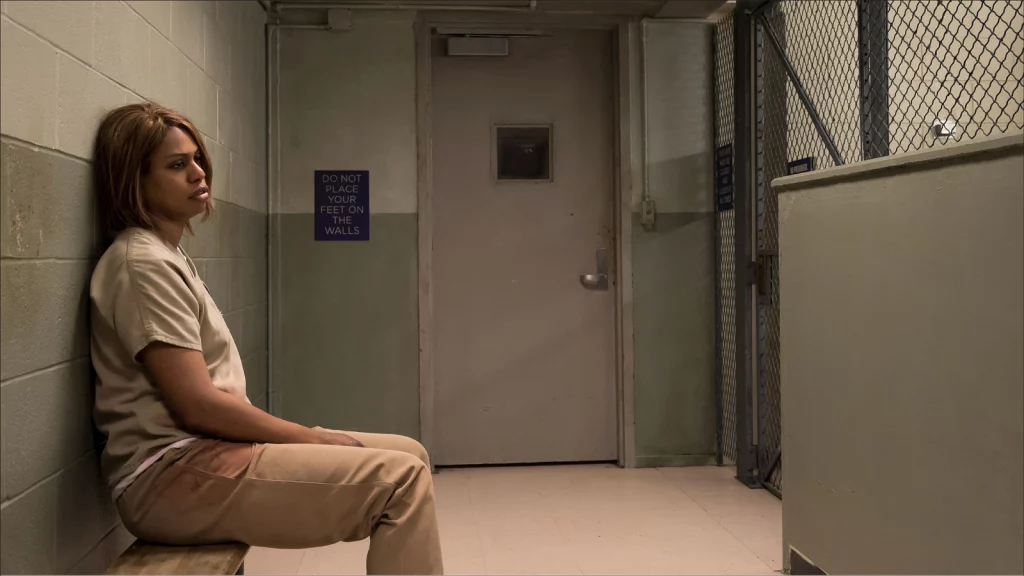 As per an ex-inmate, this would be a cakewalk for them. However, the actual truth is that when a female is going to serve her sentence in prison. They all are lined up in a group of 20 women of all ages and ethnicities, and there are even women in their 60s or 70s.
They all are lined up in a cement-walled room where there is no privacy, and the doors are all open. These prisoners are made to stand naked there are 4 to 6 female guards examining these inmates.
And I don't even want to describe the examining part here. Just imagining this scenario is giving me goosebumps, and this is just the beginning of getting into prison.
2. Getting your Laundry done in an Actual Prison
For an ordinary person, how difficult can it be to get your laundry done? However, in prison, nothing comes that easy basic chore like getting your laundry done can be a nightmare.
As per an ex-inmate prison, getting your laundry done in prison means self-inviting dangerous and infectious diseases. 
As the same water is used to wash the clothes of all the prisoners, and everything is getting accumulated and spreading throughout. Which leads to serious infections like Staph and all kind of diseases.
Moreover, if you are washing your clothes by yourself it's not that easy as you can't hang anything in your room there are strict rules, unlike what we see in the show.
As we have seen socks and clothes hanging around in Chapman's bunk. That's not what an actual prison bunk looks like, as you can't just hang anything and make yourself feel at home.
3. Relationship with Guards and Officers
You remember how Chapman just walked into the office of the dean and shared whatever she wanted to talk about. Moreover, we see inmates just casually walking around and going to the library or a doctor's visit anytime they want. 
Well, Umm.. that's not how it works. There are several protocols for talking with any officer. Moreover, they are constantly watching you wherever you are going, so you can't just casually move around.
The most disturbing fact is that there are guards that are watching inmates even in the shower. However, you can have some benefits based on your bonding with the guards, but that's rare.
Guards have a separate chamber from where they can keep an eye on the inmates. Moreover, if you want to talk to them, you need to take permission; a prisoner can't just walk into someone's office.
This was one of the most hilarious facts shown in Orange is the new black.
4. Being Bullied in Prison
Prison is full of people who have had a dark past and are capable of doing heinous things. However, it is a reality that inmates do get bullied, as we have also seen in the series.
Chapman was bullied by Red and was also almost starved to death. This is what can actually happen in prison, and the inmates can be so gross and can go on to any level to bully someone.
Moreover, prisoners can fight over anything; stuff that seems petty to us can actually be the reason for a massive fight. While someone cannot harm anyone physically (as per the law) in prison, they will bully each other in so many ways we can't even imagine.
From stealing and spoiling stuff to giving infections. Prison drive people crazy, and they can go to any extent to take revenge or to bully someone. This issue was brilliantly covered in OITNB and is accurately depicted in various episodes.
5. Relationships with other inmates
In the series, we have seen many romantic relationships and even obsessive prisoners like the one Crazy eyes and many more. This is the harsh reality that over a period of time, inmates do get obsessed and even develop feelings for each other.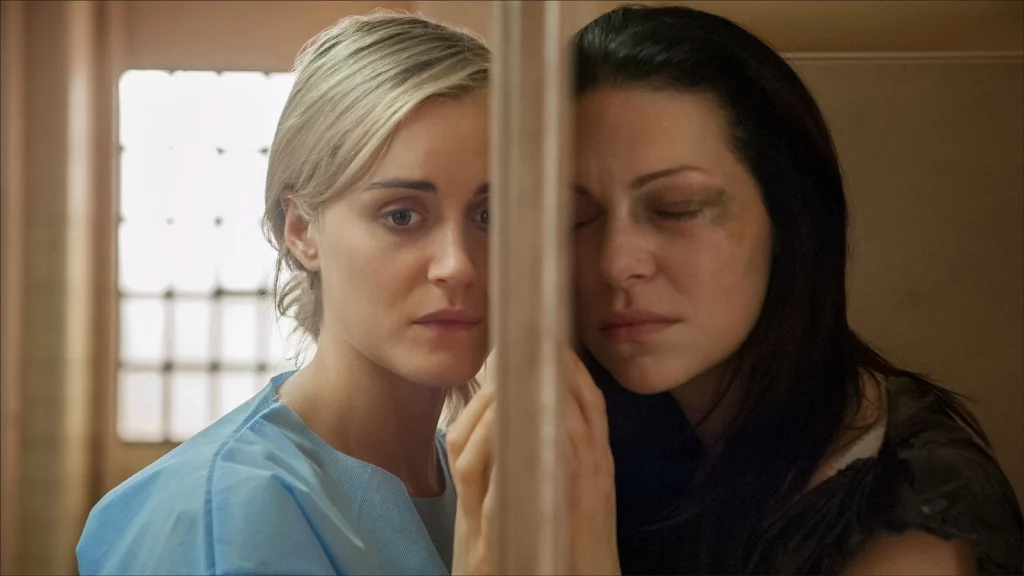 However, things are not that open as shown in the series all the love-making scenes it is not what it looks likes. There are strict protocols, and prisoners are being watched all the time.
Moreover, there are different types of inmates with different issues similar to Crazy eyes (from the show); they can be obsessive and can go to any extent to get what they want.
Furthermore, inmates can be attracted to each other as they spend major of their time with each other it's quite common to develop feelings for each other. However, any kind of intimacy is not tolerated in prison, and they have strict rules, unlike what we have seen in the show.
6. Violence in Prison
Prisoners can be violent and dangerous. However, not all prisoners many violent people are in there because of just one bad decision they made in their life. However, prisoners are capable of doing horrible things.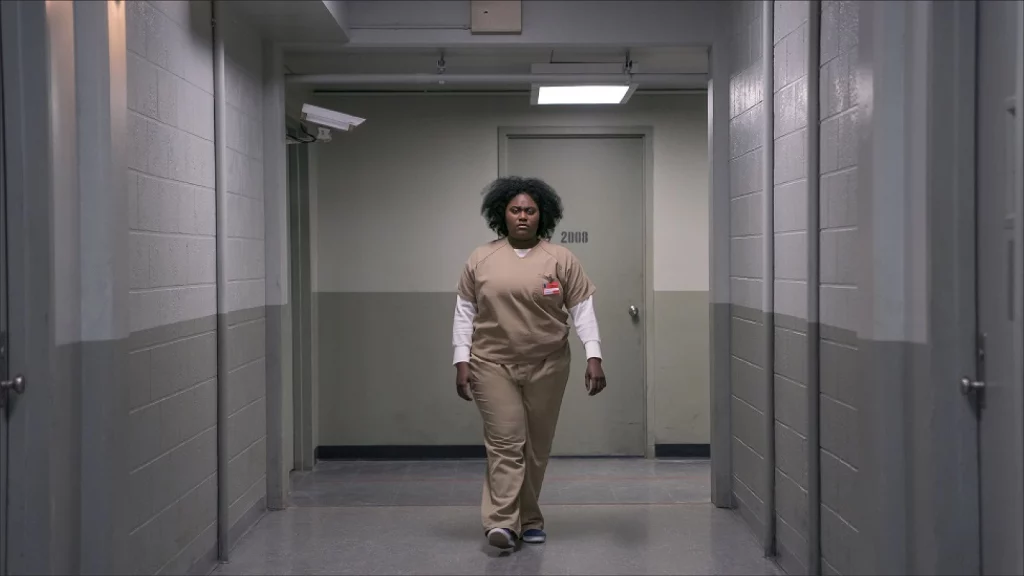 Just like in the real world, there are violence, racism, and bullies in prison too. Moreover, they are much more capable of doing such terrifying things. Moreover, there are about 70 percent male guards, which makes the situation worse.
No matter what the rules and the policies say, the power dynamic is in their favor. Furthermore, they can take advantage of their power, as even shown in the show. Violence in prison is a serious issue, and many inmates have to face this, as this is their fate now.
7. Racism in Prison
This is a sensitive topic, but the show also speaks about this, as it was evident in the series inmates have their groups based on their ethnicity. Even the duties were divided like that, and the inmates only gel up with the people of their own ethnicity and color.
However, this is true to some extent, as racism does occur in American prisons. Although there are no rules regarding this (for obvious reasons). However, there is a significant difference between the way blacks and withes are treated in prison.
Moreover, a prisoner's color can also affect her time in prison. In many cases, it is observed that the time of a sentence is reduced for a white prisoner. However, in a similar scenario for a black inmate, that might not be the case.
Thus, prisoners have to deal with racial discrimination and tensions.
8. Daily Essentials in Prison
Daily necessities like razors and sanitary napkins are considered luxuries in prison. An inmate can't just have a razor with her and shave her legs whenever she wants, as shown in the show.
A prisoner has to get a razor from a guard on demand. Moreover, then they can just have it for 10 mins and return it to the guard. This is also done under supervision for safety purposes.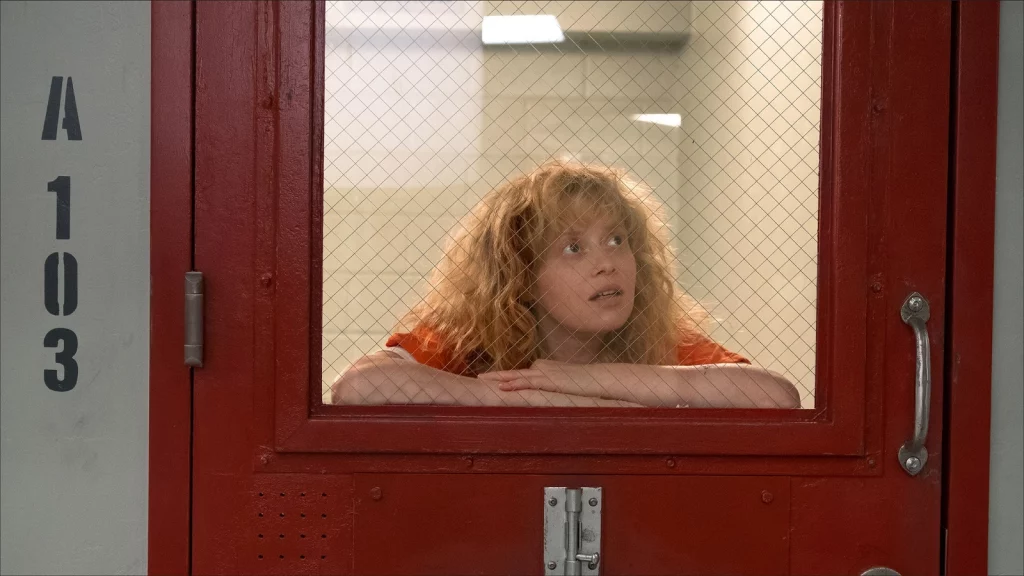 As far as female hygiene products are concerned, they are not as easily available as shown in the Orange is the black universe; the inmates were shown using sanitary napkins as slippers in the shower.
Unfortunately, that's not the case, and there is a very limited supply of such products. Moreover, Inmates are not allowed to hoard these products as they can be used to smuggle things into the prison. However, this fact was not accurate as per The Orange is the new black.
The Bottom Line
The season six premiere of Orange is the new black is watched by More than 5.3 million people within three days of its release. Which made this show one of the most-watched original shows on Netflix.
The makers and the actors have put their best foot forward to make the story as believable and accurate as possible, and many of the prison secrets are also highlighted in the show. 
The orange is the new black is such an interesting take and depicts that prison is a different world altogether. With tons of different storylines and turning plots. However, this show puts light on so many unaddressed issues of the judicial system.
While some facts are overshadowed to take creative liberties. However, nobody knows what a prisoner has to go through for her horrible deeds. 
Shows like OITNB and movies like After on Netflix have taken the popularity of Netflix to another level.
Lastly, I hope now you know how Accurate your favorite show, Orange is the new black, which has raised our expectations from the OTT original content.