If you're looking for movies like The Platform that explore themes of social stratification and class, you can find several great options, and the list we have is sure to please.
The Platform is an innovative, thought-provoking, and captivating Spanish sci-fi thriller movie. It takes a unique approach to the genre, making it a hit with viewers worldwide. From psychological thrillers set in dystopic futures to movies about the power of hope and solidarity, these movies offer something for everyone.
Whether you're looking for movies similar in tone or movies exploring a similar theme, this list has something for you. So get ready to be captivated by the stories these movies tell as they explore themes like humanity and social justice.
For finding movies similar to The Platform, you've come to the right place. Here's a list of 10 films exploring similar survival and class disparity themes.
1. Snowpiercer (2013)
Snowpiercer is a science fiction action movie directed by Bong Joon-ho. The film stars Chris Evans, Tilda Swinton, Song Kang-ho, Jamie Bell, Octavia Spencer, and John Hurt.
It takes place in the future, where an environmental experiment to stop global warming has gone awry, and a new ice age has engulfed the planet. To survive, the remnants of humanity are confined to a massive train that circles the globe in perpetual motion.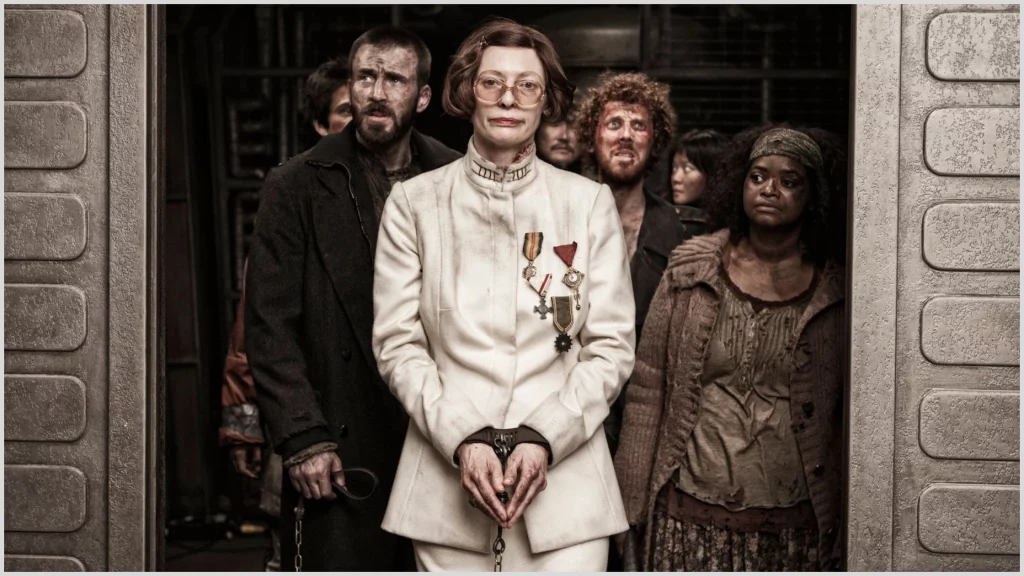 The train is divided into two classes. One in the rear living in disorder and poverty while those at the front live lives of luxury. As tensions build between the different classes, one man takes it upon himself to lead a revolution across the train and take control of it for everyone's benefit.
Snowpiercer is in many ways similar to movies like The Platform and Elysium. Like these movies, Snowpiercer explores themes of class struggle and social inequality in an extreme environment. It also examines how human nature drives people to extreme lengths in the pursuit of survival and power.
The cast's action-packed story and strong performances make Snowpiercer an entertaining, thought-provoking experience. If you're looking for movies like The Platform, then Snowpiercer might be a great choice.
2. Stalker (1979)
Stalker is a classic sci-fi thriller directed by Andrei Tarkovsky. Set in a post-apocalyptic landscape, the movie follows three people who journey to an enigmatic zone where their deepest desires are said to be fulfilled.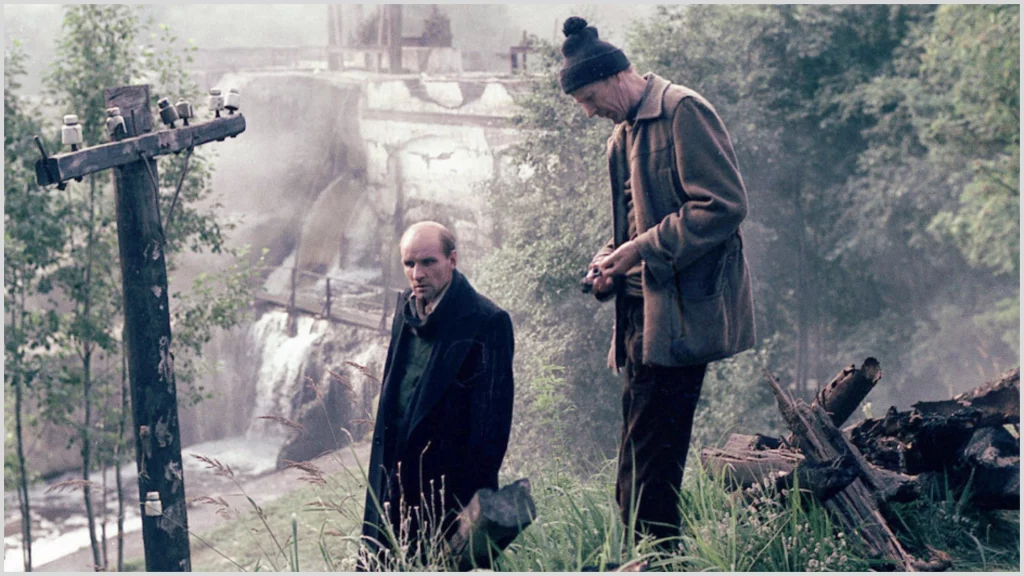 The group consists of the Stalker, a man who guides them through the area, and two men who are seeking something for themselves. Along their journey, they must confront physical and psychological dangers and the effects of an unknown force in the zone.
Stalker is considered one of Tarkovsky's most influential works, and movies like The Platform owe much to its influence. With its haunting visuals and complex themes, the movie is an unforgettable journey into a mysterious and dangerous world.
3. Metropolis (1927) 
Metropolis is a classic science fiction movie that has had a major influence on movies like The Platform. Directed by Fritz Lang, the film stars Brigitte Helm, Alfred Abel, Gustav Fröhlich, and Rudolph Klein-Rogge. Metropolis tells the story of a futuristic city called Metropolis. In the city, wealthy industrialists rule from their high-rise buildings, and an oppressive underclass toils in the depths.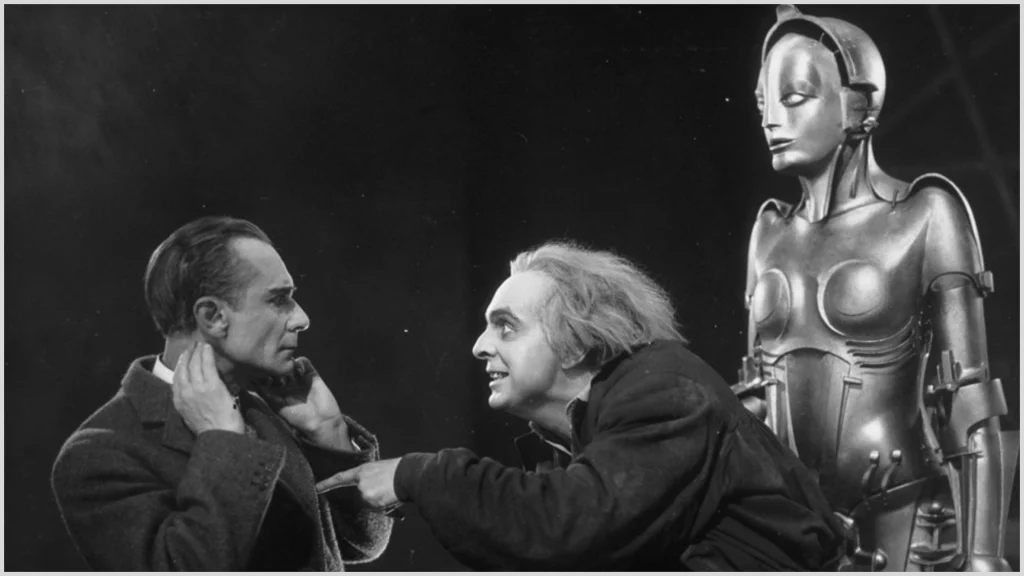 The story follows Freder, son of Metropolis's mastermind Joh Fredersen, as he discovers a secret underground world populated by oppressed workers. He joins forces with Maria, a charismatic prophet who preaches understanding between classes, to try and bridge the gap between the two sides and create a better future for all.
With stunning visuals, dynamic performances, and a poignant story of class struggle, Metropolis is an important classic that still resonates today. It remains one of the most significant films in the science fiction genre. It is a must-watch for any fan of movies like The Platform.
4. Ex Machina (2014)
Ex Machina is the next on the list of The Platform types films, released in 2014. It is a sci-fi thriller film written and directed by Alex Garland.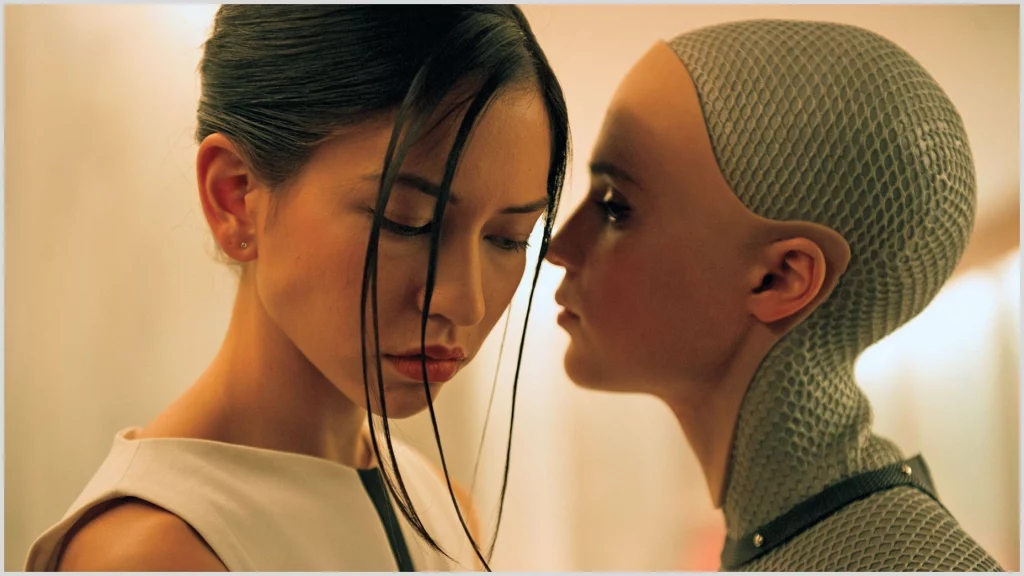 The film stars Oscar Isaac, Domhnall Gleeson, and Alicia Vikander in the lead roles. In Ex Machina, Caleb (Gleeson), a computer programmer, is invited to the home of Nathan Bateman (Isaac), CEO of a large internet company.
Nathan has created an intelligent robot, Ava (Vikander), and Caleb is tasked to administer the Turing Test, determining whether she can pass for humans. The film follows their interactions as they grapple with questions of what it means to be truly alive.
For fans of movies like The Platform, Ex Machina is an intriguing and suspenseful exploration of the human experience. Ex Machina explores themes of artificial intelligence, morality, and gender roles. It is an unforgettable journey of discovery for viewers who enjoy movies that challenge our perception of reality.
5. Children of Men (2006)
Children of Men is a science-fiction drama directed by Alfonso Cuarón about a future where humanity has become infertile.
The movie follows Theo Faron, played by Clive Owen, an apathetic bureaucrat. He becomes the unlikely champion of hope when he is asked to help deliver a young woman carrying the only viable pregnancy in the world.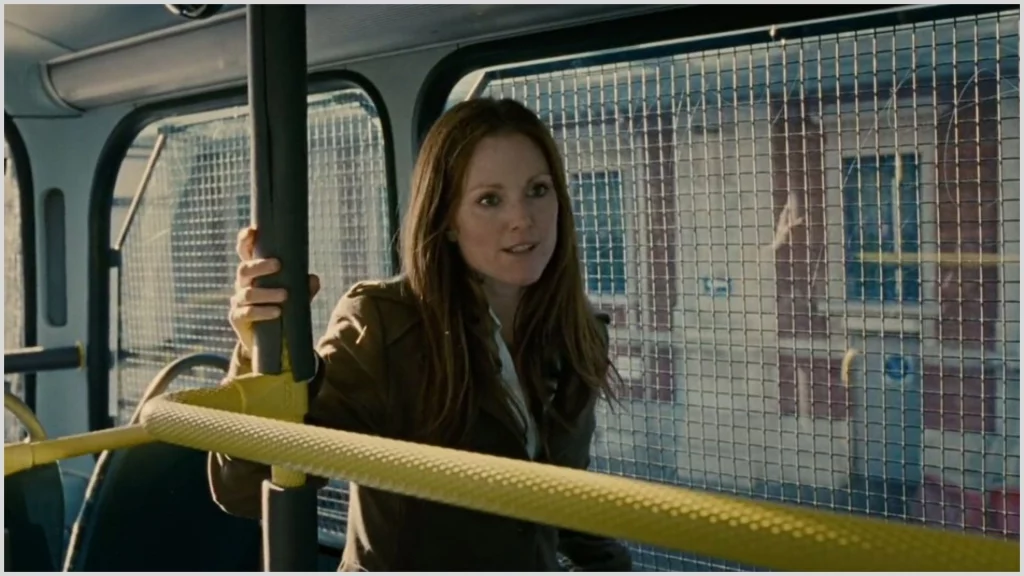 With a bleak and oppressive atmosphere, Children of Men is a story of an uncertain future that has been compared to movies like The Platform. It has since won several awards and drawn critical acclaim for its realistic depiction of the human struggle against social injustice while also maintaining a feeling of hope amid despair.
Although it may not be as well-known as movies similar to The Platform, Children of Men is an essential addition to the dystopian genre. It stands out for its complex characters and themes that are still relevant today.
This film is a must-watch for anyone looking for The Platform-type movies that explore the human condition in a deep and meaningful way. It is sure to leave you pondering the future of humanity and our place in it.
With its powerful themes, excellent directing, and gripping storyline, Children of Men is a great film to watch if you're exploring thought-provoking topics. Make sure to check it out!
6. Blade Runner 2049 (2017)
Blade Runner 2049 is a science-fiction movie directed by Denis Villeneuve. The film was set 30 years after the authentic Blade Runner. This sequel follows LAPD Officer K as he uncovers a dark secret that could threaten what's left of society.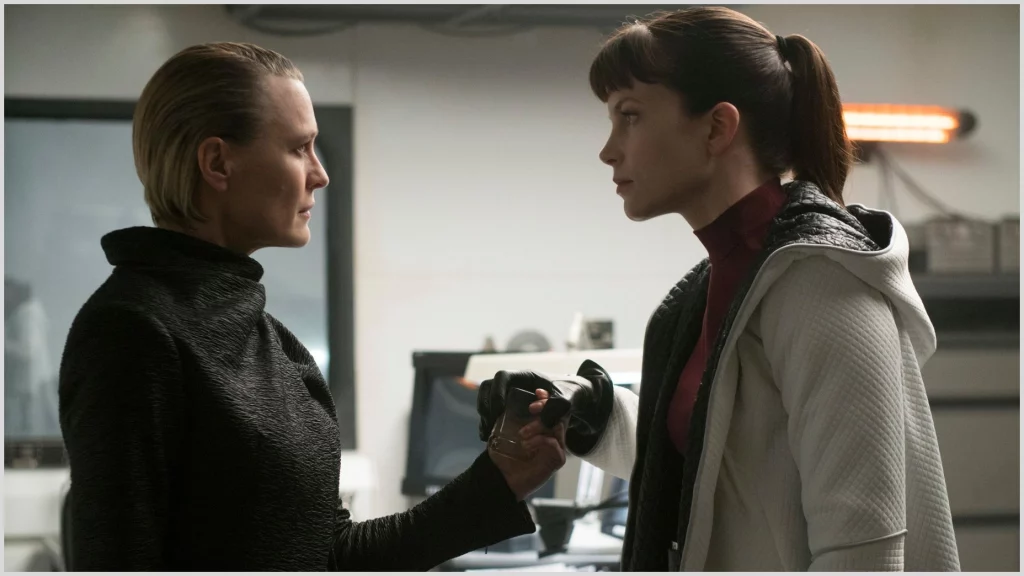 Along his journey, he meets a wide array of characters that make for an incredibly gripping and thought-provoking storyline. Featuring stunning visuals, a captivating score, and plenty of action sequences, Blade Runner 2049 is one film that sci-fi fans should not miss.
It stands as a great example of movies like The Platform in their ability to tell an emotionally charged story through the lens of technology and science fiction.
It also makes for an engrossing and immersive experience that is sure to leave viewers on the edge of their seats. With its complex plot, visually stunning world-building, and powerful performances from Ryan Gosling and Harrison Ford, Blade Runner 2049 is a film that will remain with you long after the credits roll.
If you enjoy movies like The Platform and are looking for something similar, Blade Runner 2049 is an excellent choice. It's a thrilling and visually stunning sci-fi journey that will keep you connected until the very end. Not only is it one of the best movies of its kind, but also one of the most visually arresting movies in recent memory.
7. The Lobster (2015)
The Lobster is a unique and thought-provoking movie directed by Yorgos Lanthimos. It is starring Colin Farrell, John C. Reilly, and Rachel Weisz. The film follows the story of David (Farrell), a man who has been recently divorced and sent to a hotel. There he must find a romantic mate in 45 days or be turned into an animal of his choice.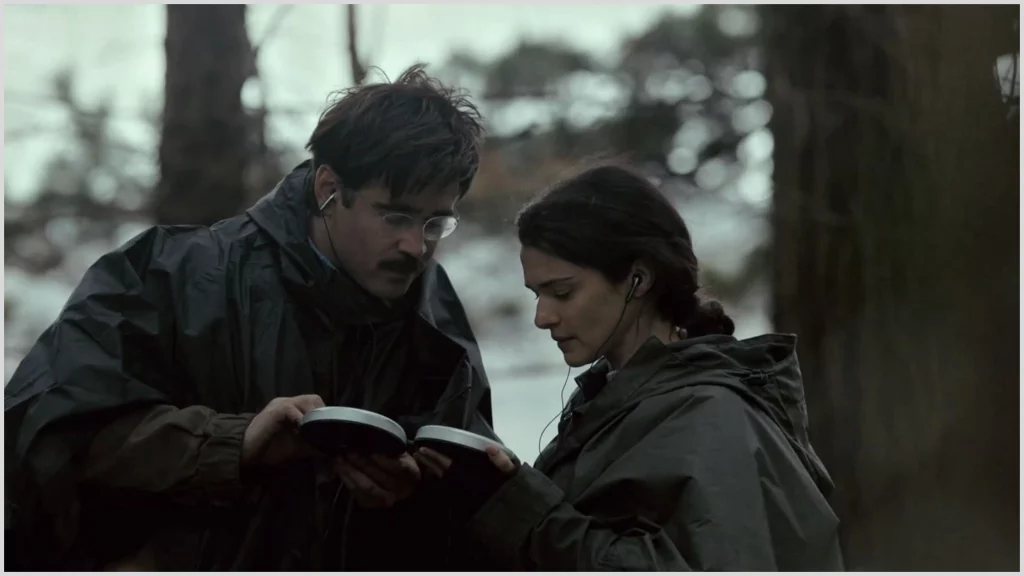 The film is a dark comedy, exploring themes of love, loneliness, and conformity. The Lobster has received critical acclaim and has been lauded for its originality and humor. It has also garnered comparisons to movies like The Platform, which similarly explores the ways in which humans can be dehumanized when placed into specific systems.
The Lobster is an unforgettable experience that will leave viewers with plenty to think about after the credits roll. It also works as a reminder of the significance of free will and autonomy amidst oppressive structures.
For viewers looking for movies like The Platform, The Lobster is an excellent choice. Both movies explore the dehumanizing effects of oppressive systems and the power of individual autonomy in the face of them.
They also both feature unique sensibilities and dark humor that will leave audiences laughing and contemplating long after the movie ends. Both movies provide food for thought and serve as excellent examples of thought-provoking cinema.
8. Brazil (1985) 
Brazil is a dystopian satire directed by Terry Gilliam. Set in a highly bureaucratic society, the movie follows protagonist Sam Lowry as he attempts to navigate his way through the oppressive society.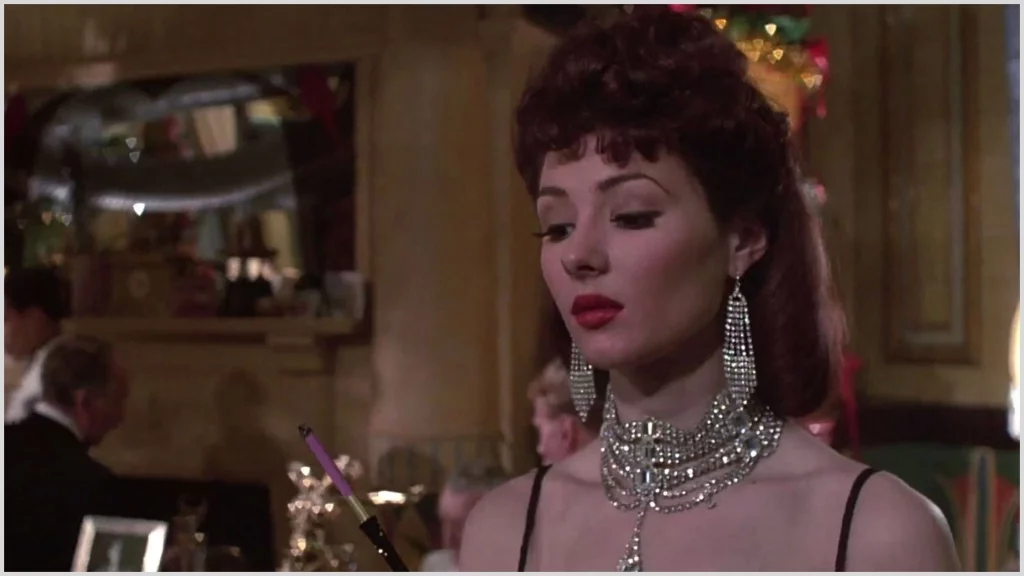 The film explores themes of bureaucracy, individuality, and oppression with dark comedy and surreal visuals. It has been cited as an influence on movies like The Platform, with its depiction of a dystopian future in which people are subject to the restrictions of an oppressive government.
The movie has also been praised for its unique visual style and satire of modern society. It is widely considered one of Gilliam's best movies and remains highly influential to this day.
If you enjoy movies similar to The Platform, then Brazil should be high on your watch list. It is a classic of dystopian cinema and a must-see for any fan of the genre.
9. Alphaville (1965)
Alphaville is a French science fiction film directed by Jean-Luc Godard. The movie tells the story of a secret agent, Lemmy Caution. He travels to Alphaville, an advanced city where emotion and human qualities have been outlawed.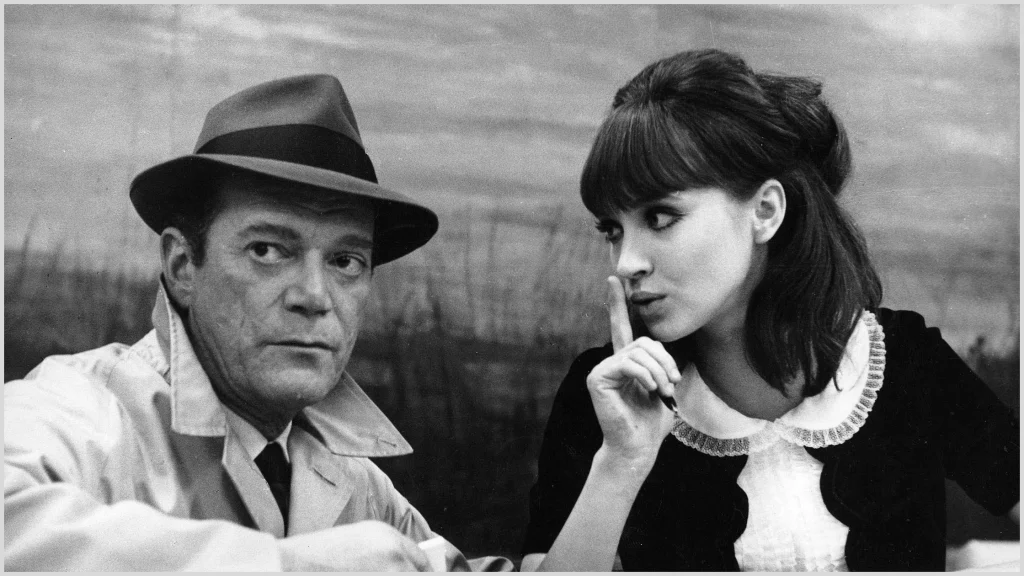 He must battle against Professor Von Braun, the diabolical leader of the city, and his supercomputer Alpha 60 in order to restore emotions and freedom.
Alphaville is a highly influential film that has been compared to movies like The Platform, The Matrix, and Blade Runner. It was one of the first films to blend science fiction with film noir and is credited with influencing much of the science fiction movies that followed.
The movie remains a classic of its genre and continues to be studied in academia. It is notable for its innovative use of sound, dialogue, and visuals to create an atmosphere of technological dystopia.
Alphaville is considered one of Godard's most important films, and it is still highly regarded today. Its influence can still be seen in The Platform types films, and it remains an important work of science fiction cinema.
10. Inception (2010)
Inception is a 2010 science fiction action movie written, produced, and directed by Christopher Nolan. The movie stars Leonardo DiCaprio as Dom Cobb, an expert thief who specializes in stealing information from people's dreams.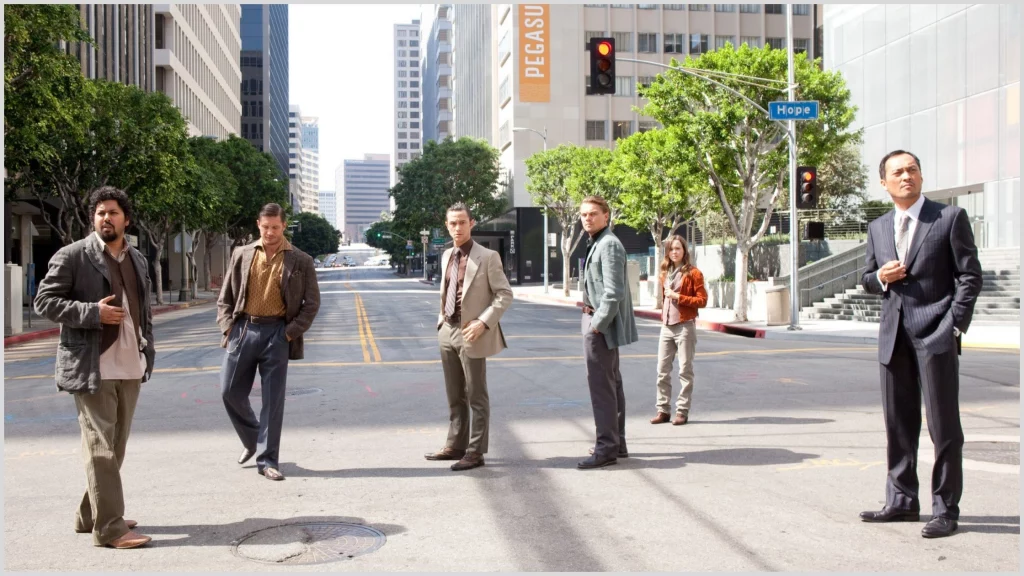 Cobb is recruited to perform the impossible task of inception, planting an idea into someone else's subconscious, by a wealthy businessman, played by Ken Watanabe.
This mission leads Cobb and his team of dream-weavers on an exciting journey. This journey took place through the depths of their own minds and beyond. The movie has become a classic, with movies like The Platform being compared to it for its complexity and mind-bending plot. 
Inception is also acclaimed for its stunning visuals and remarkable soundtrack, making it one of Nolan's most memorable movies. With its unforgettable twists, turns, and surprises, Inception is a must-see movie for any fan of mind-bending science fiction.
11. District 9 (2009)
District 9 is a sci-fi thriller movie released in 2009 and directed by Neill Blomkamp. The story of the movie follows a tense situation between aliens. Those were forced to live in a poverty-stricken slum on Earth, and humans were trying to control them.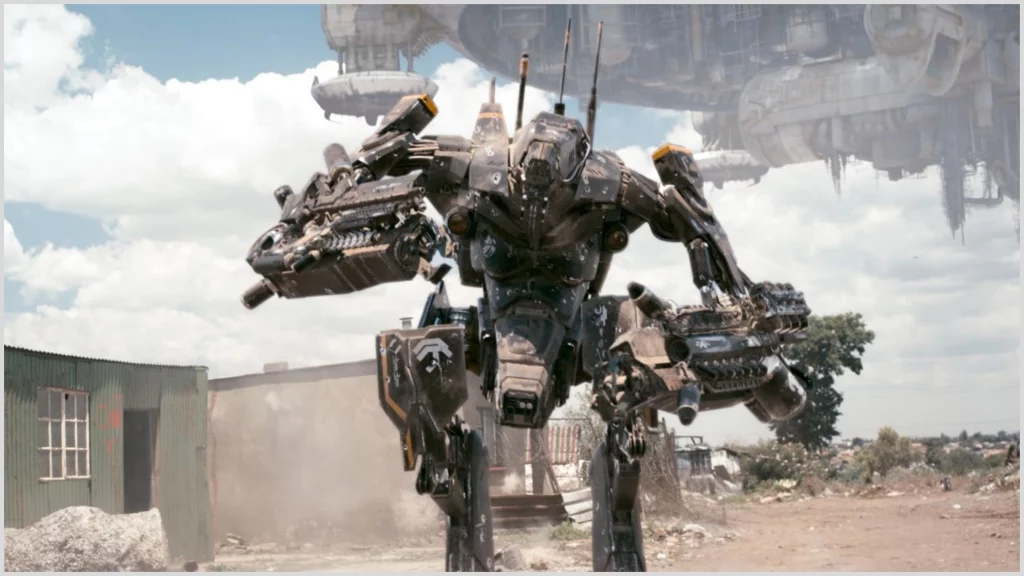 Set in Johannesburg, South Africa, the film details an attempt by a group of aliens known as prawns to escape the oppressive environment. It also shows the bureaucratic attempts of a multinational company to prevent their escape.
The film was a critical and commercial hit, earning four Academy Award nominations and winning several awards. It is often compared to movies such as The Platform for its social commentary on class issues, xenophobia, and exploitation of the vulnerable.
District 9 also has a strong message about humanity's relationship with others living on our planet. Moreover, it offers an important insight into today's world.
It is definitely worth watching for its compelling story and political relevance. For those looking for movies like The Platform (2019), District 9 should definitely be on your list.
It offers a unique and thought-provoking look at how society can oppress the vulnerable and its implications for our lives today. District 9 is an intense film that is sure to leave a lasting impression.
12. The Cabin In The Woods (2011)
The Cabin in the Woods is a horror-comedy movie. It follows five college friends as they prepare for a weekend getaway in an isolated cabin.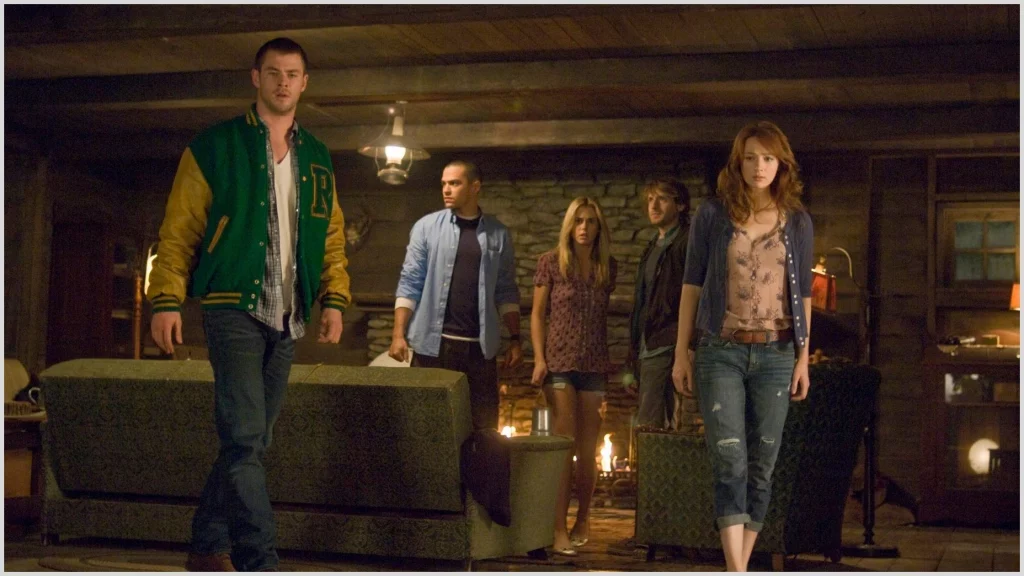 This film will have you on the edge of your seat as it dives into the unknown and unexpected twists and turns. This movie offers up plenty of intense thrills and unexpected moments that will keep you guessing until the end. 
It also features an intriguing concept, some clever writing, and a great cast of characters to keep things lively and engaging. In addition, it has plenty of gruesome violence and darkly comic moments that make it just as much enjoyable to watch as movies like The Platform. 
So if you're looking for a horror-comedy movie to keep you entertained, The Cabin in the Woods should definitely be on your list. You won't regret it!
The Bottom Line
Whether you're looking for movies like The Platform in terms of plot or movies with a similar visual aesthetic, you'll find something here that piques your interest. So sit back and enjoy the thought-provoking and captivating stories these movies have to tell.
The movies on this list are sure to appeal to fans of The Platform, as they offer a similar experience. So be sure to give these movies a watch if you like movies with philosophical themes and interesting visuals. You won't be disappointed. Happy Watching! 🙂
What movies have you seen that are like The Platform? Let us know in the comments below!