Movies like Jumanji takes us on an adventure that we can never experience in the real world. Hence, we all love to live in this world of imagination and adventure. Jumanji was one of the first movies of this kind which is an amazing blend of reality and a fantasy world.
This series has 3 movies; the first one was released in 1995 and was a pathbreaking movie. Audiences from all over the world and from every generation loved this Jumanji. Thus, after this, many movies like Jumani were released.
So if you also loved this classic adventure movie and looking for a similar experience like Jumanji. You are in the right place; today, I have picked the top 12 movies like Jumanji; trust me, these are the real gems, and some of them are quite underrated, and you might not have heard of these epic movies.
So start adding these movies like Jumanji to your watchlist and get ready to go on an adventure you have never seen before.
1. Journey 2: The mysterious island (2012)
This movie is a perfect blend of adventure, comedy, and Action. Moreover, Journey 2: The mysterious island is directed by Brad Peyton and written by Brian Gunn, Mark Gunn, and Richard Outten. However, the star cast includes Josh Hutcherson as Sean, Dwayne Johnson as Hank, and Michael Caine as Alexander.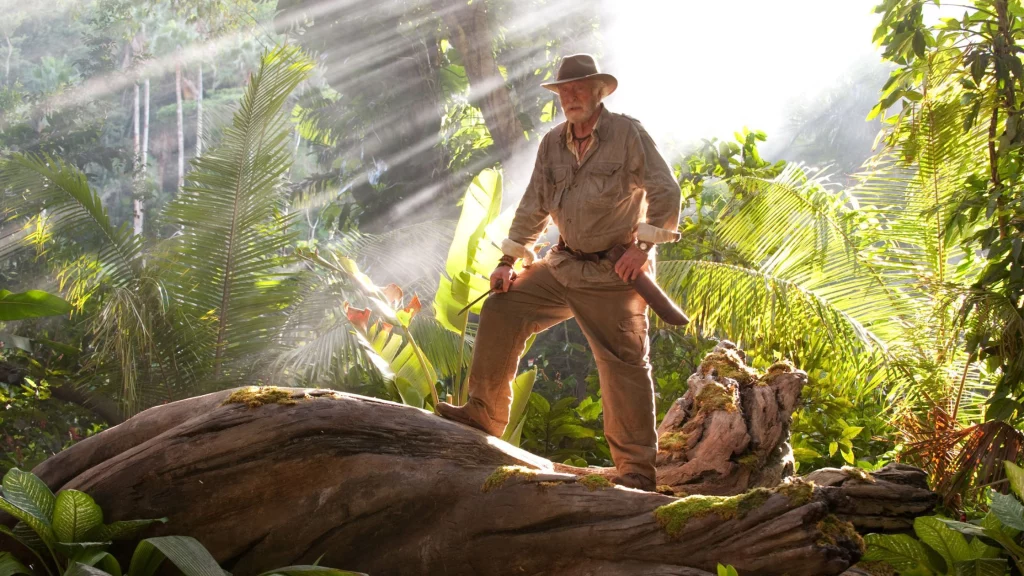 The storyline is about a father-son duo that somehow decodes a secret message and gets their hands on a map to this mysterious island. This island has never been discovered before, and this father-son duo, along with Gabato and Kailani, are on a mission to find their grandfather.
On this island, all four of them have to face some unexpected challenges, and they get into so many troubles. Moreover, it's so thrilling to watch them encounter new species of dangerous animals. Will they make it out alive from this mysterious island? You can watch Journey 2: The mysterious island on Amazon Prime Videos.
2. Dolittle (2020)
Starring our favorite Robert Downey Jr. as the protagonist, this adventure comedy is directed by Stephen Gaghan and written by Doug Mand, Stephen Gaghan, and Dan Gregor.
The storyline revolves around this doctor who has decided to hide from the world after a tragedy that took away the love of his life. However, if you are an animal lover, you are going to love this movie. After hiding from the world along with his clan of animals, Dolittle has no contact with the real world now.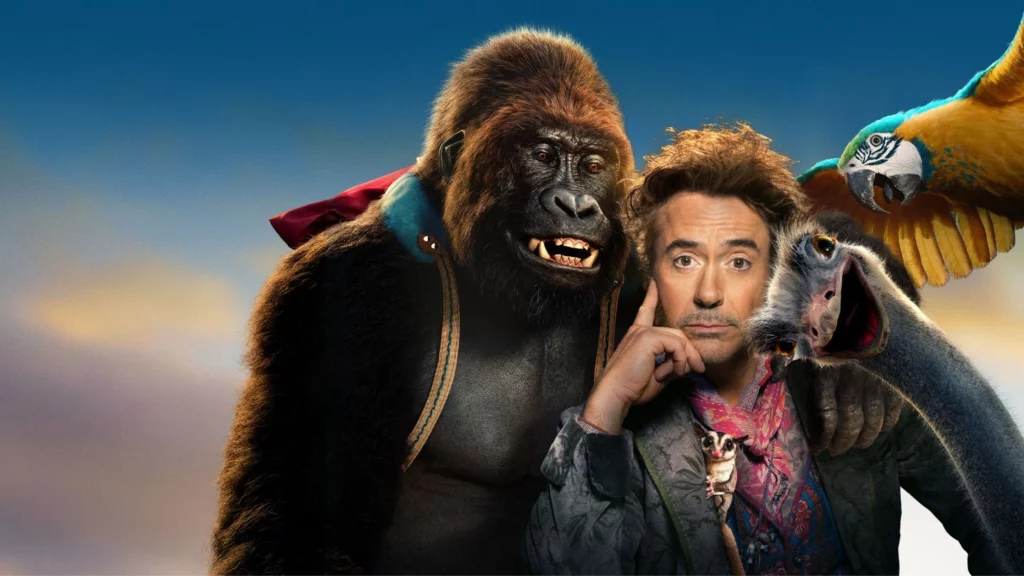 However, there is this little boy who finds Dr. Dolittle and asks for his help to save the life of a princess. After a lot of effort, he convinced Dr. Dolittle to come back to the world and go out there with a purpose. We get to see how his beloved animals helped him on this adventure. Moreover, on their journey, they will face so many challenges, which is so thrilling to watch.
But will Dolittle and his bunch of animals be able to save the life of a princess who is on her deathbed? Find your answers and watch Dolittle on Amazon Prime Videos.
3. Night at the Museum (2006)
This movie is based on a book written by Milan Trenc, and the movie is directed by Shawn Levy. Moreover, the star cast includes Ben Stiller as Larry Daley, Carla Gugino as Rebecca, and Ricky Gervais as Dr. McPhee.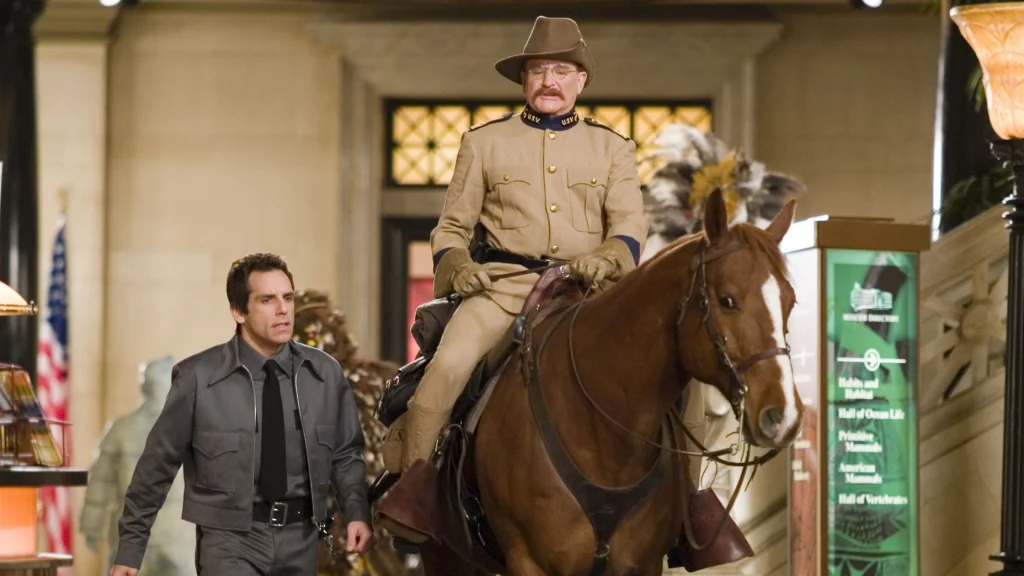 The storyline is set in a museum in New York where the security has changed, and they find out there this is not a normal museum. They saw that the whole museum came to life once the sunset.
The whole museum turns into a place full of chaos, and every monument comes to life. It's so thrilling to watch these security guards trying to keep everything in place. Will they be able to manage all of this chaos? You can watch Night at the Museum on Disney Hotstar.
4. The Mummy (1999)
While talking about the movies like Jumanji and it would be unfair if I dont mention The Mummy. This epic movie is directed by Stephen Sommers and written by Lloyd Fonvielle, Kevin Jarre, and Stephen Sommers.
Moreover, the star cast includes Brendan Fraser as Rick O'Connell, Rachel Weisz as Evelyn Carnahan, Arnold Vosloo as Imhotep, and John Hannah as Jonathan Carnahan.
This series has 4 movies till now and is one of the most successful franchises. The storyline starts in the ancient city of Hamunaptra, where an archeologist digs out a sleeping demon. This  English librarian called Evelyn Carnahan, played by Rachel Weisz unknowingly unleashes a curse along with waking up The Mummy.
Now they have to face the consequences of the curse, and will they be able to put this Mummy back to where it belongs? Or is this the beginning of the end? To know the answers watch the Mummy on Amazon Prime Videos.
5. Goosebumps (2015)
This fantasy movie is directed by Rob Letterman and written by Darren Lemke, Scott Alexander, and Larry Karaszewski. Moreover, the star cast includes Jack Black as Stine, Dylan Minnette as Zach, and Odeya Rush as Hannah.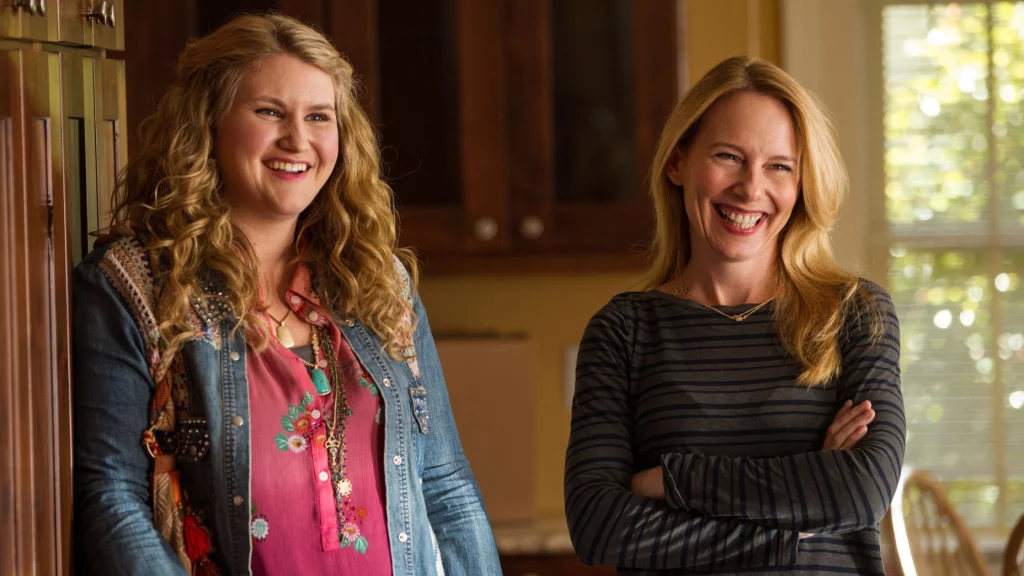 The story revolves around Zach Cooper, played by Dylan Minnette meets Hannah, the gorgeous and pretty girl next door, after moving to a new little town. But there is something fishy and mysterious. However, Zach somehow finds out that Hannah has a mysterious father, who turns out to be R.L. Stine, played by Jack Black, the bestselling author of the "Goosebumps" series.
There is something going on in the imaginary world of Stine, and the book that made him so popular has a mystery to it all the monsters in the book are real. Moreover, the author is trying to protect his readers by keeping them locked in the book.
However, Zach somehow unleashes the monsters from the manuscript of the book. Now the whole town is facing the consequences as the monsters are on the loose. Will they be able to capture them back into the book? Watch Goosebumps on Amazon Prime Videos now and get your answers!
6. Rampage (2018)
This sci-fi film is directed by Brad Peyton and written by Ryan Engle, Carlton Cuse, Ryan J. Condal, and Adam Sztykiel. Moreover, the star cast includes Dwayne Johnson as Davis Okoye, Naomie Harris as Dr. Kate Caldwell, and Malin Akerman as Claire Wyden.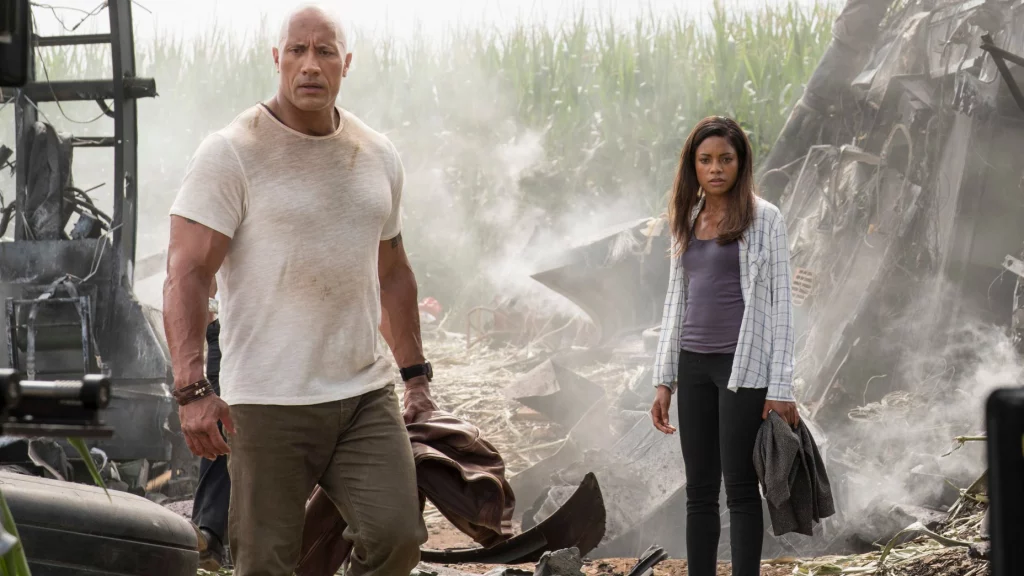 From the very beginning, the storyline is so gripping just like the maze runner. right aftrer the beggining we can see that there is a research lab that deals with a genetic mutation is on fire. Everything appears to fade away, but somehow they are able to save a mutated super-rat. Other than rats, there are many more genetically modified and intelligent animals, like a giant albino gorilla named George.
All these animals are samples of genetically modified animals that were created in that lab, and as the movie progresses, we can see George growing at a rapid pace, and it's unstoppable. There is so much going on in this movie that will keep you on the edge of your seat. However, you can watch this movie on Amazon Prime videos.
7. The Mask (1994)
This comedy/Action film is one of its kind and is directed by Chuck Russell. Moreover, it is written by Michael Fallon, Mark Verheiden, and Mike Werb. Furthermore, the star cast includes Jim Carrey as Stanley Ipkiss, Cameron Diaz as Tina Carlyle, and Peter Riegert as Lt. Mitch Kellaway.
This storyline revolves around protagonist Stanley Ipkiss played by Jim Carrey. The story starts when he finds a mask that looks like Loki, which is the god of mischief. However, after putting that mask on, his gentle personality got changed into a wild cartoon-like man.
Moreover, this mask gave him a chance to channelize his inner self and show the other side of his character. Things take a turn when this green wild monster kills a tiny friend and become a criminal. So all and all, this movie will keep you glued to your screens, and you'll enjoy watching extreme shades of this character and to what extent he can go. However, you can watch The mask on Amazon Prime Videos.
8. Richie Rich (1994)
Now we all have seen Richie Rich while growing up, and this movie is directed by Donald Petrie and written by Neil Tolkin, Tom S. Parker, and Jim Jennewein. Moreover, the star cast includes Macaulay Culkin as Richie Rich, Edward Herrmann as Richard Rich, John Larroquette as Laurence Van Dough, and Christine Ebersole as Mrs. Rich.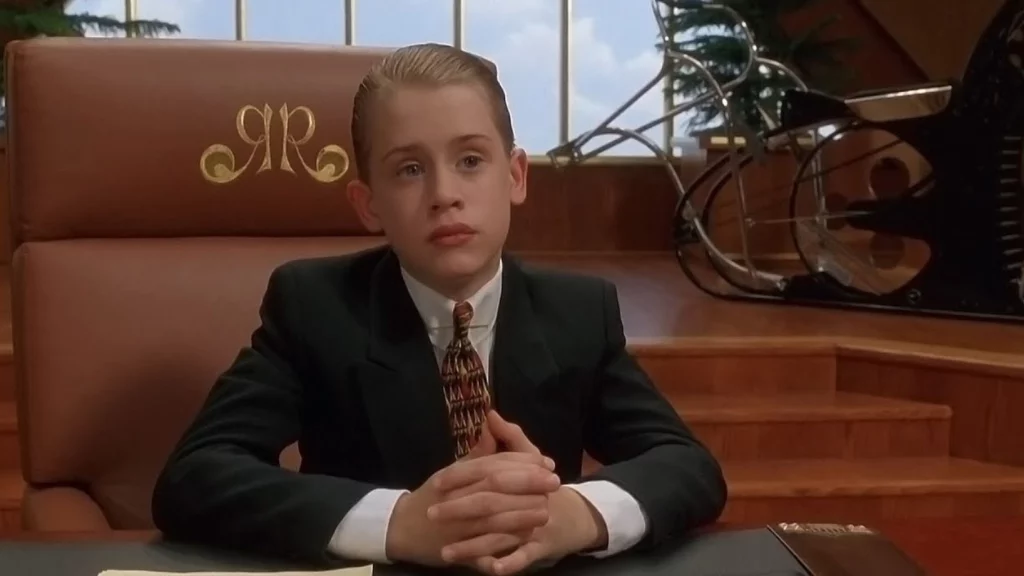 This is a story about a super-rich guy who has everything, but the only thing he craves is companionship and partnership. While representing his father at a factory opening, Richie notices several youngsters across the street playing baseball. 
However, he wishes to participate and enjoy himself with those kids, but they don't want him there. When Rich Industries' top CEO, Laurence Van Dough, devises a plan to murder the Rich family, he must take over management of the firm while hunting for his missing parents with the help of some new friends. However, you can watch Richie rich on Amazon Prime Videos.
9. The Golden compass (2007)
This film is based on an award-winning novel named the northern lights written by Philip Pullman, while the screenplay is written and directed by Chris Weitz. Moreover, the star cast includes Nicole Kidman as Mrs. Coulter, Daniel Craig as Lord Asriel, and Dakota Blue Richards as Lyra.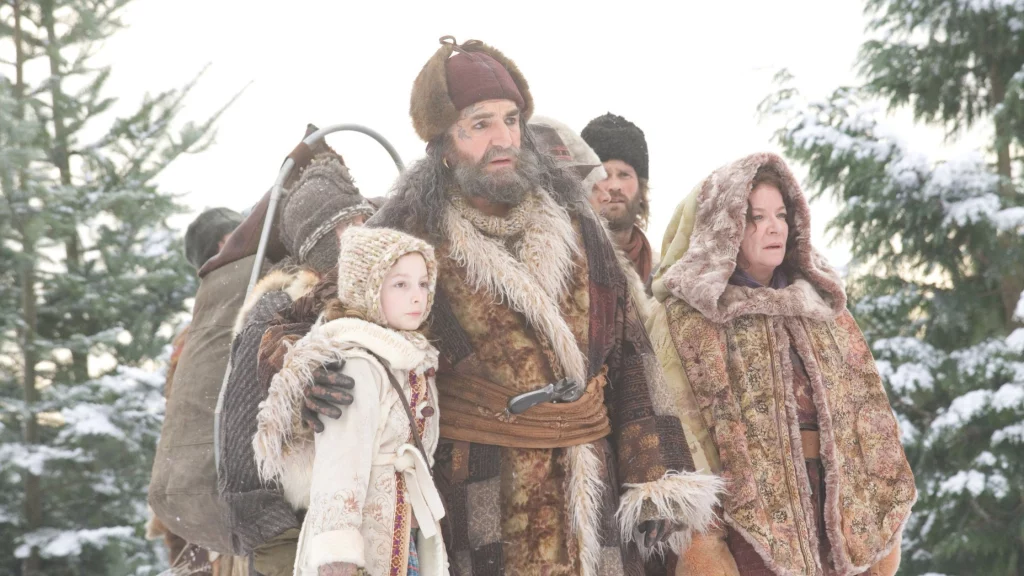 The storyline is about Lyra Belacqua, played by Dakota Blue Richards, who lives in a parallel universe where human souls emerge as lifelong animal companions known as daemons.
 In this world of Lyra, dark powers are at work, and many children have been abducted by entities known as Gobblers. Lyra swears to save her best friend, Roger after he also vanishes.
She went on an epic mission to rescue Roger and protect her universe alongside her daemon, a tribe of mariners, a witch, an ice bear, and a Texas airman. Will she be able to save the world? However, you can watch The golden compass on Amazon Prime Videos.
10. Jurassic park (1997)
This Sci-fi/Adventure film is one of the most successful movie franchises that are popular worldwide. Based on a novel written by Michael Crichton, and the screenplay is directed by Steven Spielberg.
Moreover, the star cast includes Jeff Goldblum as Ian Malcolm, Julianne Moore as Sarah Harding, Pete Postlethwaite as Roland Tembo, and Vince Vaughn as Nick Van Owen.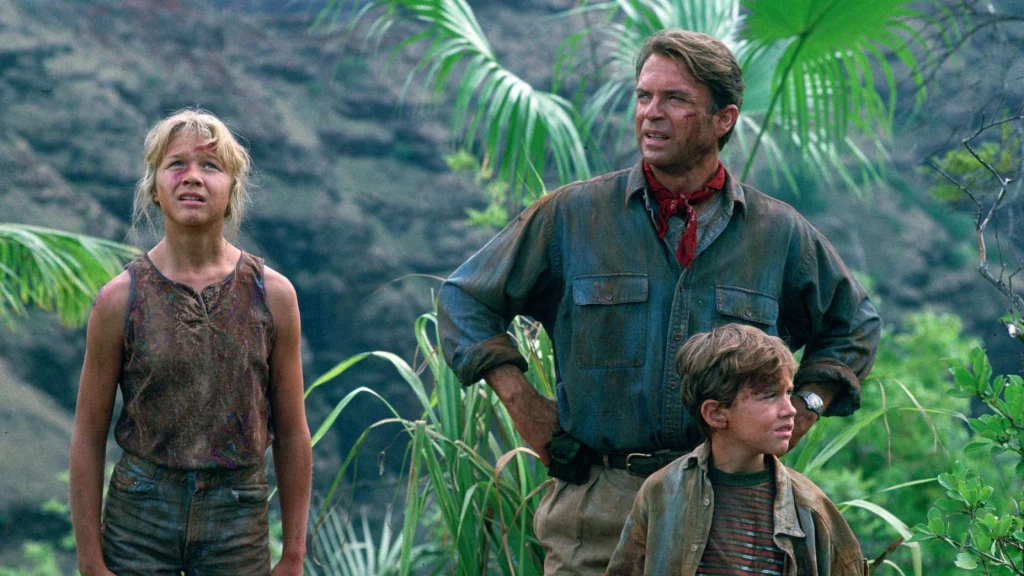 The story begins with a research team that has been sent to an island to document the shreds of evidence from the Jurrasic Era. On the other hand, there is a bigger team of researchers that has been sent by the BioEngineering company. But the story took a turn for the worst. Both of these teams are now at the mercy of these massive creatures. 
I have to say that the visual effects in the movie are way ahead of their time, just like Jumanji. However, the question is, will this team of scientists be able to reach back home safely? Find out and watch Jurassic park on Amazon Prime videos.
11. Men in Black (1997)
This action comedy is based on a comic written brilliantly by Lowell Cunningham. However, the screenplay is directed by Barry Sonnenfeld and written by Ed Solomon. Moreover, the star cast includes Tommy Lee Jones as Kay, Will Smith as Jay, and Linda Fiorentino as Laurel.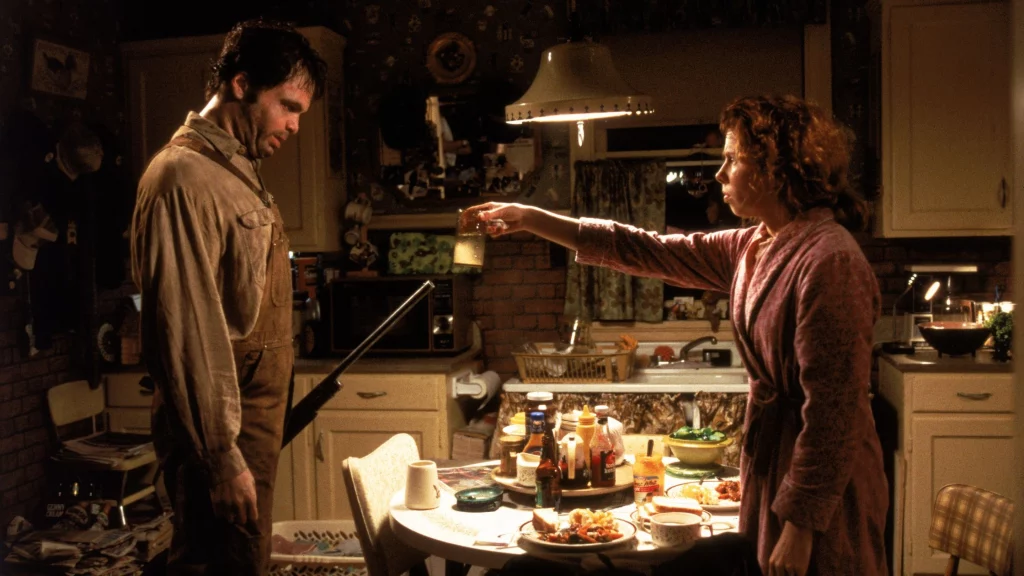 The storyline is about a secret agency which is a surveillance corporation with a private code, MiB. one of the best agents from this secret cooperation is the agent named 'K', played by Tommy Lee Jones. Now he is in charge of hiring another capable agent to join this secret agency, and he selects 'J,' played by Will smith.
People love this pair, and when they come together, they are ready to take down anything that came in their way. There is so much happening in the movie, and they have to save the world from an alien attack. However, the best part of this movie is how well they blended full-fledged action with comedy.
Will this duo be able to save the world? You can watch Men in Black on Amazon Prime Videos.
12. Stuart Little (1999)
This is one of my favorites on this list, and as a kid, I enjoyed watching Stuart Little every time this aired on TV. This is why I have to include this in the list of movies like Jumanji, as it also is full of adventure and fun.
This adventure comedy is based on a novel written by E.B. White. The screenplay is directed by Rob Minkoff and written by M. Night Shyamalan and Greg Brooker.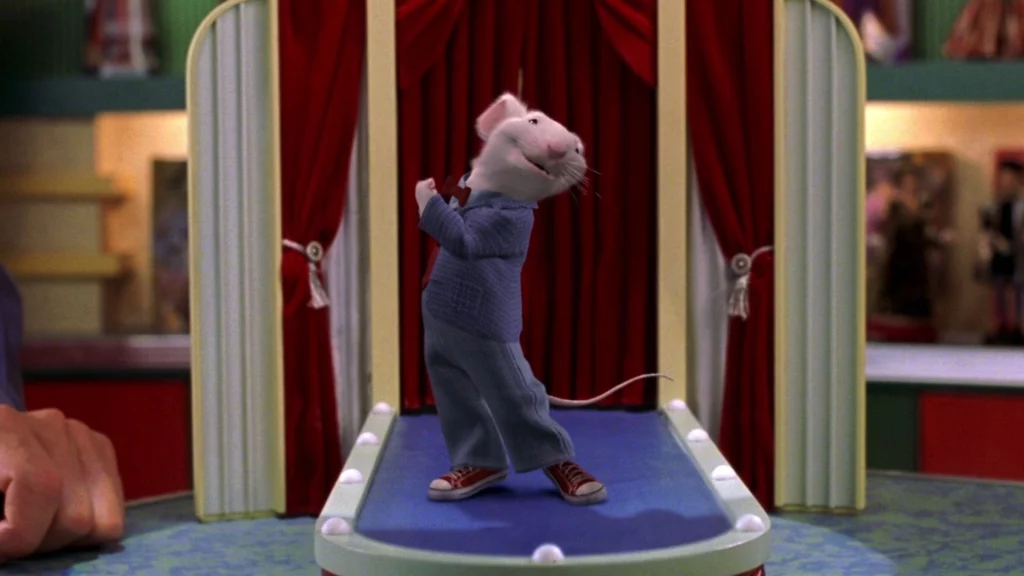 The storyline is based in New York and revolves around a sweet and simple family of Littles. They went to an orphanage to adopt a kid and a brother for their son. There the couple met this sweet and innocent human-like mouse named Stuart.
With his charm, Stuart instantly won their hearts, and the family decided to adopt him. Everyone in the family loves and accepts Stuart as their new family member. However, their cat, Snowbell, is not very welcoming and wants to eat this little new member. Things get even more serious when Snowbell's friends get to know about this little mouse in the little family.
Will Stuart be able to survive along with this big cat in the house? You can watch the adventurous life of this little mouse on Netflix.