Snapchat is a really popular application, especially among youngsters, because of its constant new update and exciting features. Moreover, one of the best and most newly launched features is the ring light feature on Snapchat.
This ring light feature will level up your selfie game. Moreover, the ring light feature brightens up your screen and gives you great lighting to click amazing selfies. This feature gives you a ring light-like effect and glows without actually buying a ring light, and even in any dark or dim setup, you can take amazing pictures.
One of the major reasons for Snapchat's popularity is that its features are convenient and handy. Moreover,  Snapchat's camera interface and filters are very fun to explore and appear to be relatively easy.
So if you are still figuring out How to get the ring light on Snapchat? You are at the right place today in this blog, we are going to show you exactly How to get the ring light on Snapchat. So if you want to level up your selfie game, keep on reading!
Ring Light feature
While Snapchat's selfie flash has always worked well, it is improving. Many Snapchat users have discovered a new flash option after the recent update of Snapchat. Instead of merely turning on/off the selfie flash, it now features an inbuilt 'ring light' option.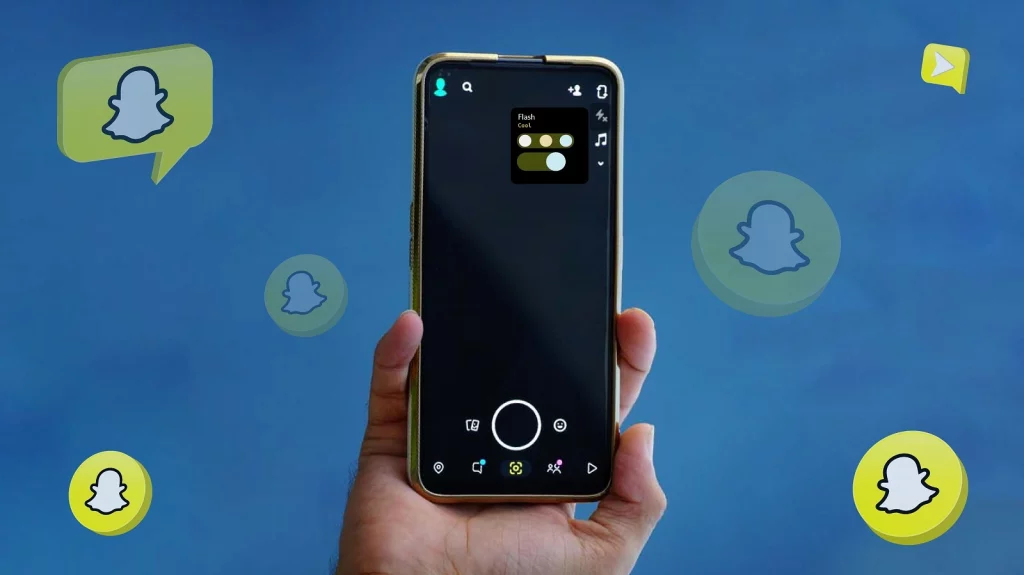 However, the ring light illuminates and brightens up the borders of your phone's display and allows you to customize its intensity and color according to your preference. Moreover, It works similarly to the ring lights that you can buy online, instead, it's embedded right into the Snapchat app.
Moreover, using these features is extremely easy all you need to do is that you just start the app, tap the large circle at the bottom of the screen to snap a photo, and then select who or what you want to share and shoot. One of Snapchat's major features is how simple it makes photo or video sharing, this has become even more convenient with this ring light feature.
Directions to use the Ring light feature on Snapchat
For ios or iPhone users
if you have an iPhone or an iPad and wish to use Snapchat Ring Light on it. However, you must first update Snapchat on your iPhone via the Apple App Store to enable this feature on your Snapchat account.
First, update and open the Snapchat app on your iPhone.

After that, turn the front camera on.

You might switch between 'Regular' and 'Ring' toggles on your iPhone.

Tap on the Flash icon on the right side of the screen to begin.

In a pop-up window, you will now see three selections (natural, warm, and cool).

Now you can pick and choose according to your preference.

The small popup will now include a slider for adjusting the brightness area of the ring flash.

Now you are all set to take a Ring Light Flash selfie.
For Andriod users
If you are an Android user or a smartphone user, you must first update the Snapchat app from the Google Play Store. Now you can enable the ring light feature on Snapchat. However, once the app is updated, the rest of the steps are quite simple and similar to the iPhone.
Open your Snapchat account on your android phone.

Then switch to the front or selfie camera.

Tap on the flash option that will appear in the top right corner of the screen.

In your android phone, the ring light will show up by default.

However, you can customize the brightness by sliding from the side according to your preference.

Now tap on the big circle icon on the bottom to click selfies or shoot videos.
The Bottom Line
After going through the above steps, I hope you know How to get the ring light on Snapchat. The best part about Snapchat is that all the new features, such as removing multiple friends at once, are extremely easy to use and very convenient as well. Moreover, you can also use the ring light feature with different filters and lenses as well to add a fun element to your snap.
Lately, I hope you find this blog helpful, and now you can keep your selfie game on point with the new ring light feature on Snapchat.