The state of New York is well-known for its snow, entertainment, cultural and global exchanges, and how can we miss Times Square? The city is one of the most famous tourist destinations, where people come not only for fun but also for lucrative job opportunities.
Did you know that the current metro area population of NYC is 8.85 million? Which is huge. And this has obviously led to a rise in the city's crime rate too. (The unfortunate side of the metropolitan city). For which there is a simultaneous rise in owning self-defense weapons.
Not only weapons but people of all age groups also invest a lot in learning various self-defense techniques in order to safeguard themselves. All of this is important as much as it is a necessity today. 
However, the most common mistake that people make is that they resort to illegal self-defense armaments for protection, whereas there is absolutely no need to do so. If you fit all the prerequisites to own a weapon, apparently, no one can stop you from not only having their possession but also using them during dangerous times.
So, to clear out any confusion regarding this topic, I have curated a well-researched list of legal self-defense weapons in NYC. Only buy one or more from the list to avoid inviting any legal problems for yourself.
10 Legal Self-Defense Weapons in NYC for your Protection
Go through all of them carefully and be prepared for the next you find yourself in the middle of danger.
Pepper Spray
The compact, travel-friendly size of the pepper spray is the biggest advantage, as it gets extremely easy for the person to use it in the blink of an eye. Plus, the benefit is that if you have purchased it from the confines of the NY state, you can literally use it wherever you sense some threat.
Having said that, it's important to note that some of the restrictions associated with using pepper spray include
It cannot be taken to commercial airplanes, as these sprays are quite dangerous.

Government establishments and secured buildings (state) don't allow the entry of people carrying the spray.
Using it is quite effective because the spray can burn your predator's eyes and will leave him/her in pain and blind for a while. (Easy to flee!)
Knives
The best advantage of using a knife as a self-defense weapon is that almost everyone has a knife right in their kitchens. While a knife is an easy-to-find and useful tool to help yourselves, we should not take them lightly. New York has strict provisions against carrying them in public.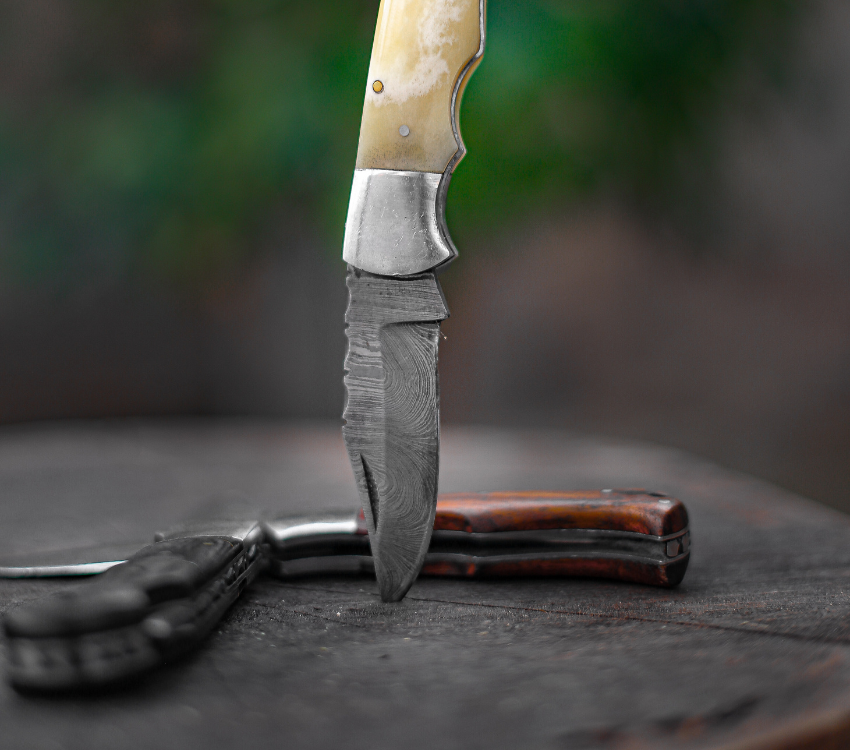 According to the rules, you are not allowed to carry the knife in public even if the sharp end of the knife is not visible. For obvious reasons, this rule does not apply to people who need to use a knife for work, such as Military or on-call medics.
A knife is very effective, as merely showing the knife in a situation needing self-defense is enough to scare the hardest crooks.
Guns
New York has many strict guidelines one needs to follow before one can own a gun. While NY doesn't necessarily ban people from carrying guns around (As the right to bear arms is protected by the second amendment), only licensed owners are allowed to have concealed guns. 
Moreover, before purchasing a gun as a legal self-defense weapon in NYC, you need to consult an experienced attorney and obtain permission. Otherwise, You may get arrested. (Be Careful, Buddy!)
Stun Guns
Yes, you read that correctly! Stun Guns are not only weapons in Star Trek, but they are one of the best tools for self-defense. They are also known as "electroshock weapons." Stun guns use more than 50000 volts of electricity which is sure to stun any attacker. 
Stun guns are also very intimidating to look at, which may scare the attacker without even firing them. However, if the scare tactics do not work, then all you need to do is point and press and hold a button which will stun the attacker. 
Although they sound and look scary, stun guns are made with the purpose of just shocking and not killing. As long as your attacker does not have heart conditions, the attacker "should" not die.
Tasers
There are two different types of tasers available in the market. If you're thinking of using a taser as a self-defense weapon, make sure to buy the taser designed specifically for civilian use.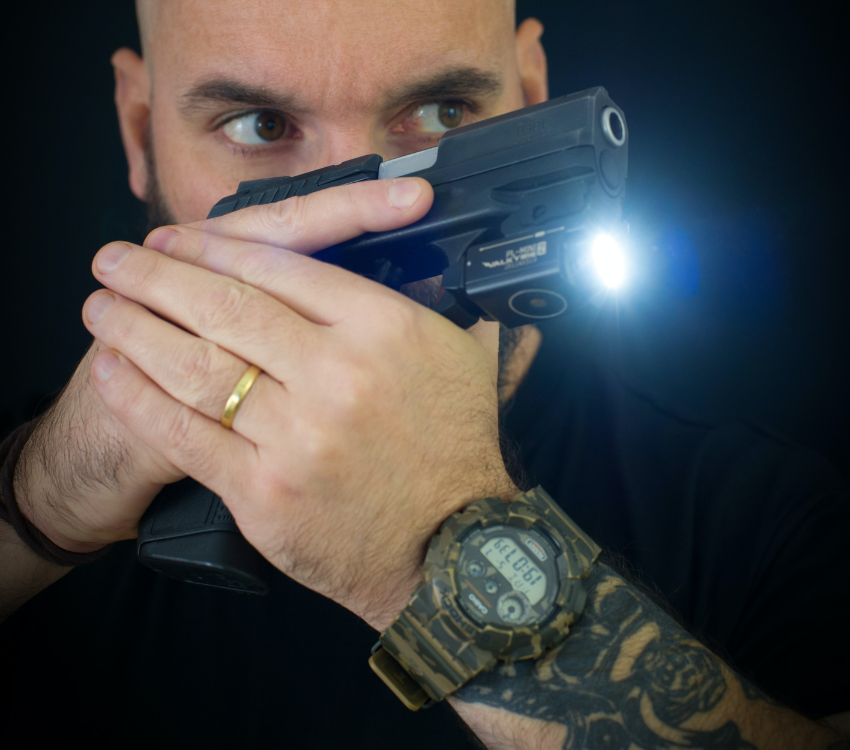 The tasers made for civilian use are designed to shock for 30 seconds which is plenty of time to temporarily immobilize your attacker. 
There are not a lot of restrictions on carrying tasers, but you need to make sure that you are not carrying the one made for law enforcement agents as they are stronger than the civilian use models.
Tactical Pen
One of the most favored weapons for self-defense is the Tactical Pen. Tactical pens are cleverly designed to look just like any ordinary pen, which can easily fool the attacker. They have titanium tips that can penetrate and injure your attacker. 
The best thing about tactical pens is that they are not only useful for self-defense, but they are strong enough to even break glass in case of an emergency. The use of tactical pens is completely legal in all states of the USA.
Walking Stick
Walking sticks or canes are not only good as fashion accessories. In fact, they are very useful to use as a tool for self-defense. For obvious reasons, they are not easy to conceal due to their size, but they are still useful as a good quality walking stick, or cane will give a mighty blow to the attacker. 
If you want to try out walking stick swords, don't bother. The blade in them is of very poor quality, and more importantly, they are not legal. 
Airgun
Airguns have been in use since the 18th century, and modern designs with newer technology are even better. They are generally used as beginner tools for shooting practice, while some smaller versions are also used as toys for kids. 
Although they do not look very scary, they do pack a mighty punch, as they can even take down animals such as dogs and deer while not actually causing any permanent harm. 
One thing to keep in mind while buying this legal self-defense weapon in NYC is that citizens below the age of 16 are not allowed to carry airguns. Keep that in mind if you're planning to give them to your kids.
Baseball Bat
Baseball bats are also a great weapon for self-defense, and it is also very easily obtainable. They can cause a lot of damage to your attacker, but you do need to be careful before using them. 
Using them incorrectly can cause serious damage to your attacker. It is better to practice using them as self-defense weapons so that you may not cause serious harm.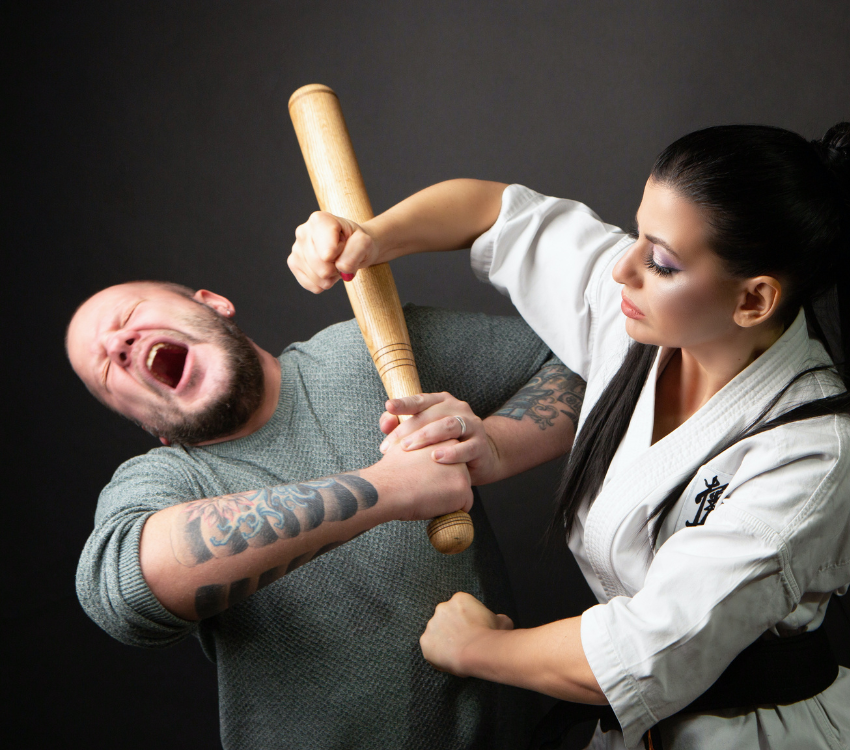 Due to their size, they can not be carried along the sidewalk. Baseball bats are completely legal in New York as long as no crazy stuff like railroad spikes or barbed wire is not attached to the bat.
Flashlight
Flashlights with a strong body can be very useful in a pickle. One good strike with a strong metal body will be enough to floor your attacker. Moreover, they are not only good to use to physically hit an attacker. 
Most criminals, such as muggers, prefer to strike in the dark; you can use a flashlight to blind them and run. 
To use flashlights are a self-defense tool, make sure to buy a flashlight that has a good heavy body and bright light. A cheap flashlight bought from a flea market would be of no use in a tough situation.
The Bottom Line
Well, there you go. These are the 10 legal self-defense weapons in NYC. While we all wish that you never face any situation which requires the use of any such weapon, it is always better to be aware. As we do not know when and where danger might strike, it is always good to be prepared.
Be Safe!