Microgreens are pretty profitable, and I say this because of the rate at which their popularity and usage of them has increased. If your intent is to milk their voguish feature, it's important to analyze the market and choose where to sell microgreens carefully.
Who can blame the people as this very nutritional vegetable confetti has attracted them to eat them and get the necessary micronutrients? 
Today, health fanatics, restauranteurs, and bougie families are hooked on the idea of including these superfoods in their meals. Not only are they healthy, but they add a great crunch to your plate.
Also, the plus point is that they are extremely simple to grow and require very little care to prosper. With a little bit of effort and you will have a self-sufficient supply of greens and more. 
Finally, if you have made up your decision to vend microgreens, ill like to assume you are aware of the steps to grow them at a large scale.
So, without wasting much of your time, let's get straight to the point and learn all about the possible options where you will be able to vend your microgreen produce.
Salient Features of Microgreens
Before knowing about the market where you can sell microgreens profitably, know some of the characteristics of your produce. (If you know it well, you will sell it well!)
Microgreens are considered superfoods because they are extremely tiny yet very rich in nutrients. If you add them to your normal meal, you add the much-needed supplements. 
These young vegetables are the new shoots of different seeds. Some of the popular greens grown and sold are Swiss chard, garnet amaranth, red pak choi, parsley, mustard, broccoli, basil, etc.
Moreover, they are rich in vitamins, minerals, and antioxidants. Some of the other benefits of consuming them are the prevention of many diseases, weight control, and uplight mental and physical well-being.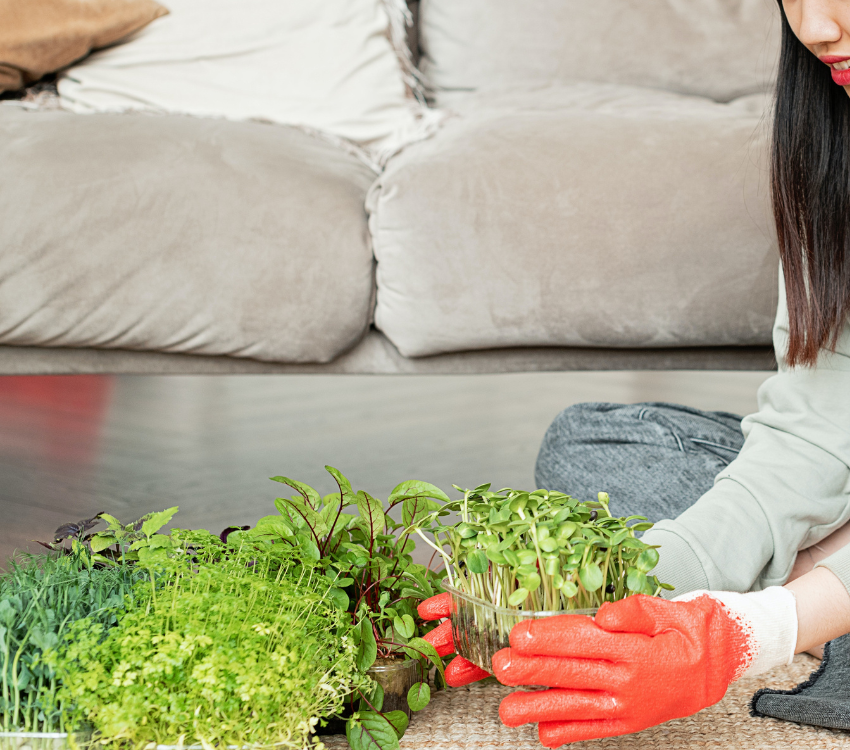 The locals in any place mint a lot of money with a small outlay of these greens, making this a lucrative source of income is logical. In fact, Hydroponically grown microgreens need no earth, which is convenient for those who have limited or no land free. 
With a little bit of investment, you can commence your green-selling business. So, now let's sit on the selling-it bandwagon.
Places to Sell Microgreens
Before selling not just microgreens but anything, it's needless to say, check the target market and the percentage of potential buyers. You must already know that the shelf-life of greens rounds off to 10-14 days. 
Therefore, the planning to demarcate your selling market, transportation, and everything related must be done prior to the final trade. For your convenience, I have mentioned all the options; however, choose your viable buyers wisely. 
I recommend you commence with the pilot testing and then play the big game.
Grocers (Grocery Shops)
The foremost market where there is maximum footfall is grocery stores. If you don't know, grocers are always looking to change their existing suppliers of various products. Co-ops and they together wish to collaborate or hire suppliers who sell fresh and reasonable supplies.
Also, there is no harm in trying out; maybe you are high on luck and get the opportunity to sell your greens at one of the stores. Market space in the city and overall is an extensive web. Therefore, once you enter the market, even with one store, it's time that your business will prosper linearly.
But having said that, initially, make a proposal in the local area to build a strong system of microgreens harvesting, packaging, and transportation. After you ace this system in your area, then think of diversification and spreading your business.
Online Ordering
Today, everything has been taken over by the internet, and people prefer buying not only clothes but food items too from the apps available online. 
After all, who doesn't like the silver lining of convenience in their lives? So, if you wish to scale your current business or get an idea about your business through a pilot study, ordering through a subscription is best.
It's quite possible that the physical stores in your area and around are already saturated, so vending your microgreens produce online through various apps will shield you from having a slow business. 
Plus, it's convenient for you as you can customize, introduce a variety of microgreens, provide a home delivery option, and whatnot. Maybe you are able to make a permanent clientele of yours! 
Restaurants & Cafes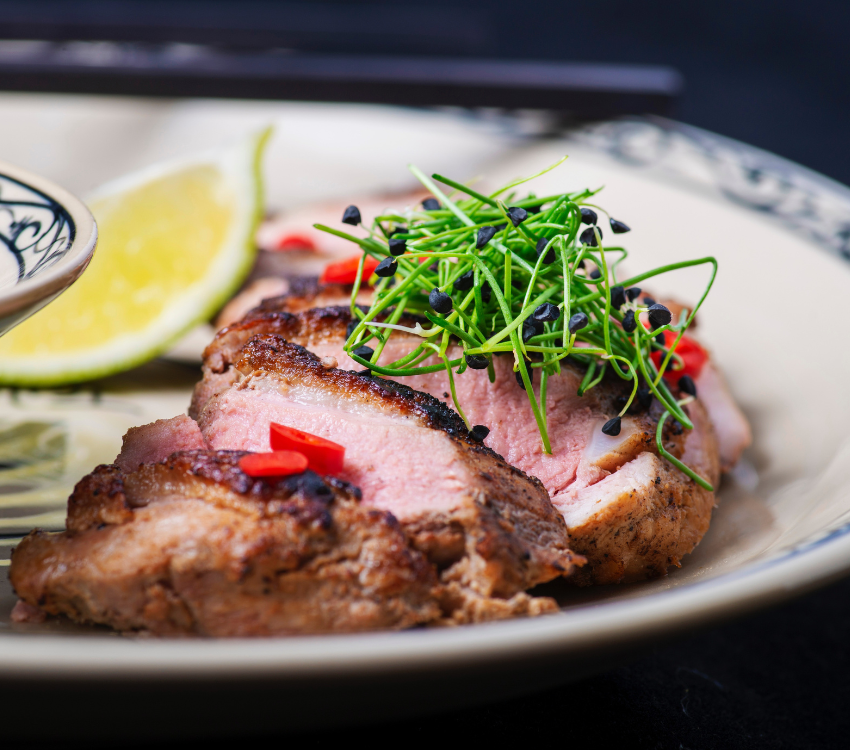 The right place to sell microgreens profitably is none other than restaurants and cafes. Why? Well!, Of course, as they are such places that always require local and fresh ingredients. Since these greens are in trend right now, restaurants tap their popularity to prepare exotic and novel dishes, which attract people to try them out.
So, how can you enter their cycle of making money? The simple answer is to visit them and talk to the owners. Also, you can drop off your fresh sample of greens and share all the varieties of greens available.
Also, another secret is that you can increase the percentage of your profits if you decide to sell your produce to restaurant and cafe owners. HOW? Well, it's possible as they lay a great emphasis on "straight-out-of-the-soil" food, which is only possible with local suppliers.
Some of the help you can get is through online portals like DoorDash, Uber, Deliverect, Yelp, Facebook, etc. (You don't have to worry!)
Distributors
Maybe you will not make a substantial profit as you can by selling the greens directly. However, you can head start your selling business through distributors. 
The benefit of coming into their contact is that you will never be out of demand. Usually, distributors have a lot of connections with diners, restaurants, cafes, eateries, and eating establishments, so this particular source is quite lucrative.
After working with them for a while, you always have the option to switch to other ways of selling or directly taking orders from the respective owners. 
Catering Businesses
Weddings, birthday parties, corporate events, and baby showers are some of the many occasions where catering companies require locally-grown produce, so get in touch with some in your area to get started.
Farmer's Market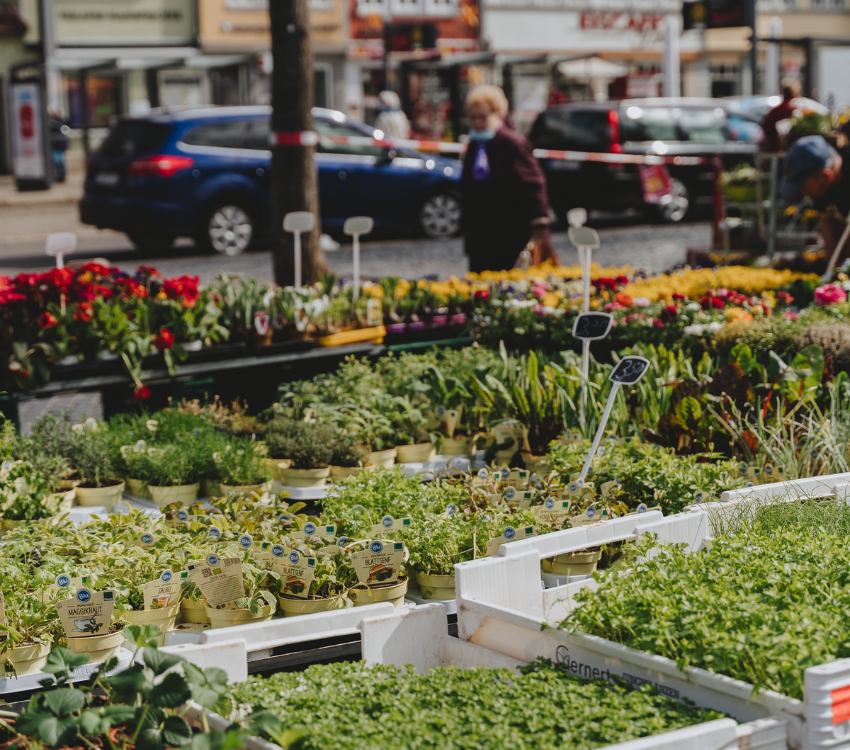 You must be wondering why did I place the farmers' market at the end. (Well! Because it has some shortcomings) Although the local farmers' market is a large place where all the sellers gather to sell their produce. 
However, the problem is that the time of the market is limited. During that time, half of the time goes in the setting of the stall and all. (Waste of time, right?)
Additional to this point, another problem is that it is a perfect example of perfect competition. Everyone sits in close proximity and leaves no place for anyone to alter their prices. Therefore, the level of competition is cut-throat.
Having said that, I don't mean that you should not consider this place to sell microgreens; however, the profit percentage will definitely not be as high as other sources. 
On the other hand, one of this place's notable and helpful features is that you can meet chefs who are your target audience face-to-face. (Perfect place to distribute your business cards and pamphlets)
Helpful Tips to Sell Microgreens
Finally! You have the list of places where you can sell your microgreen produce. However, like everybody, you also are looking for a high yield percentage, for which check out several recommendations that will only help you.
Value the Customer – Your customers should be everything to you, and by that, I mean their needs and concerns should be dealt with first. A, you should be on time with your deliveries, and B, always ask for their opinions and feedback.
What happens is that this makes your clientele that you value their requirements. Only a good rapport and quality product will garner you a long-running customer.
Grow & Sell what's Hot-selling – When you have just commenced in this venture, you can't grow everything all at once. Therefore, choosing and growing what's in demand will only help you to vend better. Radish, peas, sunflower, broccoli, and basil are some of the many greens which you can consider growing. 
Promote your Business Wisely – Be it any business, promotion is a must if you want to attract the eyes of the general public. You can make a website or social media page to kick start the new or existing microgreen selling business.
Streamline the Entire Process – From growing, harvesting, and packaging to shipping, you should take care of all the little details. Packaging plays a huge role in the aesthetics and branding of the product. Therefore, investing time, effort, and finances is important.
Final Wrap-Up
I know it's really a crucial time for you if you are on the verge of starting this business venture. However, after thorough research and careful designing, you can be rest assured of a successful venture. 
It's no harm in learning about your product's features a bit more, as anything related can crop up. (Rosemary is another plant or herb in a literal sense, which is quite lucrative.)  
Also, I think after reading this article, you will be able to recognize the right place where you can sell microgreens. After all, you want brilliant results from your investments. Right?