When the entire world was pushed to get locked inside their homes. (Freakin' Covid!) Emily in Paris, a comedy series on Netflix, was a sign of relief. Not only did it hook the attention of everyone around the world, but it also raised the brows of many fashion aficionados. So, it's pretty understandable people are enthralled by all the Emily in Paris outfits.
When an aspiring marketing executive Emily Cooper from America, gets her dream job in the country of love, France, her life takes an overall 180-degree turn. Although the entire story is in itself quite addictive, the quintessential Emily in Paris outfits created a lot of buzz by making bold fashion statements.
But needless to say that some may hate them, and some may adore them, but no one can ignore them. After all, the consulting costume designer is none other than Patricia Field.
When she said that "It was time to shake it up a bit." She literally meant it! Some of the other iconic films where she killed it with styling were The Devil Wears Prada and Sex and the City.
She was no different in this three-series Netflix drama "Emily in Paris." All the garments were designer and creative and left a dazzling impression. So, let's look at some of the runway trends in the series that are no less than "Très Chic."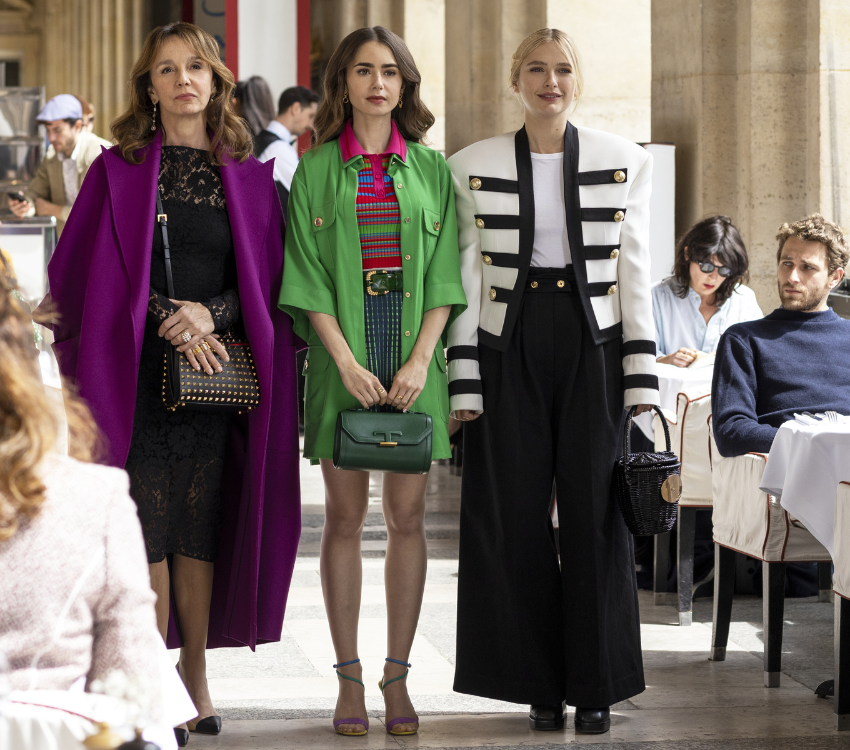 When in Paris, Dress Like a Parisian (In Vogue!)
Emily in Paris outfits are a perfect blend of French Couture and American Hep styles, which you will absolutely adore.
1. Little Black Dress
Nobody can ever go wrong with a plain yet sensuous black dress. In the series, Emily is seen many times adorning a pretty black dress, either off the shoulder (By Christian Siriano) or lacey (By The Kooples).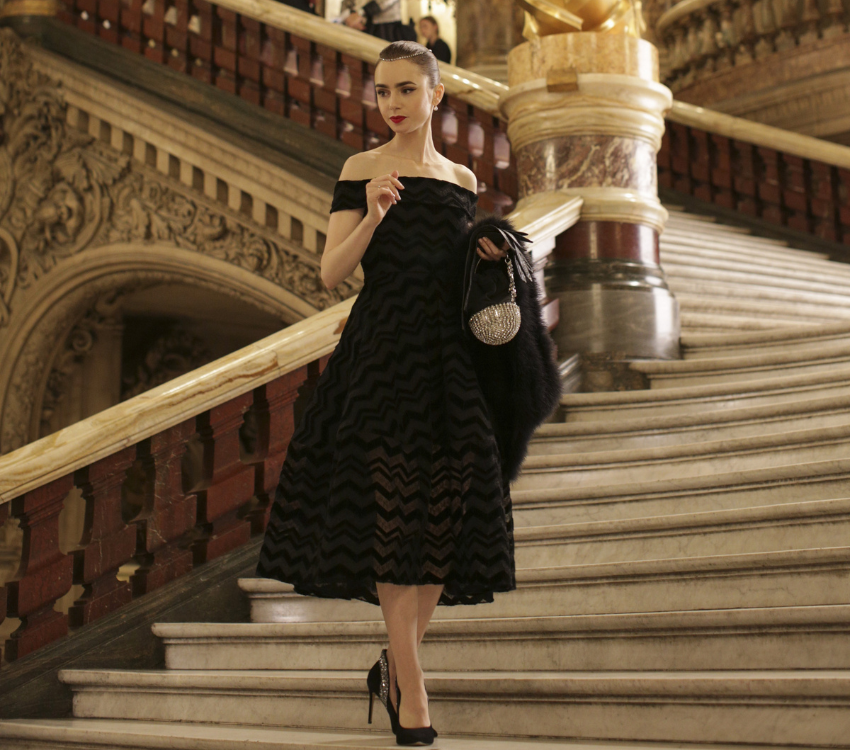 To add the oomph to the plain black dress, her outfit was either styled with Glass Crystal Drawstring Dome Bag, Vintage Chanel Pearls, or blingy diamonds. Not only Emily but other characters like Camille and Sylvie were seen flaunting a little black dress.
2. Berets
Galeries Lafayette's Beret (Loud red) was paired with Veronica Beard's Dickey Checker Jacket with Carito Checked Cotton Blend Shorts, and how to miss the Chanel Black Pearl Medium Iridescent Lambskin Quilted Bag.
Very often, you will spot the petite Emily adding the cliché french styles with the usual American dresses. So not Emily; other female actors also paired Berets as a fun accessory.
3. Solid N Bold Colors
To look, belle Emily will be seen walking on the streets of Paris in solid-colored blazers, dresses, and whatnot. The famous bright pink Kenzo Wool and Cashmere coat became the talk of the town after she was seen matching it up with A Chanel bag, a Tye Die Crop top, and sports shoes.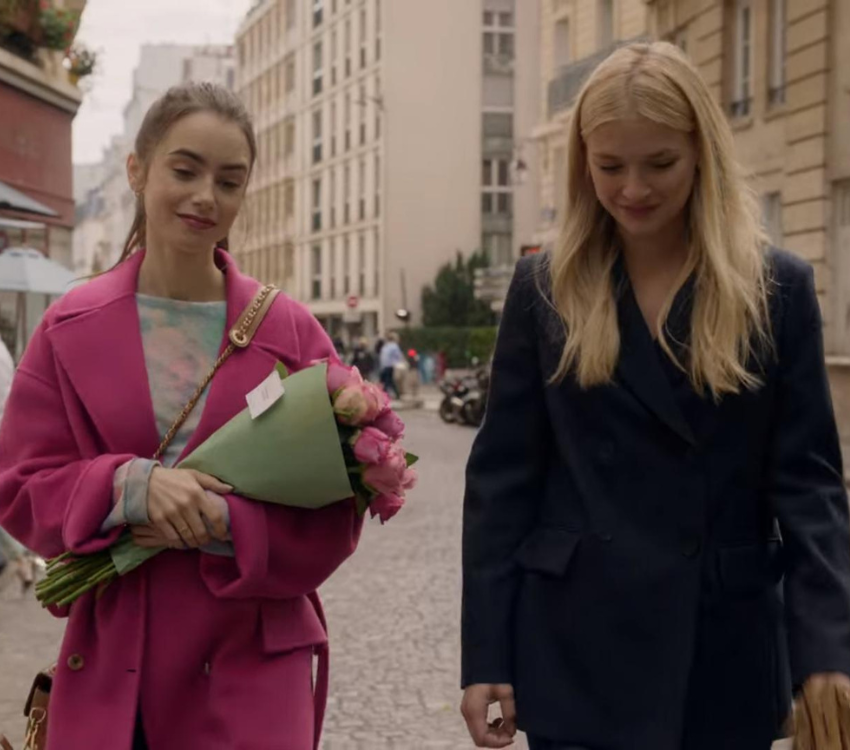 Usually, it's considered that monochromatic looks are not for everyone; however, the way these bold colors were presented in the series made it at the top of the trends. 
4. Playing With Prints
In the entire three-part series, "Emily in Paris," costumes have been super playful with prints and patterns. Kenzo logo print dress, Alice + Olivia's printed t-shirt, Ronny Kobo's Rida Snakeprint Mini Skirt, and Dolce&Gabbana's Ruched Patchwork Silk-Blend Crepe De Chine Mini Dress are some of the very iconic pieces wore by Emily.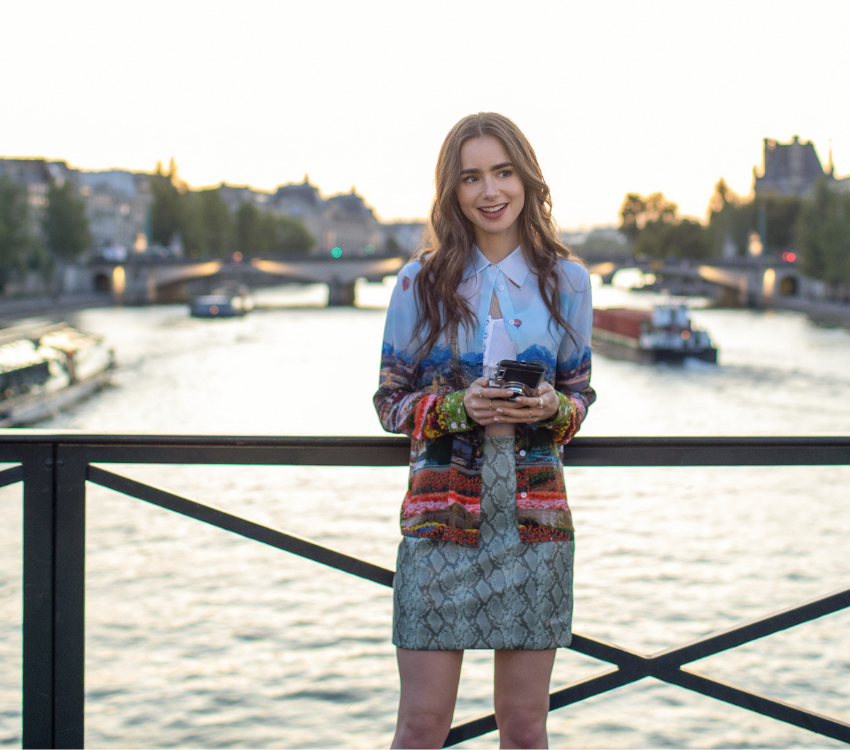 In fact, it would be fair to say that field's favorite was the printed ruffled dresses. To add spice to this simple fashion, she added designer bags, statement jewelry, mufflers, oversized belts, bag charms, hats, and overcoats.
5. Blazer Dresses
Not just checked blazers were a part of Emily and other characters' wardrobes; blazer dresses changed the fashion game altogether. Mindy (Emily's Bestie n Bonafide!) wore River Island's Trench Coat in Snake Print, and Camila wore Valentino's, White Denim Blazer. 
They not only look different but are perfect for changing the usual style a bit. Field styled the main protagonist Emily with a bold Chanel Blazer dress with a Plaid Bucket Hat and satin scarf. (Dead Gorgeous!)
And how can I miss the glittery Zara red sequinned blazer, which was an instant hit?
6. Color Block Sweaters
To beat the chilly winds in style, Emily swayed the streets in fluffy and colored block sweaters. 
One of the most jaw-dropping and totally out-of-the-box fashions was Emily wearing Essential Antwerp's Tahini Fluffy Sweater with solid yellow boots and a tanned bucket bag.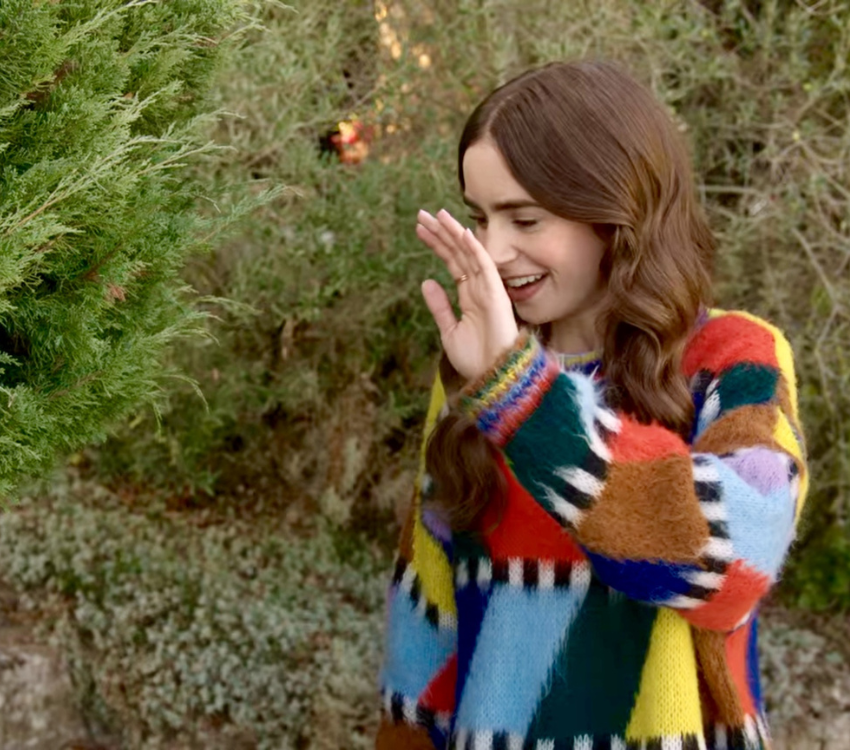 In fact, the one trend that went viral was pairing bold-colored sweaters with mini skirts and solid stilettos. (Louboutins) I am sure after watching these blazing trends; you will not be able to help yourself add them to your wardrobe. 
7. Charms of Bag Charms
Well! Karl Lagerfeld was the first one to introduce bag charms to the world. However, the dazzling Effiel Tower charm on Emily's bag caught everyone's eye instantly. Another costume designer Marylin Fitoussi came on board with the très popular Patricia Field to set the stylish chord of Emily and Co. right.
Not only were her dresses the chosen ones, but the accessories ensembled with the attires added the much-needed panache. And bag charms are one of them!
8. Vogued Florals
Time and again, we can spot Emily's American wardrobe getting fussed with sophisticated french garments. I would like to especially grab your attention towards Mindy's Elasticated Floral Boots that she paired with a red dress. 
Coming to Emily's closet, major florals are Maje's Rapy Floral Off-the-Shoulder Dress, Tilly Dress with overall white and blue floral accents, and Dolce&Gabbana's Ruffled Lily-print Cotton-poplin Bardot Dress. 
9. Ruffle & Tulle
If you carefully look at all the Emily in Paris outfits, you will trouve many mini and long dresses with ruffle sleeves. Patricia Field styled Emily in the very iconic "The Emily In Paris" tulle skirt with Alexandre Vauthier's strapless draped stretch-silk satin bustier top. (Looked like a goddess!)
Even Mindy was seen in a beautiful summery yellow ruffled dress with some minimalistic jewelry. To beautify and accentuate the feminine side of all the female folk of the series, vintage, girly, chic, elegant, and bustier looks were showcased.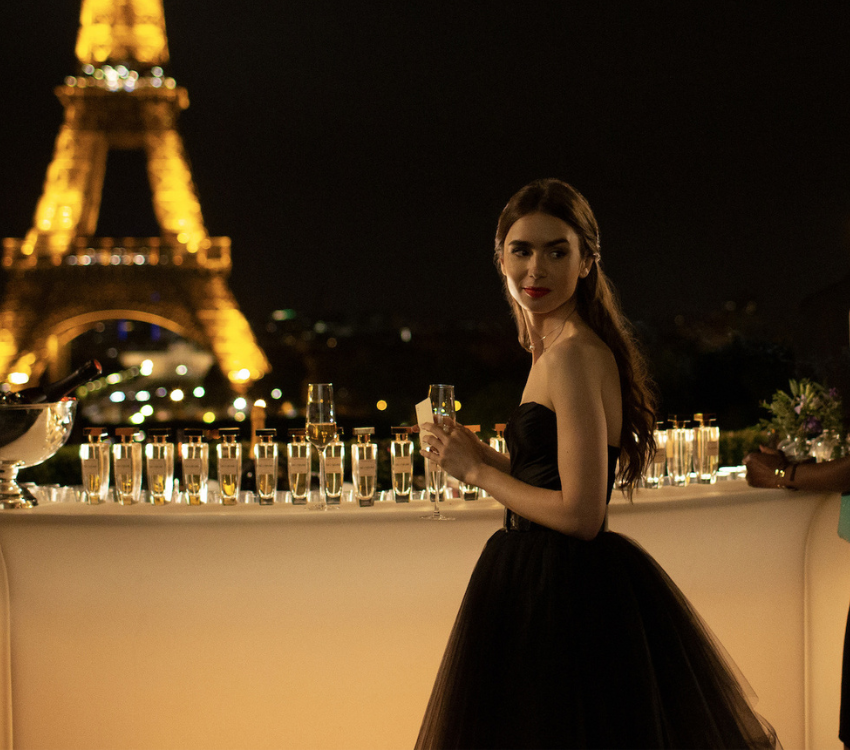 Apart from these fashionable Emily in Paris outfits, the additional quintessential ensembles like sheer glamorous dresses, metallic jackets, shimmery tulles, long evening gowns, draped slit gowns, asymmetrical pullovers, and a see-through trench coat shone all the way.
The Last Tie-Up
Finally, by now, you have all the extraordinary Emily in Paris outfits that are an inspiration in themselves. Needless to say that this was not at all surprising that this series stirred a lot in the fashion industry. (We want more of such TV series, don't we?)
Suddenly everybody was following these trends and wanted to be the "next door, Emily." I mean, who can be blamed? After all, be it the rom-com lining of the series or the tasteful and high-fashion styles, everything was at the top of its game.