Chrisean Rock is a popular name on Instagram. She is a YouTuber, social media influencer, singer, and model. 
Chrisean also remains in the spotlight for her fluctuating relationship dynamics with her boyfriend, Blueface, a popular American rapper. 
In this article, you will get to know about all the reasons why Rock stayed in the limelight in October 2022. 
But first, let us have a quick insight into some important facts about Rock.
| | |
| --- | --- |
| Full Name | Chrisean Rock |
| Real Name | Chrisean Malone |
| Date of Birth | March 14, 2000 |
| Age | 22 years (as of 2022) |
| Gender | Female |
| Sun Sign | Pisces |
| Boyfriend | Rapper Blueface |
| Nationality | American |
| Instagram | @chriseanrockbabyy |
| Facebook | @ChriseanRock |
| Twitter | @ChriseanMalone |
| Youtube | @ChriseanRock |
| Profession | Singer, Model, Social Media Personality |
| Net Worth | Estimated between $50k to $1 million |
Reasons for staying in Spotlight in October 2022
Chrisean Rock and controversies are part of each other. She has mostly remained in the news because of her on-and-off and toxic relationship with Blueface.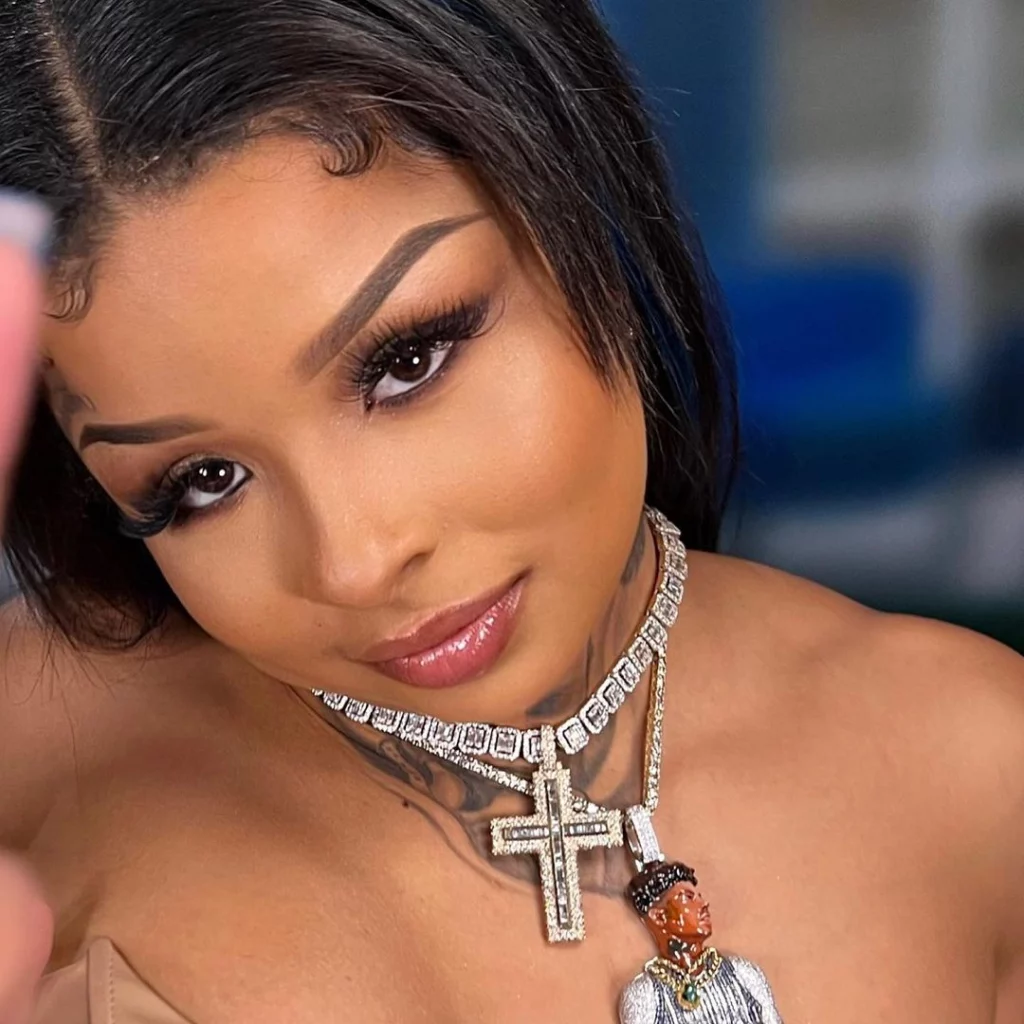 In October 2022, the whole month was quite entertaining and disturbing for their fans because of the uncertainties in their relationship.
Let's look at all the reasons for staying in the public eye in October 2022.
1. Blueface cheated on Chrisean Rock again 
At the beginning of October 2022, a video got leaked in which Blueface was in bed with the mother of his two kids.
Blueface has remained involved with multiple women from time to time, and recently he stayed in the spotlight for cheating on Chrisean again.
One time the rapper is involved with Chrisean, and at the same time, he is caught kissing a mystery woman and in bed with the mother of his two children, Jaidyn Alexis.
While the news was floating all over the internet, Chrisean went live on her Instagram and accepted about breaking everything in the hotel room because of her fight with her kinda boyfriend for his adultery. 
A text also surfaced over the internet, alleged to be sent by Jaidyn Alexis, stating, "Happy Birthday baby I love you ima come see you today."
They further shifted to Twitter for slamming down each other. Chrisean declared through one of her tweets that she is now single.
She Tweeted, "Y'all can have him. ChriseanRock is single," she tweeted. "Chrisean you are enough."
In return, Blueface also tweeted, and the world witnessed their arguments.
2. Blueface and Chrisean participating in the reality show Crazy in Love
Even after leveling up the toxicity in their relationship, the duo landed upon a reality show titled Crazy in Love.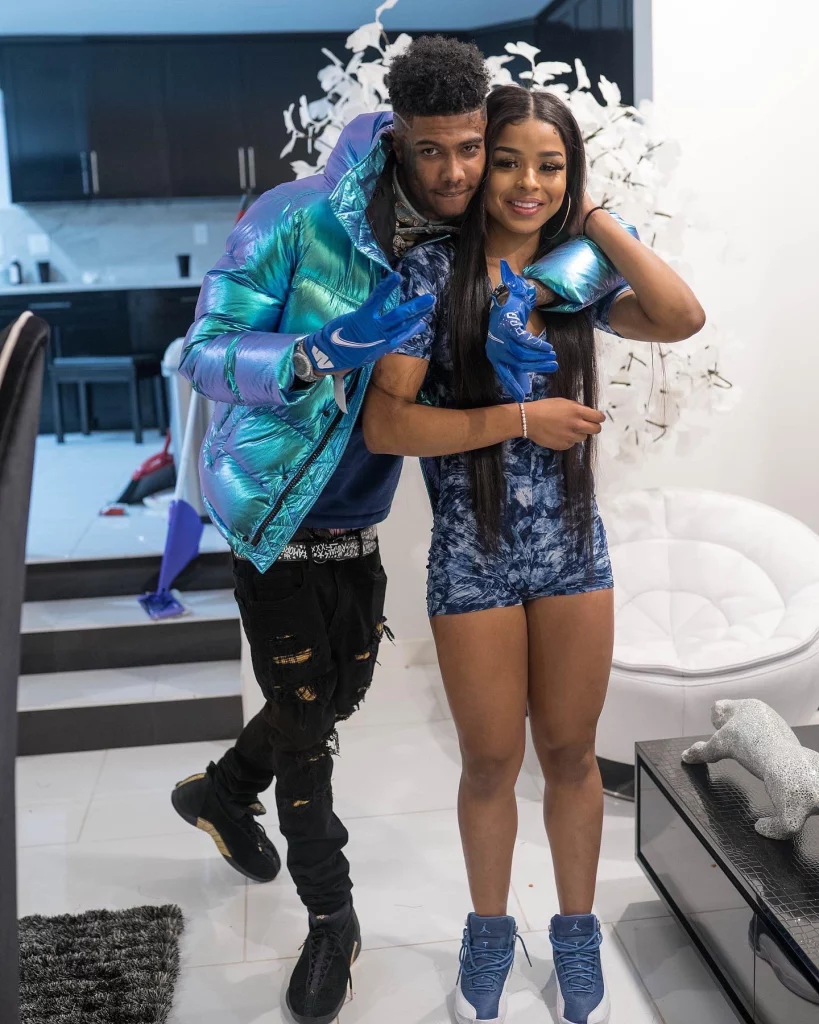 In its trailer, the Zeus network declared the participation of this couple in this show on October 9.
The network did not mention the exact date of the release of this show, but it is clear that this absurd couple is surely going on a crazy journey of love. However, their fans witnessed their madness for each other from time to time on social media platforms.
Watching Chrisean and Blueface together on a reality show will be really fun and entertaining.
3. Chrisean gets the seventh Tattoo of Blueface
People often do anything in love, and the same is true with the lover of Blueface. This aspiring rapper is madly in love with her rapper boyfriend, Blueface Bleedem.
Well! the immaturity of this couple can be seen in their social media fights. But the madness of Chrisean Rock about her lover can be witnessed from her zest for tattooing her body.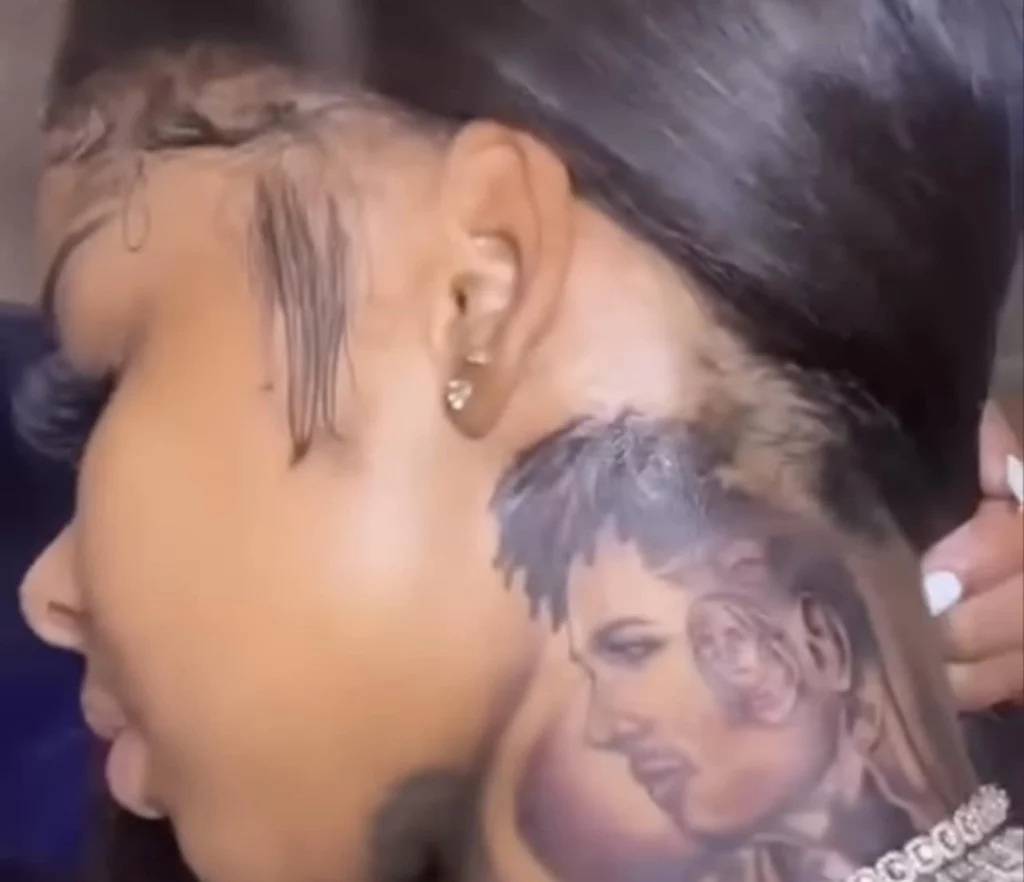 Recently, she got her seventh tattoo and declared it on her Twitter account. She Tweeted, "I got all 7now."
It is shocking for the viewers how someone can be so insane that even after getting cheated on multiple times, she is getting tattooed again.
Chrisean announced herself single after finding out about his infidelity. After two weeks, she got tattooed with Blueface's face on her neck.
4. Rock blamed Blueface for domestic violence and then revere her statement
Another shocking revelation that came out this month was right after two weeks of getting her seventh tattoo.
Rock and Blueface got drunk and went on Instagram Live, where she seemed to get hit by her boyfriend.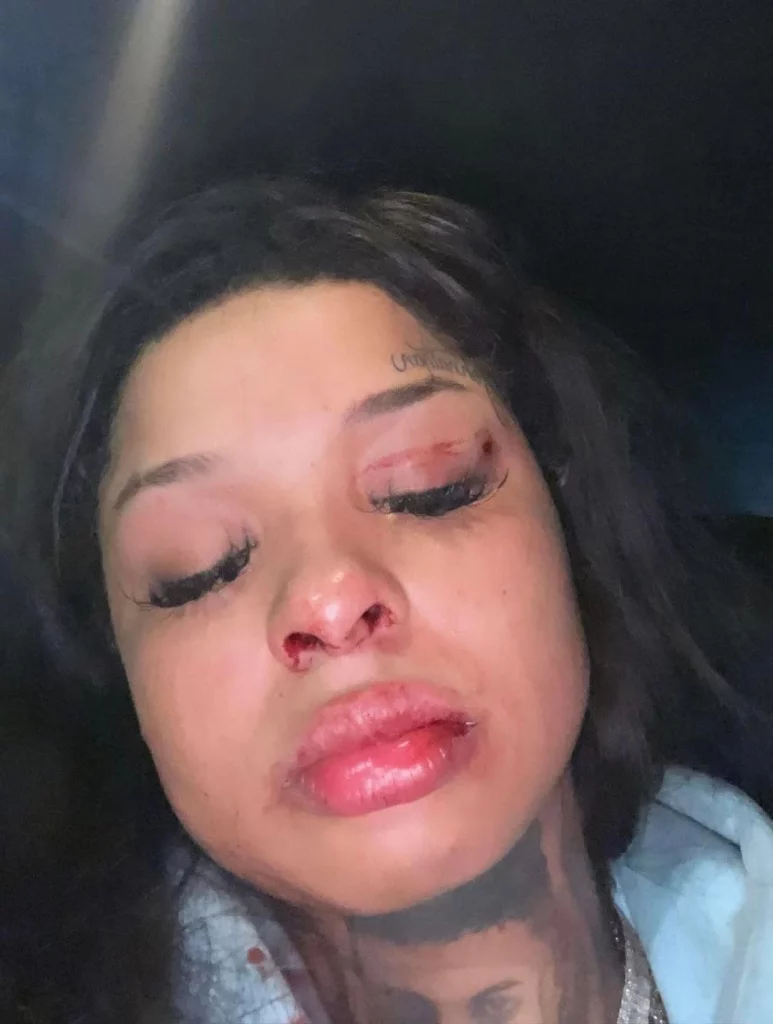 The incident occurred at the end of two days of October when Rock went live on Instagram and accused someone of domestic violence. From the videos that went viral, it was assumed to be Blueface.
The footage that went viral was quite upsetting, and Chrisean was crying all over again and again. Her face was in the blood, and seems to be hit by someone.
But the real turn was when Rock took all her claims back after a long upsetting footage a night ago. She stated that her mental breakdown was a result of overdrinking. 
She was too drunk to understand anything, and her boyfriend, Blueface, rescued her. He was not involved in any violence with her.
For the blood on her face, she justified that she was trying to jump out of the car on the highway. Her boyfriend was trying to get her back into the car.
Amidst all the chaos, Rock stated that it was her who hit the Blueface, and he was just trying to rescue her from a bad trip.
Bottom Line
It is not the only time that the aggression of the couple has gone out. Chrisean Rock and Blueface are doing for being in such situations.
Being in such toxic situations has now become a part of their life. The duo keeps creating such dramas and stays in the limelight.
Usually, the qualities of a good man in a relationship can be visible in how he behaves. But the relationship of this rapper couple is going a different way. 
This is all for now from our end. We will keep you updated related to the new updates regarding Chrisean Rock and the new updates from her life. Stay tuned!