Oversized outfits are trending everywhere, and we can feature celebs like Kylie Jenner, Rihanna, and Zendaya carrying them beautifully. From airport looks to full-on glam, you can style an oversized outfit in so many ways.
Whatever your own style preferences, you must have thought about carrying those comfy yet cool oversized outfits but are not sure how to incorporate them into your style.
Don't worry, we have got you today; we will discuss how to carry an oversized outfit perfectly, just like your favorite influencer.
However, you can style any look its totally upto you if you want to keep it traditional, dress up your loungewear, give it a western twist, or have a tidy corporate look. Here we will share all the tips and tricks to pull together this look effortlessly.
Keeping in mind that baggy and oversized can look sloppy if not styled properly. However, It is easy to appear stylish while wearing a big sweater or an oversized trench coat. This blog will help you figure out how to achieve this!
Why Oversized outfits are trending?
While we'll always have a place in our closet for tight, body-hugging pieces like going-out dresses and leather leggings, we'll also always have room for loose, baggy statement pieces like oversized shirts and mom jeans.
This classic style manages to be everything at once: a breezy oversized tee is a must-have for summer heat, and it also goes perfectly for winter layering.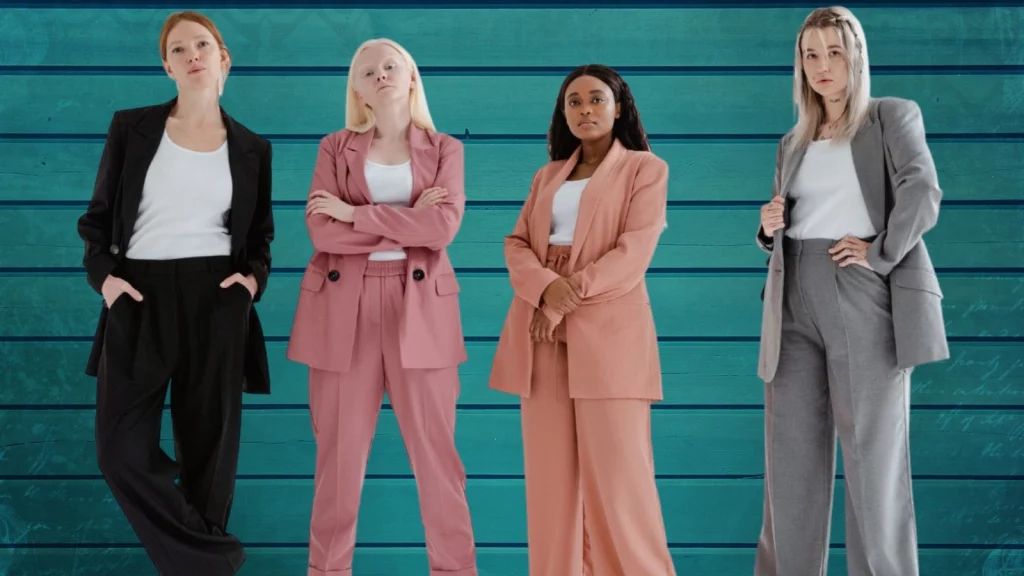 However, large and loose shirts are often comfy and ideal for lounging and chilling at home. You can add a pair of heels or boots, which will change the whole vibe of the outfit and even add the required glam to your whole look.
Moreover, every body type can carry this look perfectly. If you have a petite body type, a baggy style will hide all your insecurities and balance out your body structure.
On the other hand, if you have a curvy body type, this will hug your body just at the perfect place and will make your curves look appealing and attractive.
How to Pick your Oversize Outfits?
When the term "oversized" comes up, we think of going multiple sizes up XXXL or even more. However, that's not the case; your outfit should have loose fitting but also highlight the right curves without looking sloppy.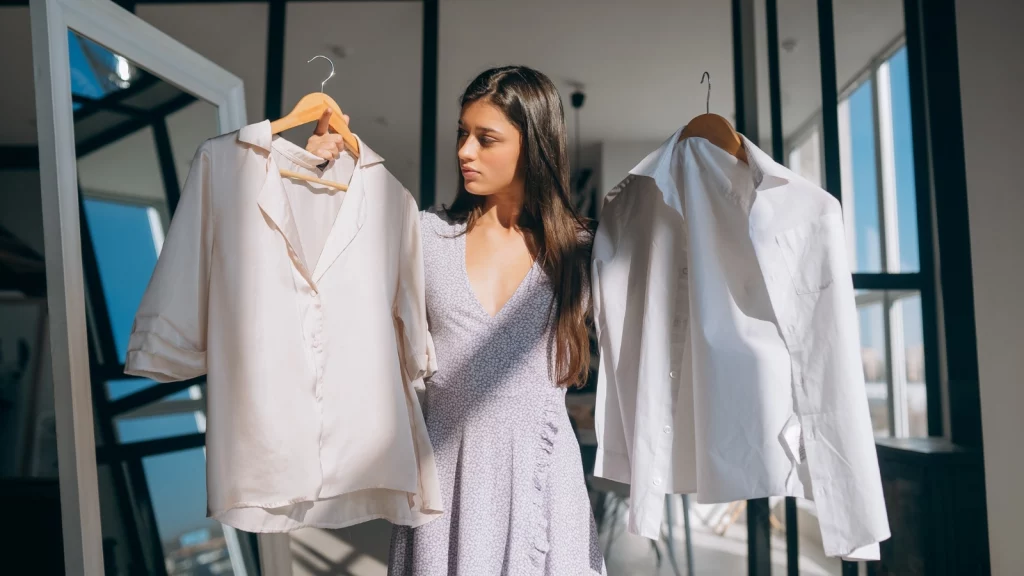 There can be various elements that you can add to your oversized outfit to make it look cool and a perfect fit for you. It should not look like you are wearing your elder brother's tee. You can pick your statement piece from the list below:
Oversized Hoodie

Boyfriend Jeans

Mom Jeans

Baggy dresses

Wide leg trousers

Boyfriend T-shirt

Boyfriend Blazer

Slouchy cardigan

Baggy sweaters
So to incorporate a perfect look, we're searching for garments that are definitely larger than your typical size and lack any hint of a description like 'fitting,' 'tapered,' 'tailored,' or the horrible slim fit.
However, still appear to have enough shape and form to avoid undesired, and over-the-top slob wear. Moreover, you can add various elements like accessories and boots to add that extra effort. However, this can make your look put well together.
Here are some Rules for Styling Oversized Outfits
As this look appears effortless, but it does require clear vision and reference to pull off a baggy look. Thus, there are some rules that you should follow in order to look put together. These rules and tips will make your outfit look oversized instead of ill-fitted.
Remember this major rule if you wear baggy uppers or tops (shirts, jackets, sweaters, etc.), keep the remainder of your ensemble tailored and/or structured bottoms. However, If you're wearing baggy bottoms (pants, trousers, joggers, etc.), the same rule applies while selecting upper.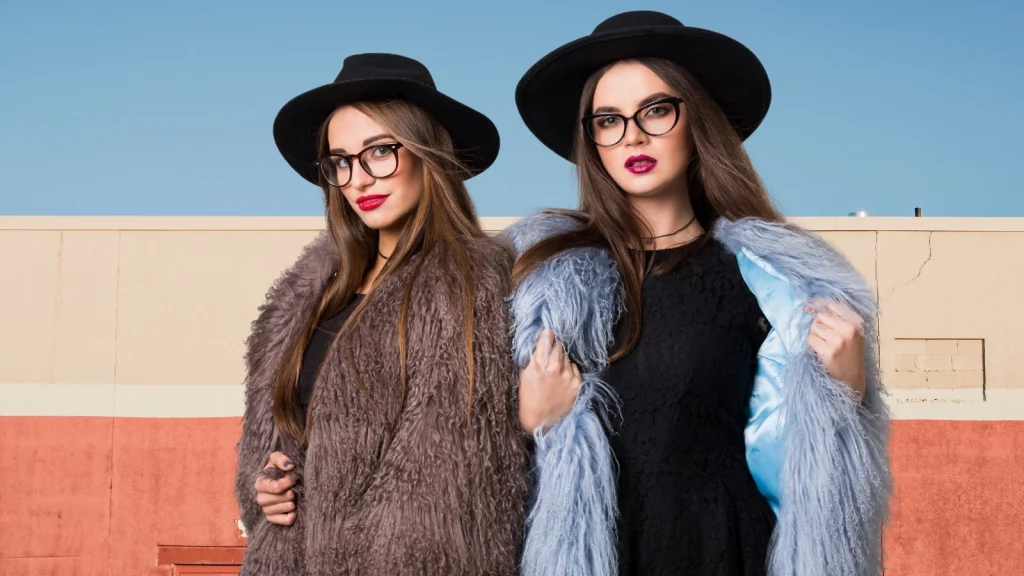 Start with baggy loungewear styles if you're trying an oversized look for the first time. Not only is baggy loungewear the most comfortable thing you'll probably ever wear on this planet.
Moreover, it's also a low-key, easiest way to explore and figure out how you can carry this and add your personal touch to the look. This way, you will get to know in what way this look will complement your body type.
However, you can consider tucking a part of the bottom or hem into your jeans if you're wearing an oversized shirt or sweater. This is a really simple method to add some visual structure to your overall design and body type.
Best Oversized Outfits
There is so much that goes behind putting an outfit together. Oversized outfits might look effortless, but there is so much more to them. Thus, in the list below, we will talk you through various elements of this look that will level up your dressing sense. Thus, here are some must-haves in your wardrobe.
1. Oversized T-shirt
This is something that men and women can both carry really well. However, this is such a statement piece, and you can pair it up will leather pants, trousers, or even skirts depending upon the occasion and the look that you want to achieve.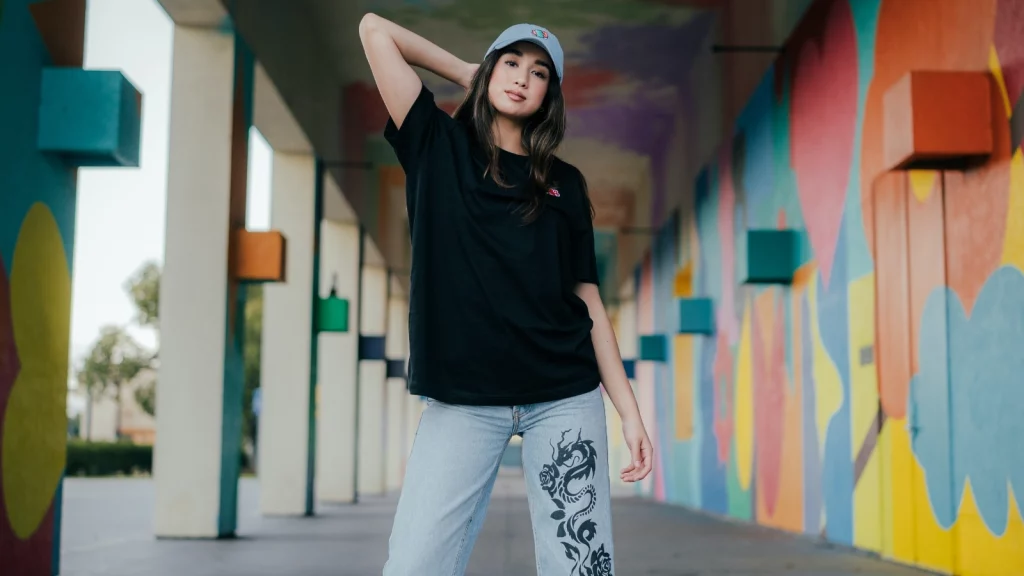 Moreover, you can throw on a jacket if you want to layer it up. This is a classic look and can never go out of fashion. So if you want to experiment and try an oversized look for the first time, you can start with an oversized T-shirt.
To add a bit of structure, you can add a belt to highlight just the right curves. Moreover, you can also add boots or high heels to add glam quotient to the look. However, you will be amazed how a neutral T-shirt can create such a chic and glamorous look.
2. Oversized Hoodies
Oversized hoodies are all over the place, and it's trendy yet cool at the same time. Moreover, pop culture has also popularized this trend. However, celebrities like Billie Eilish, Travis Scott, and Kanye West are often spotted wearing oversized hoodies.
From colorful and funky hoodies to classic black and neutral ones, you can pick whatever style you prefer. You can wear it with a pair of jeans or just go for long boots, which will instantly level up your entire look.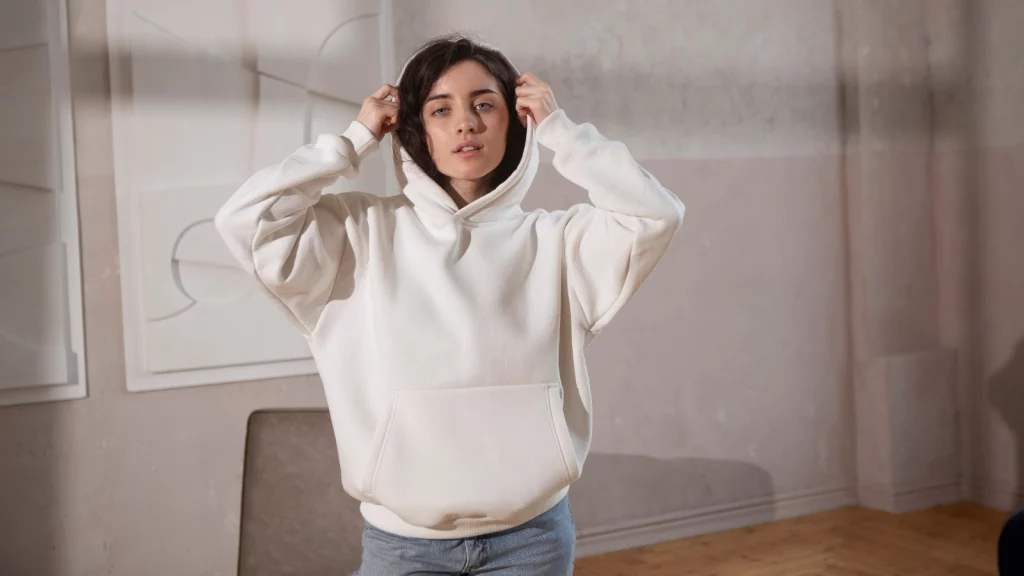 These days slogans and graffiti prints are also available, but I would recommend picking up basic and neutral colors with minimal prints or logos. This will make you look elegant and effortless. You can pull off an airport look or casual look by pairing this up with sneakers and denim jeans.
Oversized hoodies are must have in every wardrobe, and thus, many popular brands have included them in their winter and fall collections.
3. Oversized Shirt
Just like the tees, they are also unisex and go well with every body type. You can even wear it as a dress and add a belt with a blingy buckle. There is so much that you can incorporate into one look.
Moreover, this will go well with jeans, shorts, and even basic black skirts. You can also build a corporate and professional look with this by adding trousers or layering the shirt with a blazer on top.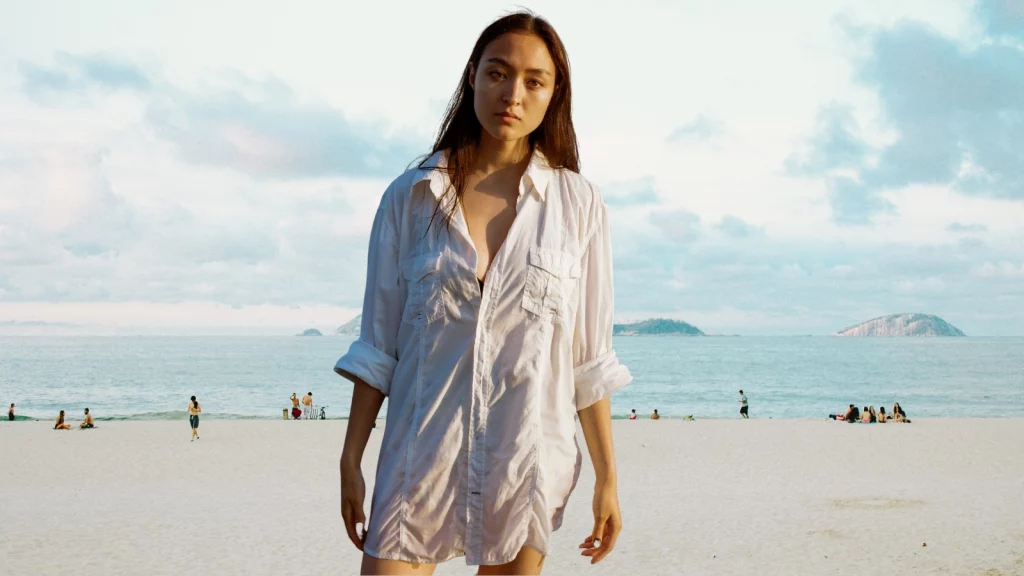 However, in winter, you can wear a jumper on top and let the shirt's collar peek through. This will add structure and contrast to your look. It's also ideal for loungewear and will be so comfortable to carry easily.
Even on holiday, you can add this on top of a crop top and a pair of shorts. This will keep the whole look put together and give you the needed coverage.
4. Baggy jeans
This is the one trend that I am glad is back in trend. As baggy jeans are every girl's best friend, you don't have to worry about anything. These jeans look good and also are so comfortable, unlike skinny jeans.
If you know how to carry them, they can really up your fashion game. As discussed above, if you are picking baggy bottoms, pair them up with structured and fitted tops. This will add dimension and balance to your look.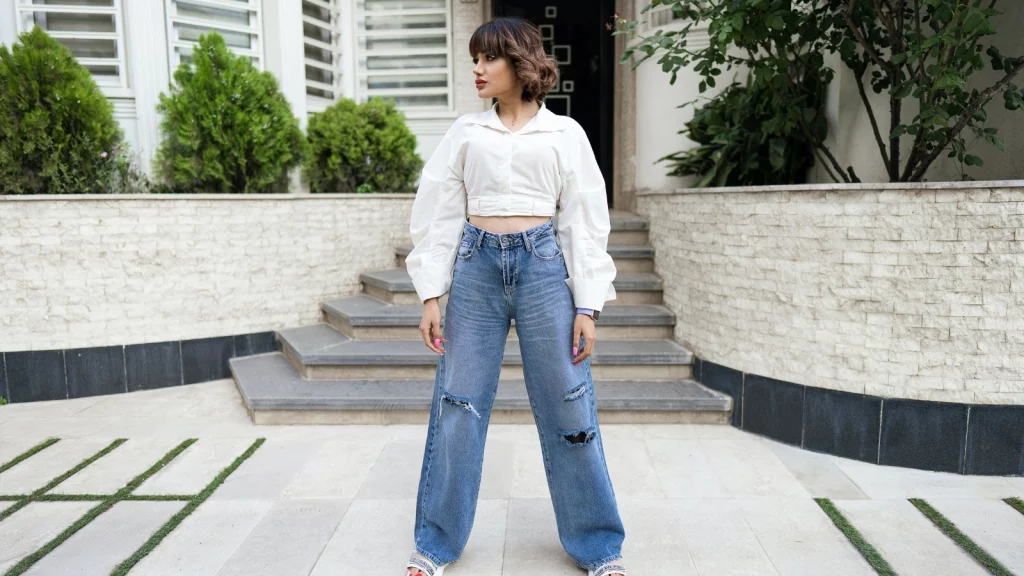 You will not look like a potato sack if you know the right top to pick with these jeans. Go for crop tops, off-shoulder tops something that will balance the slouchiness of the jeans. The best option would be to pair them up with a body suit, as they will give the perfect shape to your body structure.
Moreover, these are ideal for a pear-shaped body as they will cover all the bulges and makes your curves look attractive.
5. Oversized Jumper
An oversized jumper is the easiest to style, as you just need to match the contrast with your jacket or coat. It's the best statement piece for layering in winter or even on holidays.
However, if you don't want to layer it up, you can add a pair of stockings and long-neck boots. This is the best element to make your winter stylish and add that extra factor to your everyday look.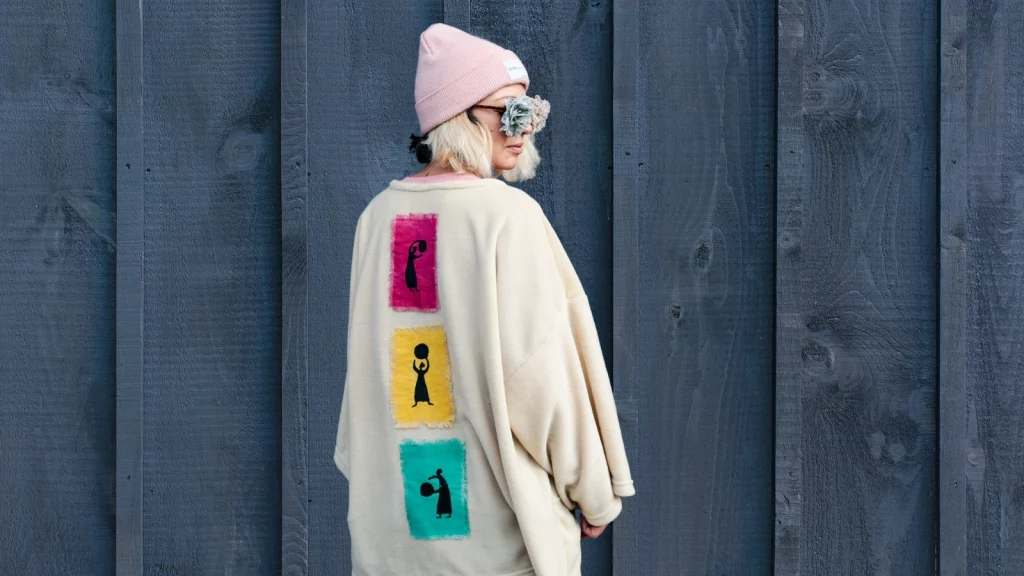 Moreover, you can accessorize it by adding a belt on top, and it will look so chic. It will also give you the warmth you need this Christmas season. There are a variety of prints and neckline options available, from v-neck to turtle neck you can pick whatever you prefer.
However, this will go perfectly underneath your jacket and blazer you just have to pick the right contrast. This will definitely give you the right balance, and you are all set to turn heads this winter.
6. Oversized Denim Jackets
If I have to pick my favorite jacket, it has to be an oversized denim jacket. No matter what your personal preference is, this is a must-have in every wardrobe. There are so many ways to style an oversized denim jacket.
It's totally upto you how you want to carry a denim jacket you can instantly change your whole look just with this single element. You can throw this over a cocktail dress, and wallah..! your entire look will change.
If you are aiming for a casual or even a glam look, this will go perfectly with both styles. You just need the right accessories and bottoms to pair with this.
7. Oversized coats
This is such a statement piece that will enhance any look, and you don't need anything else or even any accessories. It's such a bold and complete in itself statement element of your look. Many celebrities are often spotted wearing one you can carry it however you want.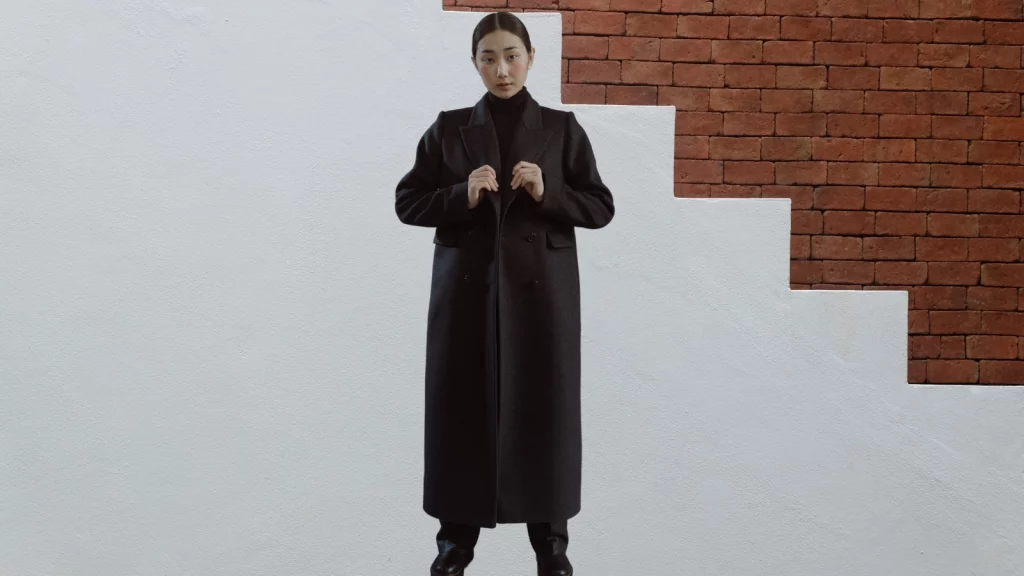 You can even carry this casually or even at a party oversized coats, and huge trench coats are always in vogue. You can also carry a professional look, and this will give you a bossy outlook. You'll be ready to rock the corporate world.
However, these are the comfiest and will also give you a luxurious feel. They are available in many silhouettes you can go for velvet, faux fur, or leather, whatever you prefer.
Some additional tips to carry a baggy look
Maintain a Balance
Oversize can look ill-fitted if not worn properly. However, there are many ways to balance out the slouchiness of the oversized garment. Here are some ways that you can do to maintain the balance of your look.
If you are going to wear an oversized upper such as a baggy tee, shirt, or jumper. Always pair them up with something fitted, such as skinny jeans, biker shorts, and leggings.
Moreover, if you are wearing wide-legged jeans or baggy trousers, pair them up with body-hugging tops and body suits. This will add the required balance to your whole look.
Furthermore, for garments like baggy cardigans and trench coats, pair them up with fitted tank tops or turtle neck underneath.
Layer Baggy Garments with Structured Accessories
Oversized pieces can look structureless and can make your body shape look unappealing. However, if you pick a structured and tailored piece with them, it will level up your look.
If you are styling a baggy dress, make sure to add elements like a belt, blazer, stilettos, heels, or boots.
Moreover, if you are choosing boyfriend jeans or wide-legged trousers, wear them with lace-up heels and a tailored blazer.
Similarly, oversized blazers and shirts add an element to maintain the structure and balance of your look.
Define the Right Curves
Baggy clothes can be as sensual as you want them. However, with a few oversized elements, you can define your curves like your waist. This will make your look sensual, and here are some tips on how to do it:
If you are wearing boyfriend jeans or baggy trousers, wear them with a crop top or an off-shoulder or strappy top fitted top.
Add a belt over an oversized shirt or tee, and you can also tuck the hem of your upper into the jean or bottom.
You can also add a cool touch by making a knot in front of your tee. Moreover, you can also add a belt under the cardigan.
Show the Right Amount of Skin
This can add a hint of hotness to the look and make you look glam. However, this will also make you look put together and will not make you look shabby. Here's how you can do this: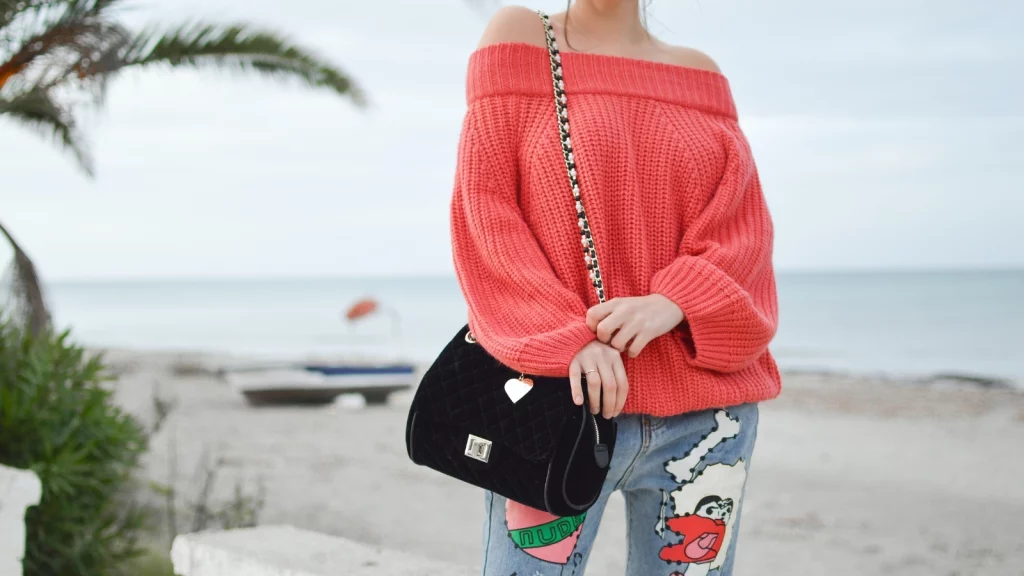 You can pick the deeper neck or even an off-shoulder oversized tee or shirt. Moreover, you can also roll up your sleeves and add structure to your look. This will show just the right amount of skin and make your body type look attractive.
However, in the case of dresses, it's easier, and you can pair them up with stockings and even go for long boots. This will add a glam quotient to your style. I hope you know what I am trying to say.
Furthermore, as you start wearing oversized outfits more often, you'll know what compliments your body type and style.