Is your wedding on the cards? Well, congratulations, dearie! I am sure as much as you are excited to tie the knot with the man of your dreams, you are hanging by a thread of confusion. Is your mind flooded with what to wear, where the wedding will happen, decorations, venue & menu, and whatnot, which is haunting you? (I know it's toooo much!)
Don't worry; I understand that because it is a very special day or D-day of your life, this blog will cover the most important thing after the person you are going to marry, which is your bridal dress. 
Instead of turning into a "Bridezilla," be a "Bridechilla." So, stop scratching your perplexed head and go through all the perfect ideas about wedding outfits for women that are going to help you visualize and pick what you really want. 
Whatever you may wear, trust me that your soon-to-be husband is going to love you any which way.
Say "I Do" in Any of these Styles of Wedding Outfits
From flowy ballroom gowns to très chic white dresses, the list has covered almost every variety. So, get inspired by the one that touches your heart the most.
Ruffled Mini Strapless Dress
Not everybody is a big fan of two flowy, huge or fairytale-like. The women who dream of marrying in a casual and playful dress, you can choose mini plain white strapless dresses. The addition of ruffles adds layers to the extremely plainness of the outfit.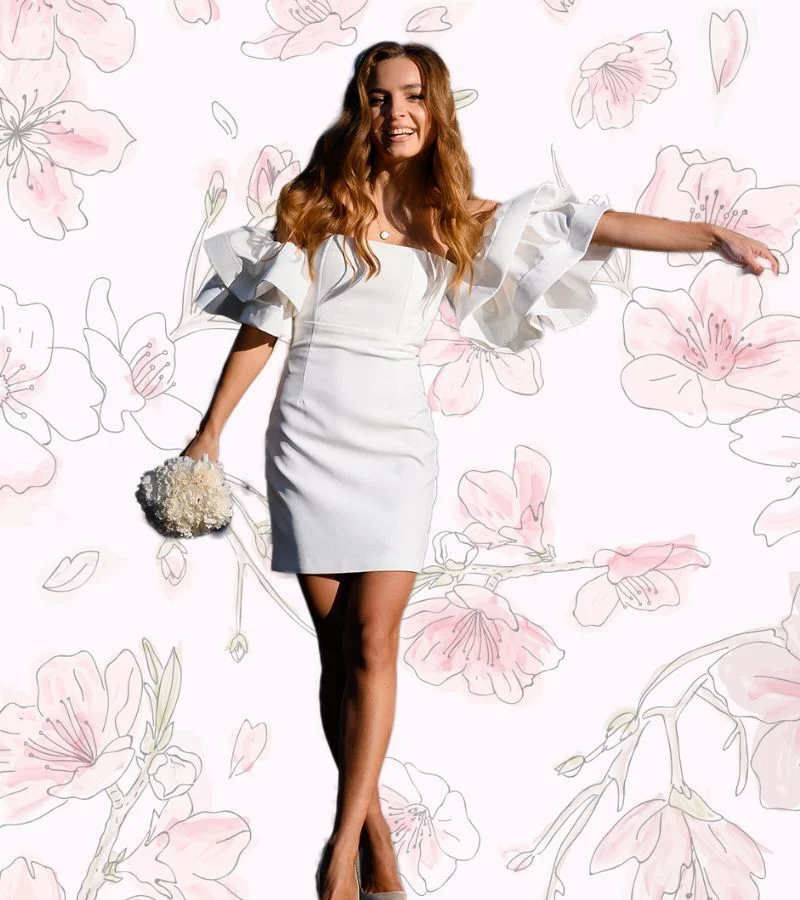 To make it even more special, add pearls or the jewels of your preference. Another way to make a statement is by wearing bold or custom-made heels. Furthermore, you can never go wrong with a sleek and clean pony, veil, and flowers. 
If you are having a beach wedding with a boho theme, a dress of this sort will look the best. 
Lace Gown with Detachable Bow
Imagine yourself walking down the aisle in a beautiful long lace dress with a huge bow at the back, accentuating your taille. I promise that the moment you make the grand entry, it is going to draw the eyes of your guests to you.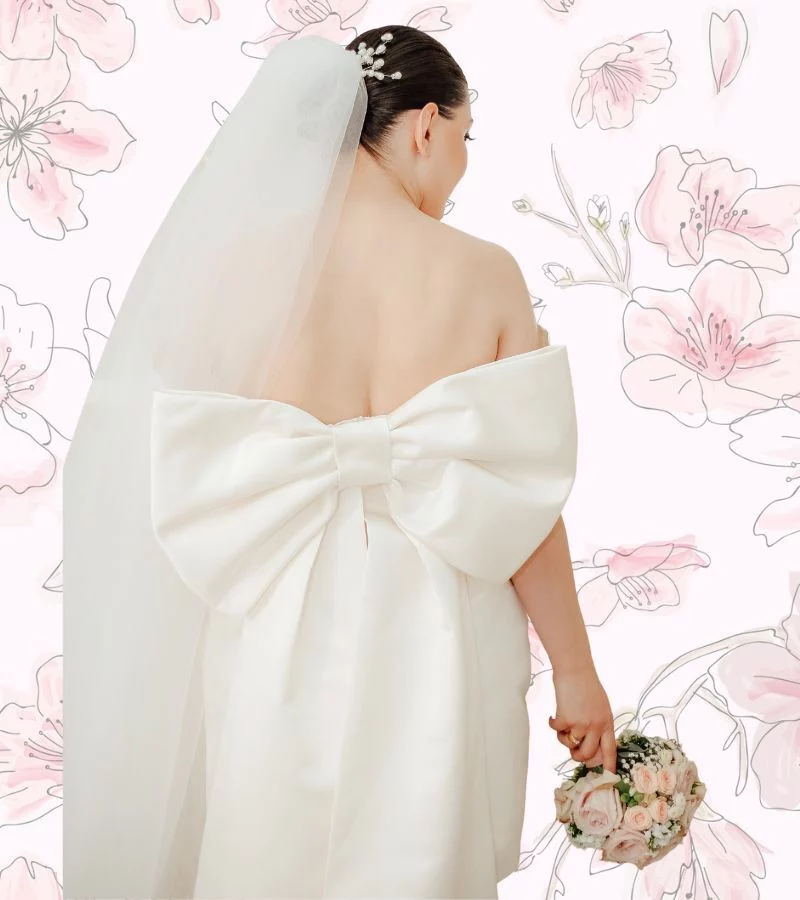 Accessorize your gorgeous white dress with diamonds, little makeup, a floral bun, or stilettos. The best part about this style of gown is that you can detach the statement of your gown, which is the BOW, and dance at your own reception.
So, basically, you get to customize your white dress according to the wedding event. The best part is that if you, as a bride, get to style your own outfit, you will be satisfied like never before.
Crème Silk Satin Gown
If your man wants to see you rocking a wedding outfit that will make you look like a sultry goddess, just pick something of this sort without an ounce of doubt. Satins make a great dress to exchange vows in.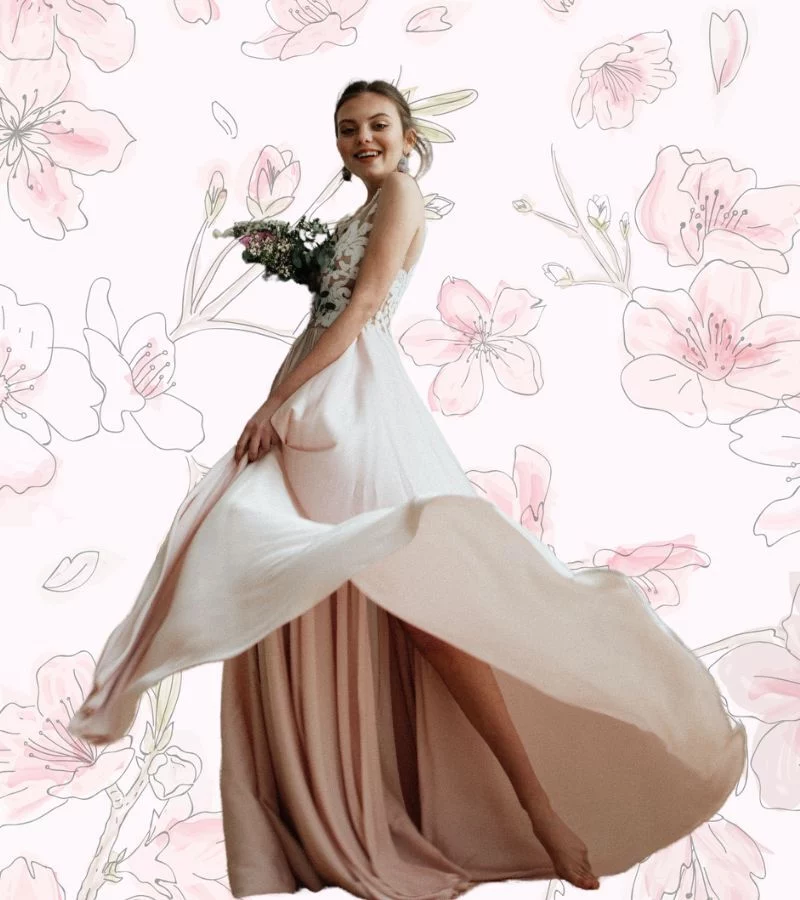 The shine and luster that the gown radiates are appropriate for a rooftop or outdoor wedding. You will glow and look like an absolute beauty. As far as accessories are concerned, go with precious jewelry or a birdcage veil. However, if you want to keep it simple, go for it, as your blingy wedding ring and dress is going to speak for themselves.
A Blazer Dress
Today, brides have said bye to the conventional traditional wedding outfits and are turning to something novel and never-seen dresses. Yes, it may raise some eyebrows, but if you are able to style it well and carry it properly, there is nothing wrong with ditching the old wedding couture. 
Moreover, it looks as beautiful as any other dressy wedding outfit. If not blatantly simple or plain, you can choose an embellished, self-embroidered, or lace work blazer dress or blazer pantsuit. Especially if you are having a beachy and sandy ceremony with a cool breeze around you, a blazer dress is nothing short of perfection. 
In fact, you don't have to worry about all the sand sticking to your expensive dress. Easy to carry, no extra care required and is suitable for an evening beach reception. Also, a little suggestion is to let your hair loose with a bit of hair styling, which is going to make a lot of difference.
Tulle Shimmery Fitting Gown
It is absolutely needless to say that tulles and organza are à la mode nowadays. These floor-length, body-hugging long gowns look adorably pretty if you are going to say "I Do" under the stars.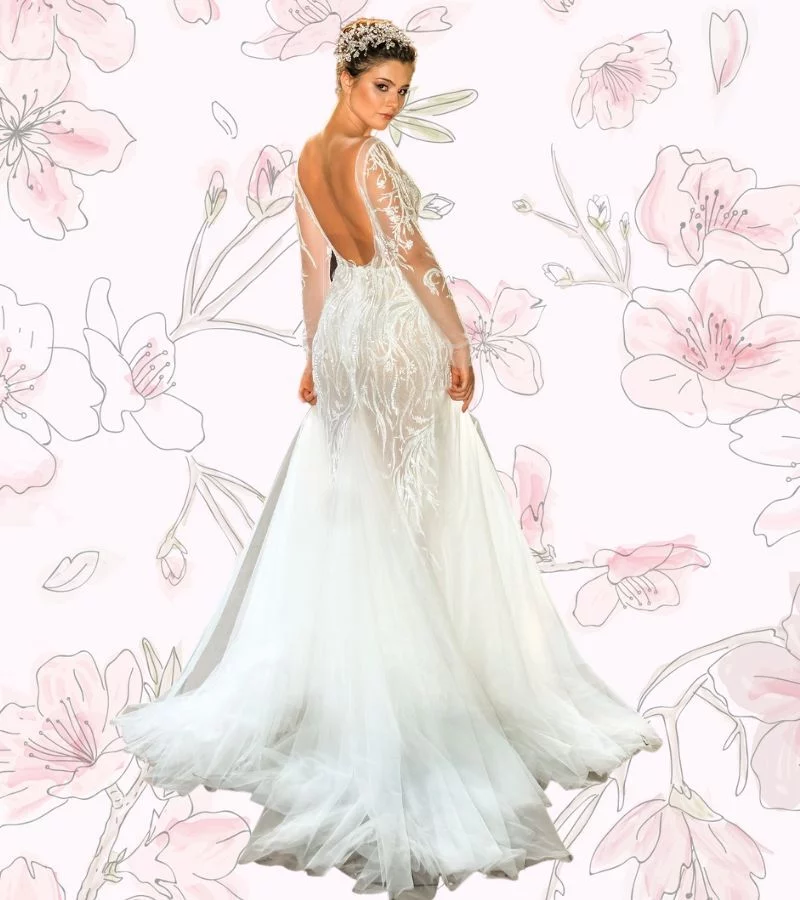 If you are petite and want to look all glamorous, this is your style. Moreover, the delicate intricacies, silver or gold threadwork, hand-embroidered glass crystals, and a deep hemline will make you look like a star. (Which you are going to be any which way!) 
Pair it with Louboutins, shimmery makeup, open or styled hair, or even an embellished belt to show off your curves. Also, if your preference includes showing off some more skin, a tight-high slit will steal the show. 
Cutout Cotton Dress
Couples nowadays are shifting from extravagant and luxurious weddings to eco-friendly and sustainable weddings. Not only do they care about the food, packaging, and everything else being nature-friendly, but in fact, they keep it minimalistic.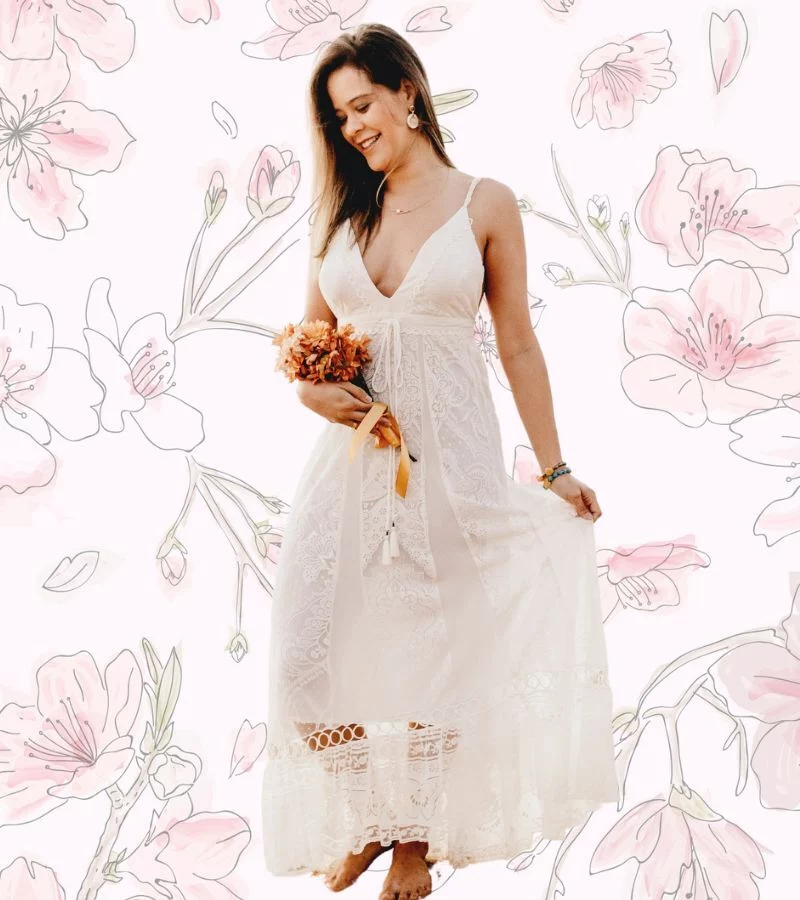 If you are also of that opinion, choose a simple organic cotton dress for your D-Day. To make it a bit celebratory, cutout detailing is very in and will add the missing oomph to your wedding outfit. Although it looks pretty plain, these dresses don't overshadow you and let you shine for the person you are. 
Add it with jute or organically made sandals or heels to make sure you are promoting what you believe in. Let your simplicity speak for itself and be the real change in society. 
Feather Embellished Short Dress
Are you that bride who wants to do everything differently from the usual? Well, what could be more off-the-rails than wearing a combination of silk and feathers? This type of mini dress which plays between textures and fabrics looks really elegant and daring.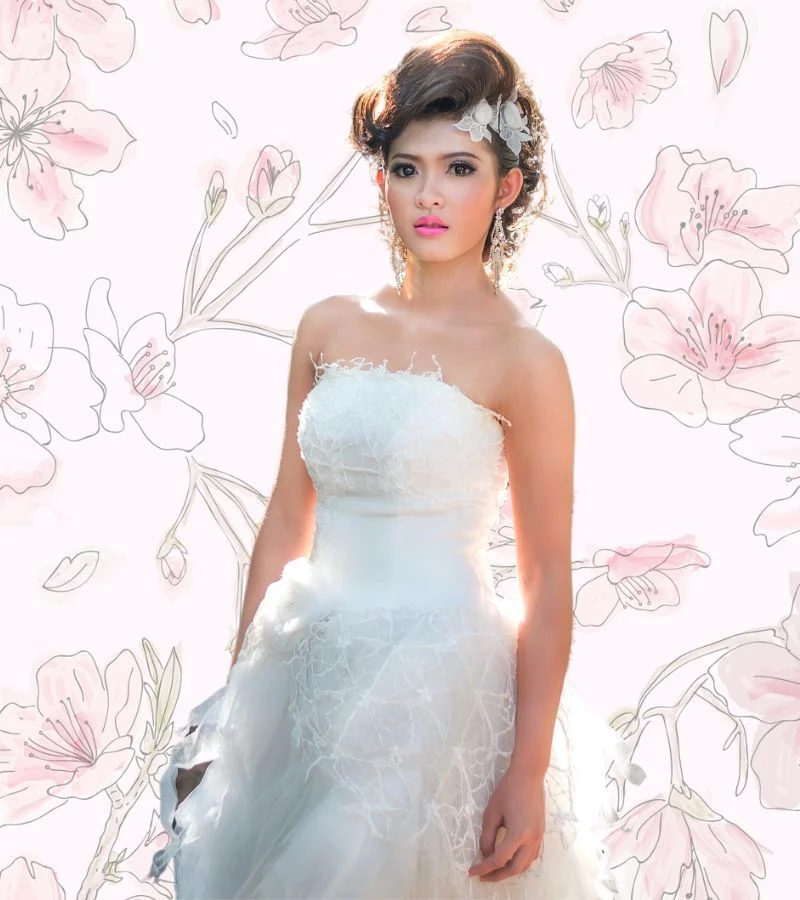 Belts, crystals, jeweled headbands, etc., will look the best with this wedding outfit. In fact, you can give your already-fun dress a little more drama by going for pronounced sleeves or cover. 
Also, dare yourself for something not so usual, and go for long or bold earrings and super high-heeled pair of shoes. And not to miss that there is no need to change the entire outfit during the after-party, simply ditch the heels and wear comfy sneakers to dance your heart out with your loving husband. 
Ball Gown with Dropped Waist
Here comes a wedding outfit that most brides absolutely adore. These princess-like ball gowns make you look like a fairy. If you want to stick to the traditional styles, then this classic yet dreamy wedding dress has you covered.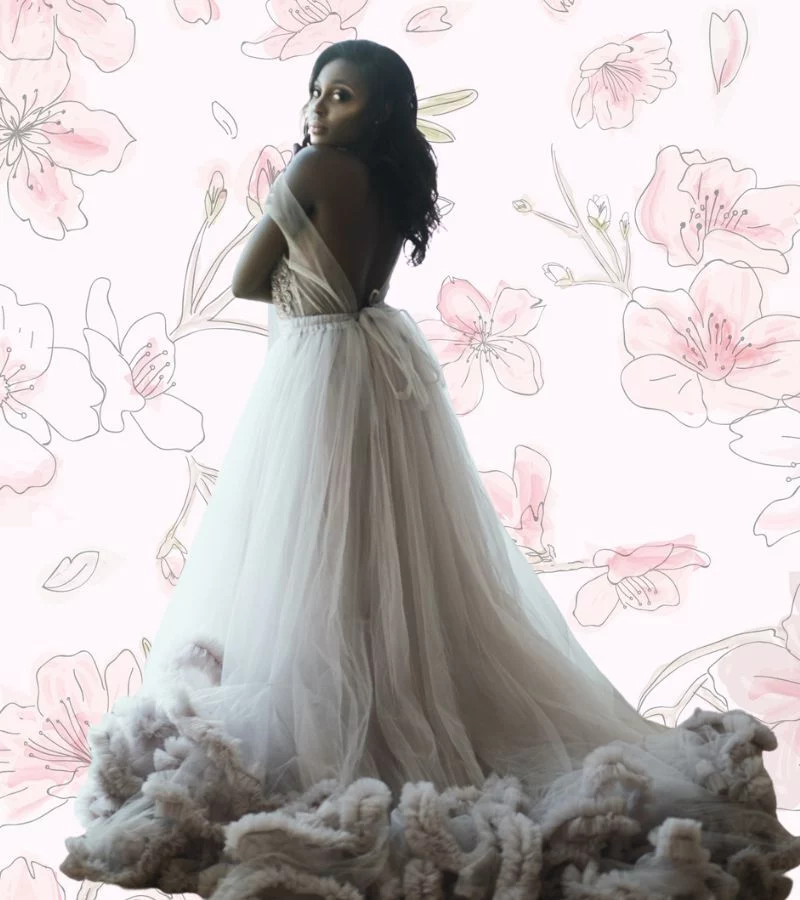 The best part about them is that you can try out various accessories and play with their skirt, sleeves, veil, and whatever else you wish to. Plus, if you want to see the breathtaking reaction of every guest and especially the man of your dreams, make a grand entry wearing this even more grand wedding gown.
Plus, the flattering chapel-length skirt adorned with embellishments, beads, threadwork, and more makes it perfect for the occasion. You can choose the illusional backs, different necklines, and long trails that add to the beauty of the dress. 
Lace Fitting Silhouettes
If your reference is Hailey Baldwin Bieber's lacey-fitting wedding dress? You are choosing the right wedding outfit. The shape of the gown not only looks graceful and sultry but also helps you subtly show off your curves.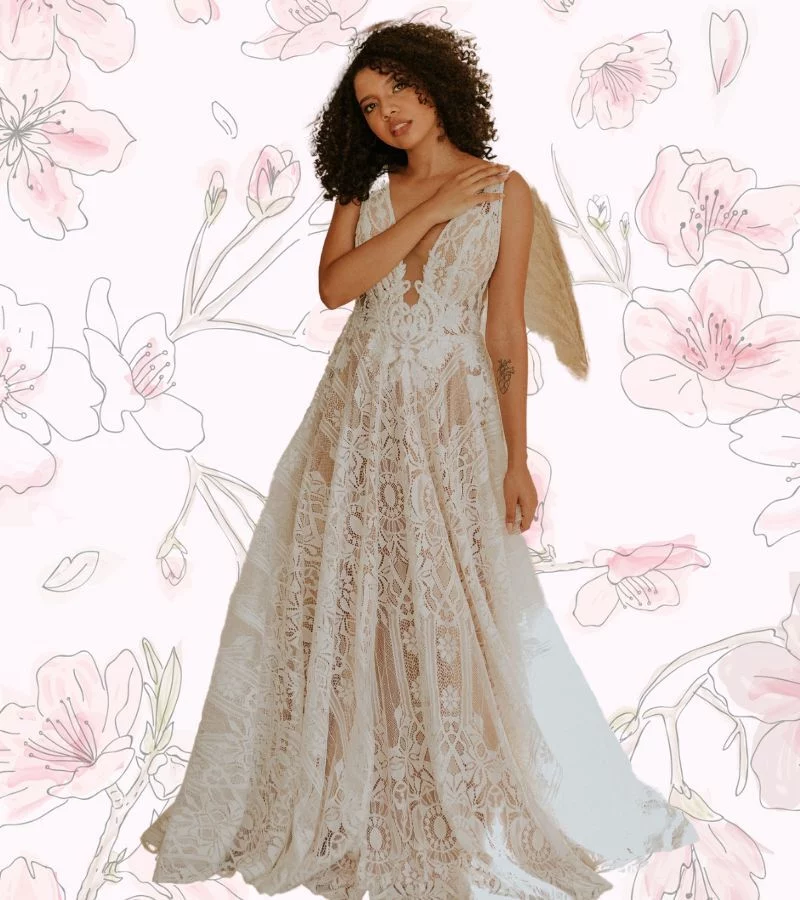 In fact, you can tailor it totally according to your wish. Maybe pair it with a Cathedral Veil with something personal written on it. Like in her case, "Till death do us part." And if not her, Gwyneth Paltrow also wore an A-line lace cap sleeve Valentino gown. 
So, this can be your pick if you are 100% sure to exchange vows in something summery, chic, and stylish.
Mermaid Gown, One of the Wedding Outfits for Women
Anyone and everyone who wants to show off their hourglass figure, then this mermaid and trumpet style gown is the one for you. Its structure and the way it snugly fits the bodice, hips, and flares from the thighs accentuate your curves in the best way.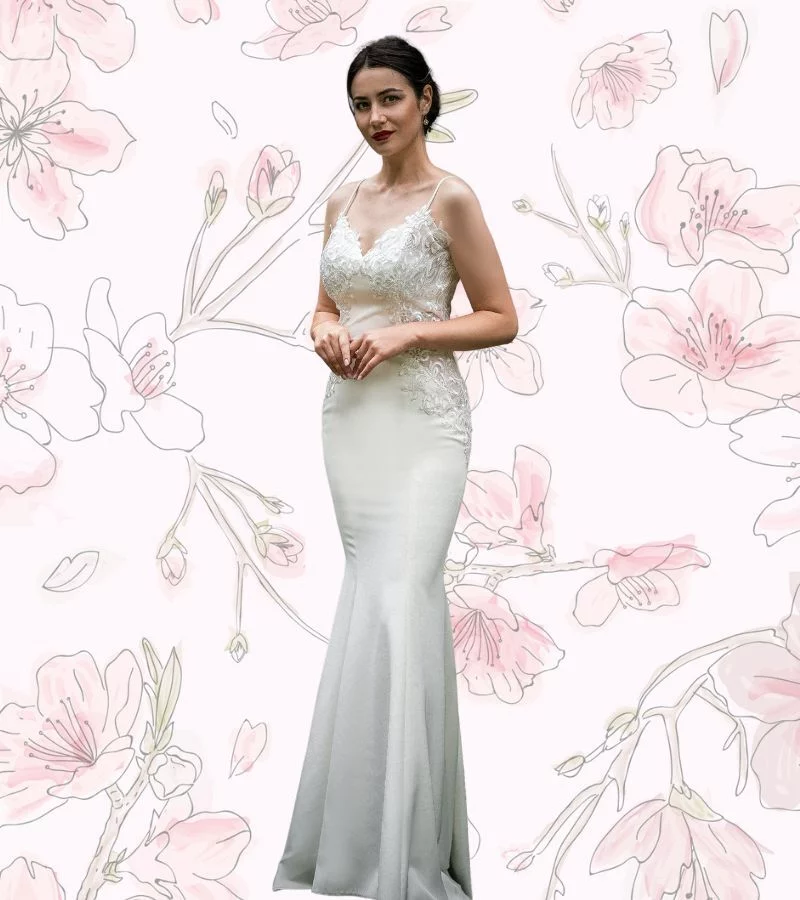 Whether low bun, open wavy hair, or a sleek low ponytail, all go perfectly with this gown. Some like to keep it strapless, but even sleek or lacey sleeves are equally good-looking. Go all out with it by pairing it with a piece of choker-styled jewelry or long danglers.
The best part about this style of wedding outfit is that you can flaunt the strapless and plunging neckline, which makes you look beautiful yet bold. 
The Bottom Line
Since the wedding is one of the most important days of our lives, its memories and pictures go with us till our graves. Everybody takes a lot of pain and puts in their heart and soul to make it the best day of their lives. (Especially women!)
Also, brides are brides solely because they get to make important decisions about weddings, and yes, I am not forgetting the "getting married" part. So, now that you have got a basic idea about so many options available in the market go straight to the wedding boutiques for the best wedding outfits for women and say "yes to the dress" that speaks the best to you. 
After all, your precious day needs extra attention!