Modest dressing is a classic trend and is taking over the fashion industry. It's all about concealing rather than revealing. There can be various reasons for dressing Modestly, such as religious purposes or personal choice. Modest dressing is another name for comfort.
However, dressing modestly doesn't mean you can't be fashionable. There is so much that you experiment with while dressing modestly. Moreover, the way you dress reflects so much about your personality.
So, in this blog, we are going to discuss all about modest dressing and some absolute must-haves for modest dressing. Thus, if you wanna level up your fashion game, keep reading!
Modest Dressing: Classic yet Stylish
As most of the fashion trend seems untenable and something that models on a ramp can only wear. On the other hand, modest dressing is all about being chic and comfortable in your own skin. Now there are so many celebrities like Selena Gomez, Taylor Swift, and Angelina Jolie who have opted for modest dressing a number of times and still rocked every look.
Moreover, many people have different religious beliefs, such as Islam or Christianity, and thus, they are restricted from following certain fashion trends. However, modest styling is something that anyone can follow regardless of their beliefs and still look fashionable. Thus, here are a few key pieces that can level up your dressing and fashion game. These are absolute must-have wardrobe essentials for modest dressing.
1. The Classic Shirt
This is a single piece that can enhance any look you are aiming for, whether it's a professional look or a travel look. You can wear a shirt over a dress and tie a knot in the front to add an extra factor to your whole look.
However, if you are going for a professional look, Shirts are your best friends as they look really classy and give a professional outlook. Whether you are going for an interview or on a date, Shirts are a safe and stylish option to go for.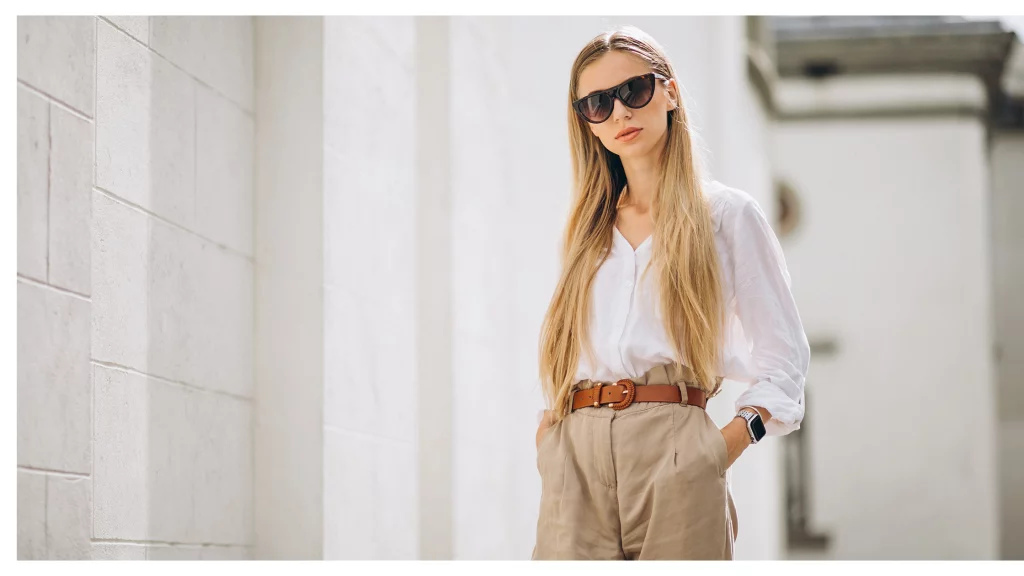 Even in winter, you can wear a shirt and throw a jacket over it this will add an extra layer and add so much dimension and depth to your look. Moreover, there are several silhouettes you can go for, such as satin, cotton, and many more.
In my opinion, Satin shirts are the best as they are quite stiff and will make you look polished and chic. Additionally, you can go for pastels and nude colors, as they will go with every occasion and look.
Styling tip: make sure the shirt is well-fitted if you are aiming for a professional look. Otherwise, you can also go for baggy and oversized shirts.
2. long line skirts
These are a great choice for modest dressing, and you can carry them in multiple ways however you want. Investing in good long-line skirts is essential as you can style them in so many different ways as compared to a midi or any dress.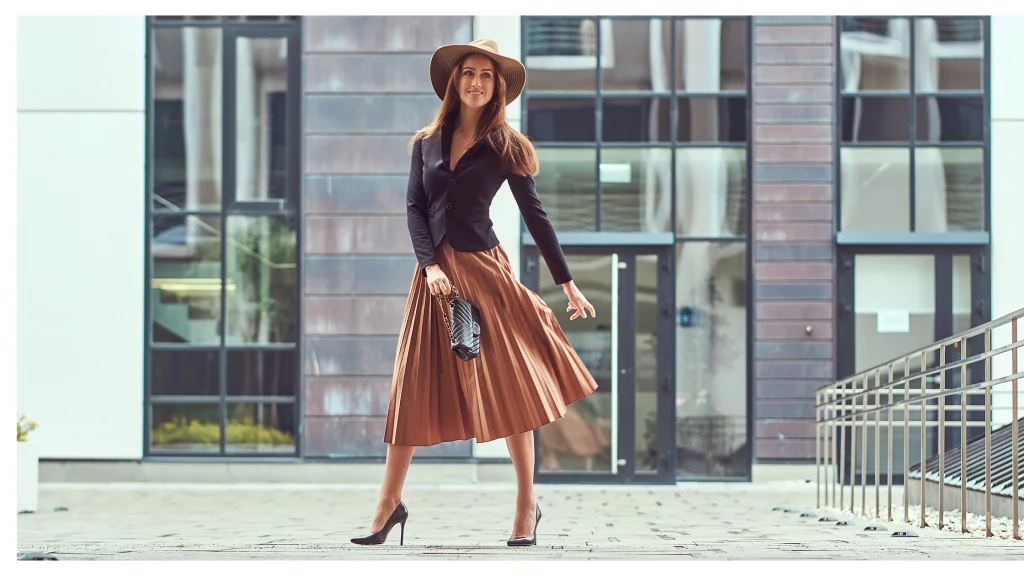 These are perfect for a morning or evening look. If you want a casual look, you can pair them with a t-shirt or a sweatshirt. However, if you wanna amp up your look, you can pair it up with a shirt and tie the knot in the front or with a turtle neck.
Moreover, you can accessorize by layering jewelry or by pairing it with heels or sneakers according to the occasion and the look you are aiming for. Even in winter, you can wear these long-line skirts and throw a trench coat or a leather jacket over them to add an extra layer.
3. Blazers
If you love power dressing and want a boss lady look, Blazers are absolute must-haves for you. There are no limits when it comes to styling a blazer, as you can pair it up with so many things depending on the occasion.
A blazer can add structure to your look, making you look polished and well put together. It's a timeless and classic piece, and no matter the occasion, you can style it in multiple ways.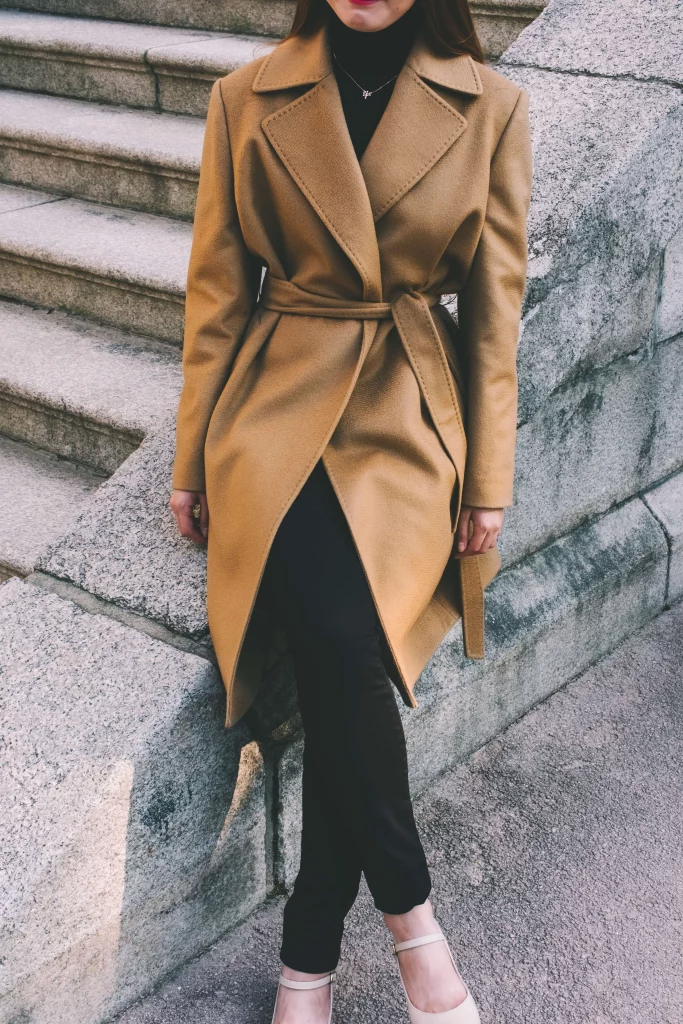 In summer, you can wear it over a t-shirt, and if you wanna stand out, you can wear a pop of color underneath the blazer. On the other hand, in winter, you can pair it up with turtle necks or with jumpers depending on the occasion.
Whether it's a corporate look or an airport look, you can carry a blazer in multiple ways, which is why it's a must-have for modest dressing for ladies. Moreover, blazers look flattering on every body time and add so much structure to the whole outfit.
4. High Rise Jeans
High-rise jeans can never go out of fashion, and it's an absolute necessity for dressing modestly. This is a piece that I can carry on a regular basis, and it adds an edginess to the whole outfit. These tend to give you an hourglass look regardless of your body type.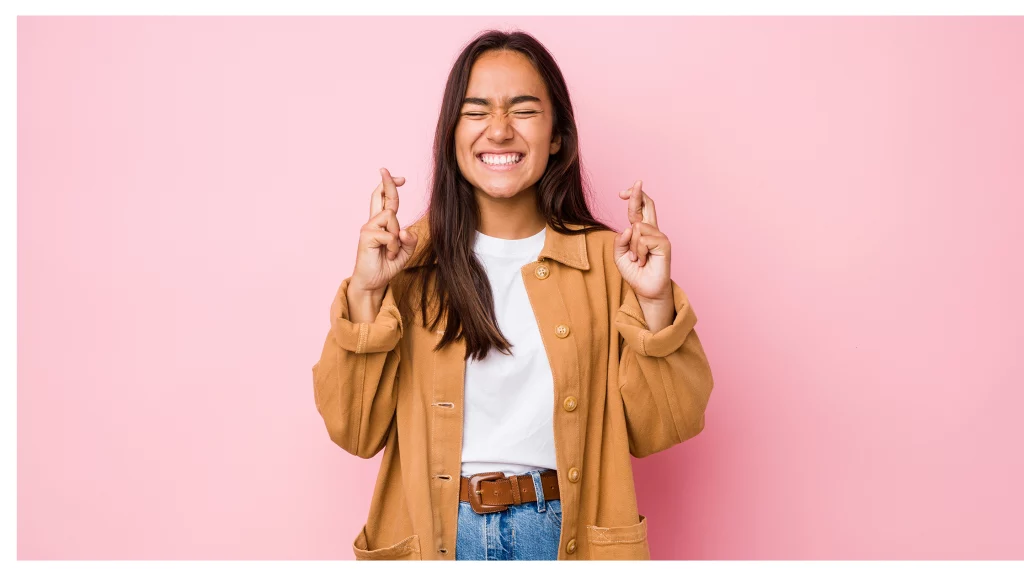 Proving you the max coverage and yet hugging your body in the best way. Whether you want a formal look or a casual look, you can create any look with high-rise jeans. For a casual look, you can pair them up with t-shirts, tank tops, sweatshirts, jumpers, and hoodies.
However, for a formal look, you can opt for a blazer, turtle neck, trench coat, jacket, and structured tops. You can craft any look that you want with a pair of high-rise jeans. One of my personal favorites is pairing high-rise jeans with long boots and a leather jacket on top.
5. layering tops
The comfiest yet modest dressing element is layering tops. With the right technique, you can layer any top that you want, even the ones that you think are not meant for modest dressing. You can carry them easily as they are breathable and most comfortable.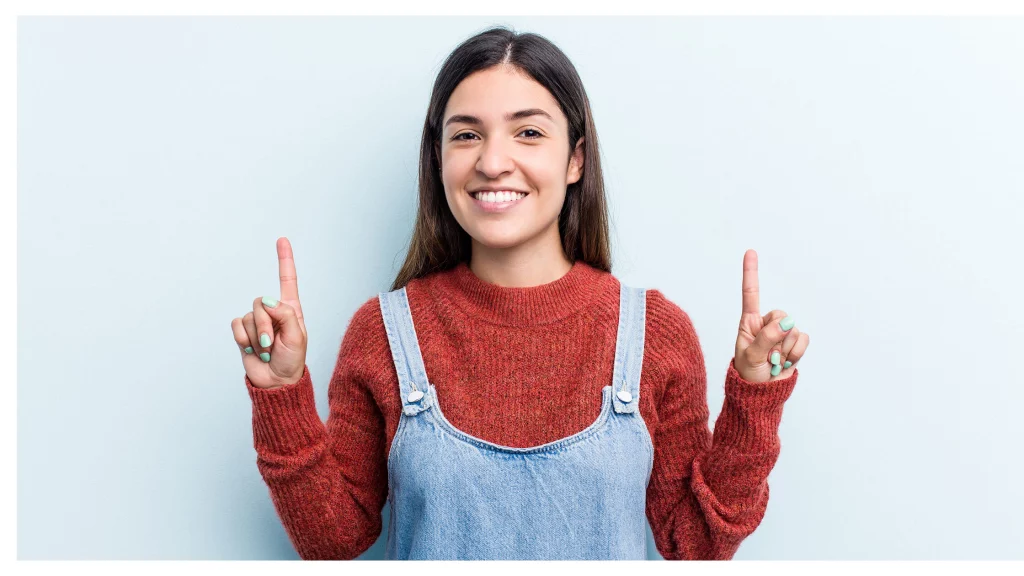 You can layer tops by wearing a basic or neutral-colored top underneath and then layering it up. Moreover, you can select the silhouette and color coordination according to your preference. in winter, you can layer knitted tops and turtle necks.
You can add many interesting elements to your outfit, such as jackets, jumpsuits, and jumpers. You can be as experimental as you want. From a work-appropriate outfit to a party look, you can accessorize it accordingly.
6. Co-ord sets
If you want to achieve a well-put-together outfit and yet be comfortable, co-ord sets should be your first choice. Whether you are going on a vacation or going to any event. Co-ord set is something you can carry everywhere and yet look stylish.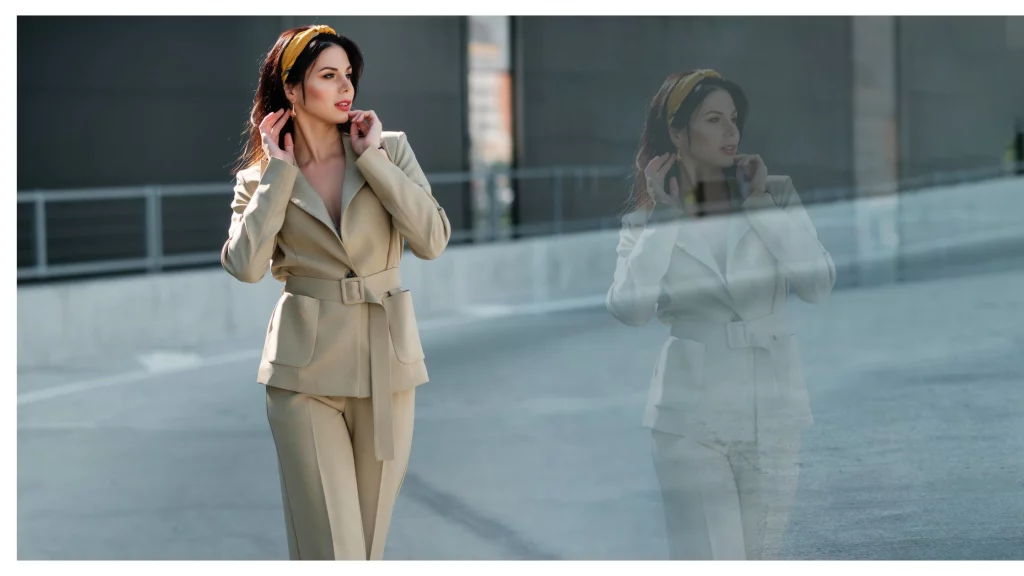 This will make you look like we put it together. Moreover, you have so many options and silhouettes to choose from. If you are on vacation, you can go for floral prints and something vibrant.
However, if you want to achieve a professional look, you can go for solids and structured co-ord sets. Pair them up with wedges or kitten heels, and you can also add some accessories to level up the whole look.
7. Wide-leg pants
On the days when you can't decide what to wear, wide-legged pants with a fitted top should be your go-to option. These pants are breezy and comfortable, yet they are super stylish. You can coordinate them with so many different pieces.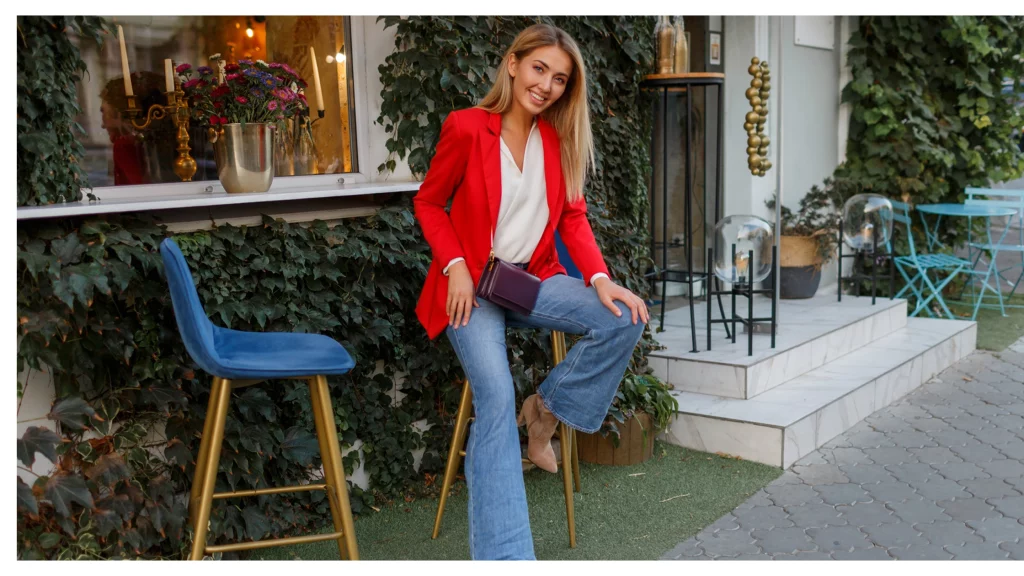 However, to maintain the symmetry of the whole look, I would suggest you wear wide-leg pants with short and fit tops. You can also wear these pants with sweaters or knitted tops. This is an ideal clothing piece for a perfect fit and flare look.
One tip that I would like to give you is that while dressing in wide-leg pants, make sure to add some height to your look. Avoid flats instead, you should go for wedges, heels, and even sneakers.
Things to keep in mind while Dressing Modestly
Pick the right footwear
Dont confuse modest dressing with boring. It should reflect your personality, and picking the right footwear is crucial. It will help in keeping the whole look well put together. So, avoid ill-fitted and boring shoes. Try to pick footwear that is color-coordinated with your outfit.
Accessorize
The right accessories can lift up a look drastically, such as a leather bag or the right belt that accentuates your curves. You can pick the right bag by matching it to your whole look. For instance, you should carry a tote hang bag if you are going for a corporate look. However, if you want to keep it casual, then you can carry a sling bag.
Wear well-fitted clothes
One of the key rules while dressing moderately is making sure that you wear properly fitted clothes. Make sure that your outfit is well-balanced and that it compliments your body type. For instance, if your bottoms are loose, make sure to pair them up with a well-fitted top and vice versa. This is a rule that most celebrities follow, and this will make you look chic and classy.
The Bottom Line
After all the above discussion, I think you are now ready to rock a classic and timeless modest look. So, ladies, what are you waiting for start wish listing these wardrobe essentials for modest dressing now!